Shopping for the perfect Halloween costume can get pretty expensive, even if you take the do-it-yourself route. And if you've RSVP'd to attend more than one party, the costs for several fright night outfits really start to add up.
One of the cheapest and easiest ways to dress up for Halloween is with makeup. So we challenged HuffPost Live makeup artist Kari Bauce and hairstylist Rachelle Hawkins to create three Halloween costumes using products you probably have lying around the house or can easily buy at the drugstore. Keep reading to see how creative and cooky things got in our hair and makeup room.
Jim Riswold's "Make Believe Damien Hirst For The Love of God" Skull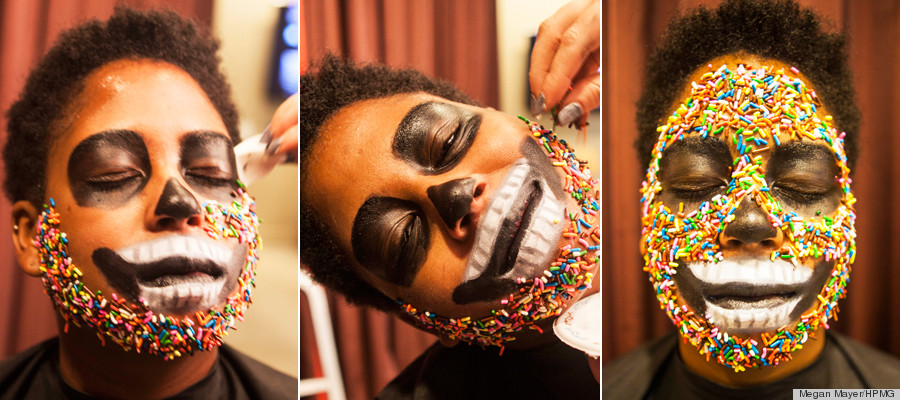 1. Black out the eyes, nose and mouth by painting on black eyeliner or smoothing on a Q-tip with black Halloween face paint. 2. Use a flat makeup brush to draw on white teeth. Then outline in gray.3. Dab prosthetic adhesive with a sponge onto your face where you want the rainbow sprinkles to adhere. Keep in mind: It takes a few minutes for adhesive to tack, allowing you enough time to manipulate the application of sprinkles.4. Once sprinkles set, clean up area around eyes, nose and mouth by removing stray pieces with a pair of tweezers to avoid smudging makeup.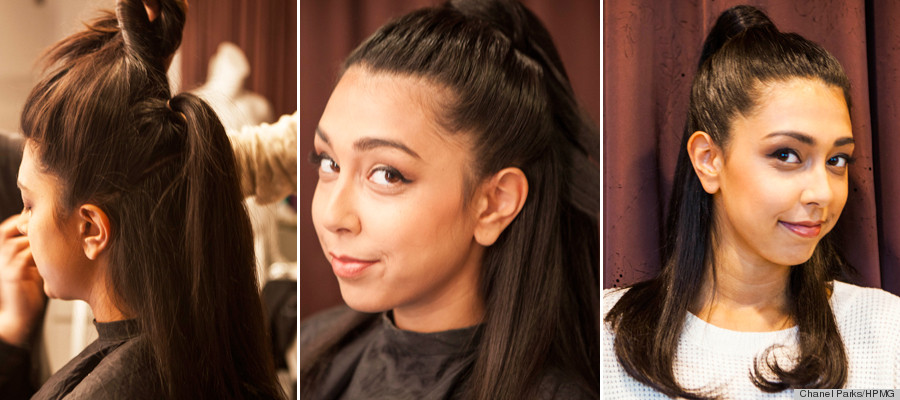 1. Part your hair from ear-to-ear into two sections to create the half-up, half-down hairstyle. 2. Separate the top section for one high ponytail and then small "hidden" ponytail underneath the crown of the head to create volume and cheat length.3. Spritz on enough hairspray to keep the high ponytail in place. Add extensions (if necessary) and conceal by wrapping pieces of hair around ponytail holder. 4. Blow dry hair straight and smooth out any pieces with a flat iron.5. Create a flawless base with your normal foundation makeup and warm up skin with bronzer.6. Use a small flat brush to apply gold eyeshadow. 7. For that extra flirty look, add small clusters of individual false eyelashes to the outer corners of eyes.8. Once lashes are set, draw on winged eyeliner. 9. A mauve (nudish-pink) lip color completes this pop singer-inspired look.
Twisty the Clown of "American Horror Story: Freak Show"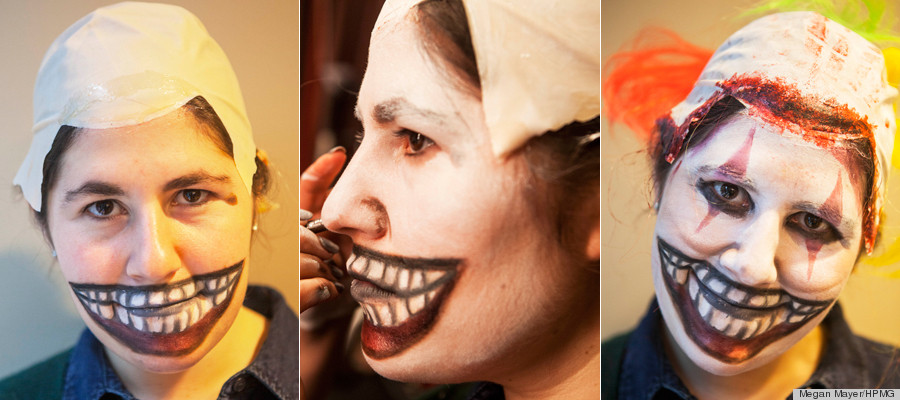 Products you'll need: Flesh bald cap; liquid latex; bobby pins; Q-tips; black and brown eyeliners; dark red lipstick; white face paint; Fresh Scab (blood makeup); clown wig.
1. Pin hair back until it's smooth enough to fit underneath bald cap.2. Cut edges to fit around your head shape, but don't worry about it being perfect as this character's scalp isn't. 3. Seal bald cap with a small amount of liquid latex in the front. Dab it on to get that "I just scalped someone" effect. 4. Use a black eyeliner or cream pencil to sketch the outline of the sad mouth. Go wide!5. Draw the teeth with a thin brush, using brownish-red cream or dark red lipstick. 6. Sponge on white face paint everywhere besides the mouth. Be sure to white out the bald cap as well.7. Deepen the nasal folds with a chestnut/brown pencil or liner, and use a Q-tip to press deeper into face paint.8. Blacken eyes with cream liner or Halloween face makeup. Then, draw deep red lines over the eyelids.9. Create a scar along the bald cap by brushing red lipstick or face paint as a base and applying Fresh Scab on top. Pro tip: Pat on the faux blood around the edges of skull and deepen with black paint to get that grotesque texture.10. Finally, cut up red, green and yellow pieces from a clown wig and tape onto the top of your bald cap. Muss up to your liking.
Additional reporting by Chanel Parks.
Before You Go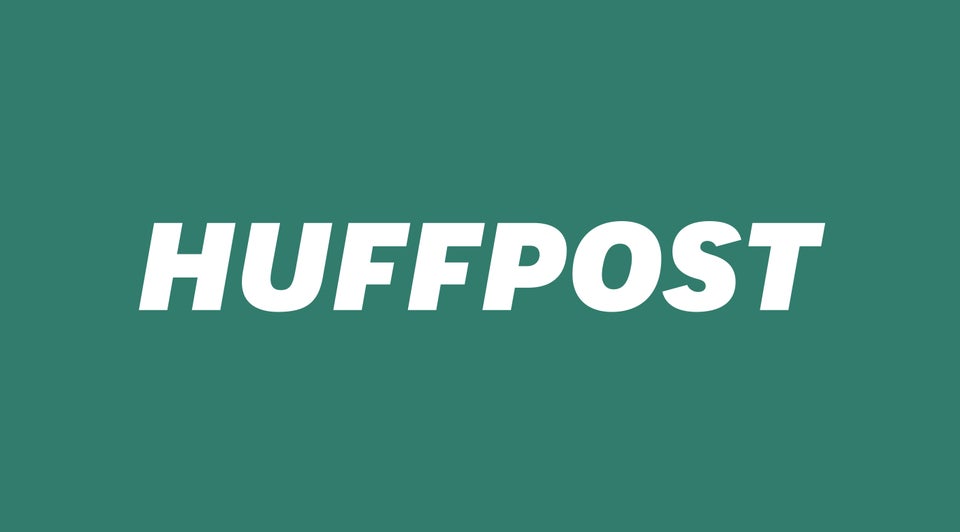 Totally Teriffying Halloween Nail Art Ideas