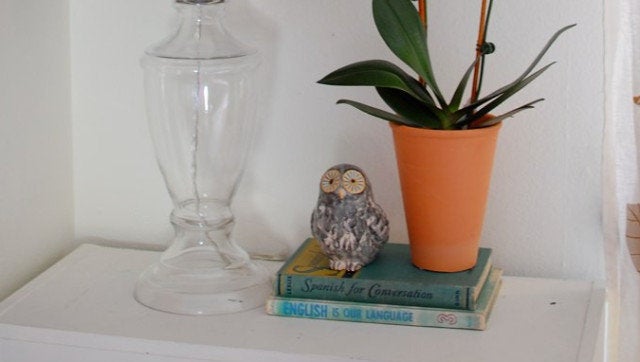 We all have those friends who seem to have the perfect home, from a beautifully manicured front lawn to homemade chocolate chip cookies baking in a La Cornue oven. But with a fulltime job, an energetic pup and a baby on the way, it's hard to keep up with the Joneses -- especially when we are supposed to be saving money for our future. But there are a few ways I've been able to update our two-bedroom apartment that haven't broken the bank (and I've even been able to convince my husband that they're good ideas too).
1. Paint - A fresh coat of paint makes a world of difference. Repainting our home, especially the high-traffic areas, was a cheap and simple way to give our rooms an instant facelift. When we moved into our new condo, we splurged and hired professionals to paint the entire space, which included the ceilings, baseboards and crown molding, and we definitely don't regret it. And to maintain the fresh look, I have painted the high-traffic areas on a yearly basis with the same color. This may seem like an overwhelming task, so try it first with a small area like your entryway or foyer.
2. Lighting - When you walk into my house, the first thing that catches your eye is the modern glass chandelier over the breakfast bar. It is not a traditional place to hang this fixture, but that is why it's such a focal point. I found a beautiful chandelier for under $200 at West Elm and my husband and I installed it on a rainy weekend. (A professional will charge anywhere from $75-$150 for installation.) I try to wipe it down frequently with a wet cloth to avoid a dust trap and keep it sparkling.
3. Accent Pillows - My husband doesn't understand my need to change the pillows in our living room on a seasonal basis, so luckily for him it's not an expensive habit. Colorful or trendy patterned pillows are a great way to add a pop of style to your couch, bed or anywhere else. When I've been skeptical to add a bold color to my room, I've bought a couple pillows from a store with a reliable return policy and left them in the space for 24 hours. If I don't love them, I'll return and start again!
4. Unique Bathroom Mirror - An upgraded bathroom is one of the first selling points of a home. So, why not spiff up your bathroom even if you rent or don't have plans to sell? An interesting bathroom mirror over your vanity will be sure to do just that. The options are endless and the only limitation is the size of your space. If you are a DIYer, shop for a shape or design you like and get creative with a can of colorful spray paint. I love brightly colored mirrors in children's bathrooms to compliment a neutral painted wall. Major retailers often carry a larger selection of mirrors on the internet, and many offer free shipping. If you're feeling a little guilty about the cost, remember a mirror is something that can always be repurposed in another room down the road.
5. Fresh Flowers - This may seem silly and a waste of money, but a fresh flower arrangement always brings a smile to my face and is one luxury I allow myself on a weekly basis. I like to buy flowers on a Thursday to have them looking fresh for any weekend guests that may stop by. I often select a bouquet of similar colors which reflect my mood or the season. Remember to change the water on a daily basis and don't keep dead flowers around the house. Nothing screams lazy like stinky flowers sitting on your dining room table for the last three weeks. And for all of you ladies out there thinking you need to wait for a man to buy you a beautiful bouquet, get up and get yourself to your local Trader Joe's! There is nothing wrong with buying yourself flowers on a regular basis, because you deserve it.