In recent years, I've nearly exclusively used two websites to find my accommodation: hostelworld.com and airbnb.com. Let's dive into the pros and cons of both options.


Hostels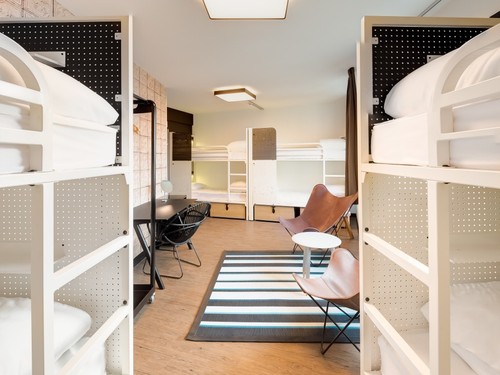 I love hostels for their social scene, organized activities and fun atmosphere. The added bonus of meeting fellow travelers is often the best part of hosteling. Trading stories and destination tips will be a highlight of your adventure. And you can save money staying in a hostel, but your quality of sleep may suffer. For many this doesn't matter, while for others it may be a much bigger deal. The larger dorms are cheapest, but you have roommates coming and going throughout the day and night. In group dorms, always bring a lock for your valuables. Stuffing belongings under your pillow is not a good idea.



Things to watch for when booking hostels:
Note the difference between professional shots and traveler shots. The traveler shots will be what the hostel is really like. The professional shots are the ones taken a couple years ago when the place opened.
Confirm what is included and what is not included i.e. towels, breakfast, wifi, walking tours. It may save you to spring for the more expensive hostel if it includes more.
Do your research by neighborhood. Pick the best neighborhood in town for you based on your priorities (food, restaurants, trendy culture, shopping, nightlife, markets, museums and sights) and drill down to those streets to stay in the thick of it rather than commute to it.
Read the reviews, and watch out for the fake ones. Read between the lines and see what the place is really like these days. Unfortunately, sometimes accommodation venues get on and leave their own fake reviews. So watch for uniqueness in review, and number of reviews that individual user has left.
If you're a bit over the hostel scene, or are planning to stay for more than 3 days, Airbnb is an affordable alternative. I've loved using it to find quieter places with my own room, kitchen, wifi network and bathroom. I trade off the social scene of hostels for the added privacy and comfort. I also like the fact that my valuables are secure, and that my host is usually a local, happy to recommend great spots nearby for food, nightlife and more.
Things to watch for when booking Airbnb:
Note what kind of accommodation you're looking at: private room, entire apartment or shared room. Narrow down your search depending on what you're comfortable with. Private room in a shared apartment will be cheaper than having one to yourself.
Airbnb no longer allows you to organize search results by price. This means you'll have to click through several pages to ensure you're getting the most competitive pricing.
There are hidden fees! At first, you define your budget, but Airbnb has devised a very slick system that rounds up that budget by a few euros without you noticing, and it also allows hosts to add cleaning fees. So by the time you're at checkout, you may be charged a price several euros more per night than you were expecting, now with the service fee, cleaning fee, and potentially fees for any additional people in your party that will be staying with you. While not dishonest, these fees do add up and affect the final price per night average you will be dishing out.
Read between the lines and see if the apartment is just a money-maker for the owner, or if it's actually their home. For me personally, I don't mind either way. But the owner's involvement does play a factor. Some people want more interaction and others will want less with their host. Read the reviews to anticipate which style the host will be for you.
Check out the photos, and look closely! Wide-angle lenses do wonders for the size and general appearance of a room. Keep this in mind when doing your research.
Pay attention to amenities. Is much included? Most Airbnb rentals don't actually come with breakfast included any more. Free wifi? Heating or AC? Private restroom or shared? Look for matters most to you.
Location, location, location! Again, it's very smart to organize your search by the district that appeals most to you.
Don't hesitate to ask your host for any special offer. It never hurts to ask.
Popular in the Community