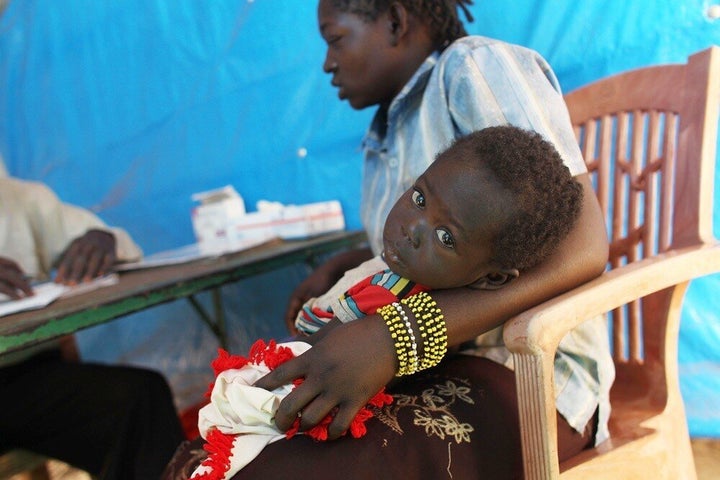 By Michel Kazatchkine and Philippe Douste-Blazy
When the daughter of Hajia Aisha, a young jobless mother in Nigeria, fell ill with malaria earlier this year, Hajia saved her life by rushing out to a shop and buying state of the art medication for the equivalent of just 25 U.S. cents.
Only a year ago Hajia could not have afforded the treatment because she would have had to pay the full unsubsidized cost for it -- 40 times more than what she actually paid. Her daughter is alive and healthy today thanks to an international initiative which is putting affordable and highly effective antimalarial drugs, called artemisinin combination therapies (ACTs), within reach of even some of the remotest communities in Africa. About 225 million people fall ill with malaria every year, taking a big toll on families and exacting a heavy cost on economic activity in many countries in Asia and Africa. The disease kills nearly 800,000 people every year, bearing down most heavily on children under 5 years of age, who make up the lion's share of victims. In recent years plasmodium falciparum, the most deadly form of malaria which is especially widespread in Africa, has become increasingly resistant to what until now have been the most easily obtainable cheap treatments for the disease. These medicines, such as chloroquine and sulfadozine-pyrimethamine, can be bought cheaply in private shops and pharmacies, but until recently effective ACTs were not available at a price most people could afford. Today, only about one in five of all treatments taken for malaria are in the form of ACTs, even though it is the World Health Organization's medication of choice as a first-line treatment for plasmodium falciparum. The aim of the new initiative, hosted by the Global Fund and known as the Affordable Medicines Facility - malaria (AMFm), is to make ACT medication as widely and cheaply accessible as possible. The initiative, launched last year in eight countries -- Ghana, Kenya, Madagascar, Niger, Nigeria, Tanzania, Uganda and Cambodia -- is financially supported by UNITAID, the United Kingdom and the Bill and Melinda Gates Foundation, and receives technical support from members of the Roll Back Malaria (RBM) Partnership. The AMFm initiative works like this: the Global Fund first negotiates a steep discount for ACTs with pharmaceutical companies and then pays them most of the discounted price on behalf of importers from the private, NGO and public sectors, who pay the balance. This results in an average wholesale price of 10 cents, allowing private wholesalers to sell on the ACTs to retailers at a profit. Meanwhile authorities in the eight countries where the initiative has been launched, are lending support with public awareness campaigns. Early results indicate that AMFm is working and has brought dramatic falls in over-the-counter drug prices in Nigeria and several other African countries. A formal price survey in Kenya shows that most retailers were selling subsidized ACTs at or for slightly more than the recommended local price, equivalent to 50 cents, or about one-twentieth the price of unsubsidized ACTs. In Madagascar, informal price checks early this year indicate that the retail price in shops and pharmacies for ACTs had dropped to 40 cents in the capital city of Antananarivo. Health is the area of development which has witnessed the most progress in recent years, largely as a result of global partnerships, which have called on international organizations, civil society, public and private sector actors to work side by side with each other. With the Global Fund's traditional donors facing severe budgetary strains as the world emerges from a deep financial crisis, there is a need for more innovative health programs such as AMFm. New cases of malaria and infant mortality from the disease have fallen sharply in most African countries in recent years. The AMFm initiative will help us to achieve even more impressive results in a campaign to eliminate malaria as a major public health challenge in the coming years. The progress we have made so far but also a major victory for a fundamental human right: the right to health care for everyone. Michel Kazatchkine is Executive Director of the Global Fund to Fight AIDS Tuberculosis and Malaria.
Philippe Douste-Blazy is special Adviser on Innovative Financing for Development, with the rank of UN Under-Secretary-General and President of Unitaid.
Popular in the Community