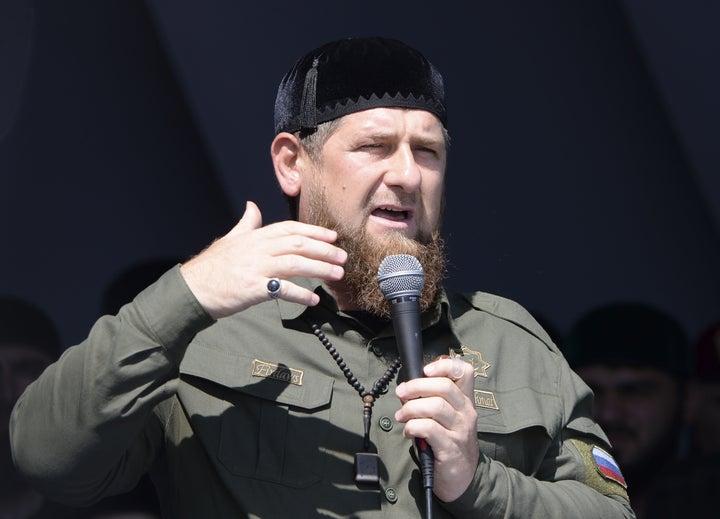 Russia's internet watchdog agency is demanding to know why Instagram and Facebook have blocked the social media accounts of Ramzan Kadyrov, Chechnya's Kremlin-backed dictator.
Kadyrov reportedly lost access to both platforms on Saturday without explanation. He has accused the U.S. government of pressuring the social media giants to disable his accounts.
Washington imposed travel and financial sanctions against Kadyrov last week over alleged human rights violations by his government, including repression, torture and murder. He responded with a mocking Instagram post, in which he said he "can be proud that I'm out of favor with the special services of the USA." Russia called the Magnitsky Act sanctions, which have also been aimed at a number of its own officials, "illegal" and "unfriendly."
Kadyrov, a former rebel leader who is now loyal to Russian President Vladimir Putin, has a history of human rights abuses. Under his leadership, Chechnya has reportedly detained and killed scores of gay men ― although he denies this.
The authoritarian leader often posted bizarre photos and videos on Instagram for his millions of followers. One purportedly showed him attacking a crocodile. Another was a plea to help him find his missing cat.
Kadyrov made international headlines in early 2016 when he uploaded a video that appeared to show Mikhail Kasyanov, a Russian opposition leader, Putin critic and former Russian prime minister, being targeted by a sniper. The video, which Kasyanov described as "incitement to murder," was eventually taken down by Instagram, angering the Chechen leader.
Kadyrov's Twitter account remains active as of Tuesday. He tweeted to complain about his blocked Facebook and Instagram accounts on Saturday.
Instagram, which is owned by Facebook, did not immediately respond to HuffPost's request for comment.
Popular in the Community