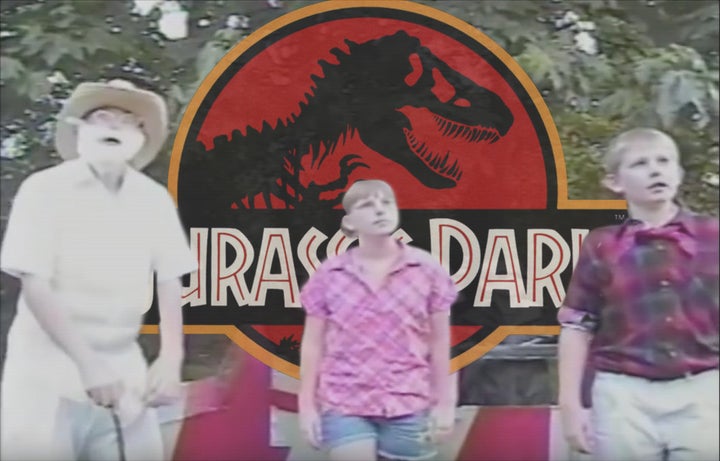 If you're a fan of the "Jurassic Park" film franchise, you'll want to check out a full-length amateur remake that's been making the rounds on Reddit.
"This is the best thing I've ever seen posted on Reddit," wrote user MSF_Terminus. "I've already organized a viewing party … and am super excited."
"Nnnnnnnnyeah, this is amazing," added user kdk12k2k12. "Kudos to the dedication to this … highly enjoyable and very admirable."
As the title of the thread suggests, the movie, shot with a Hi8 camcorder, was made by a group of youngsters led by brothers Steven and David Hudson.
"At that time, my brother was 15, I was 13 and 'Jurassic Park' was our favorite film," David Hudson told HuffPost on Friday. "Our parents had just gotten a video camera, so we set out at the beginning of the summer with the intention of creating the entire film in a day or two."
This was an ambitious goal that Hudson said they quickly realized was out of reach, They needed more help, so the brothers enlisted their younger sister and two cousins. They shot the film in and around their parents' home in Seattle.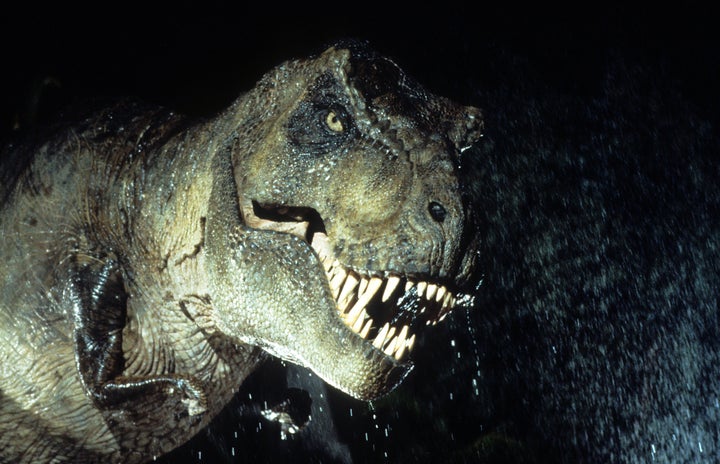 "We didn't really spend any money on anything," said David Hudson. "For the most part, we used what we could find in our house. We were dinosaur fanatics, so we had a lot of toys from when we were younger, and for the costumes, we pulled a lot of stuff from closets, including our parents'."
The brothers made up for their lack of mechanical dinosaurs with imaginative camera shots. Lacking audio/video editing equipment, they utilized some rudimentary yet effective techniques. Their score was the movie soundtrack on a boom box during relevant scenes. The entire film was shot in sequence in an effort to avoid too much editing.
In the end, it took the brothers two months to finish their 90-minute masterpiece ― roughly a month shy of how long it took Spielberg to film his. Until recently, the boys' movie had only been seen by family members and select friends.
"We decided to upload it around the time 'Jurassic World' was coming out," Hudson said. "After that, we didn't think much about it, not until Reddit picked it up and it started blowing up. We've since read through the comments there and we just laugh and feel flattered by how much people have enjoyed it."
The Hudson brothers, nicknamed "the film guys" in high school for their love for creating movies, went on to make several other amateur films. Then, in 2010, their dreams became a reality when they founded Cinesaurus, an award-winning creative studio, which, according to the company's Facebook page, traces its roots back to their "Jurassic Park" filmmaking days.
"If you dig deep into their past, you'll find a scene-for-scene remake of 'Jurassic Park,'" reads their description of the business. "Hence the name — Cinesaurus— which is an amalgamation of the words 'cinema' and 'dinosaur.'"
It's unclear what Spielberg thinks of the tribute to one of his top-grossing films. The acclaimed director did not immediately respond to a request for comment from HuffPost on Friday.
"If Steven has seen it, that would be amazing," said David. "But we've not received word from him, and, luckily, we've not received a takedown request from YouTube via Universal Studios, which we're grateful for."
Meanwhile, the brothers' "Jurassic Park" remake, which has racked up more than 150,000 views, has received mostly positive reviews, proving that not all remakes are destined for failure.
If you liked the Hudson brothers' movie, check out this live-action "Toy Story" shot-for-shot fan remake:
Calling all HuffPost superfans!
Sign up for membership to become a founding member and help shape HuffPost's next chapter
BEFORE YOU GO
PHOTO GALLERY
Best Movies of 2016 So Far