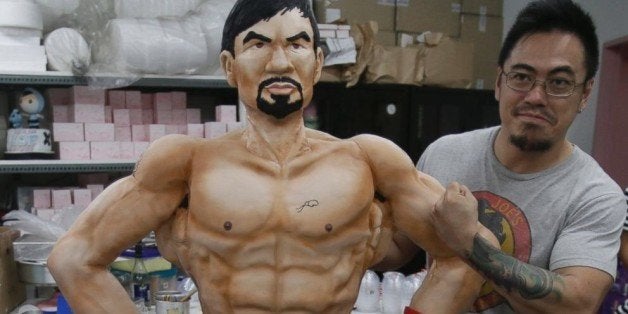 Filipinos love and support Manny Pacquiao in everything he does and this Filipino baker showed his support by making a giant Manny Pacquiao cake.
Well, it's giant by cake standards, as Manny Pacquiao only stands at 5 feet 6 inches tall in the first place.
According to Bleacher Report, it took Zachary Yonzon, of Manila's Bunny Bakery, 24 hours to make this cake and required a team of seven bakers.
They did have to get a bit creative with this 5-foot-6-inch cake, as they used Rice Krispies for the head and limbs, probably for added stability.
Yonzon said he'd be handing out free slices had Pacquiao won (you know how that went).
Yonzon was also the man who created some cool Pacquiao and Floyd Mayweather latte art, so it's safe to say the Filipino baker is really stoked about the mega fight.