The National Leadership Forum for the Women's Collective Giving Grantmakers Network (WCGN) in Charlotte last week made this much clear: the philanthropy -- of money and time -- is increasingly attractive to women from all generations and classes. While the term "philanthropy" may have hoity-toity, upper class-privilege connotations, the new faces of philanthropy prove nothing could be further from the truth. And when it comes to the allocation of $70,000,000 for grass roots needs, how can we ignore these faces?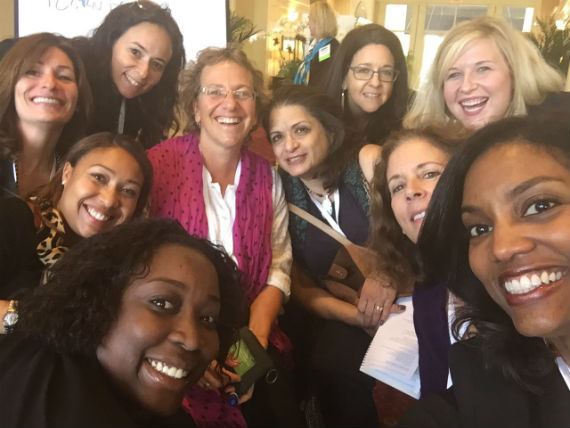 Women attending a breakout session at the National WCGN Leadership Forum in Charlotte, NC.
Photo Credit: Paula Broadwell
What's even more notable about this trend, however, is the way women are working together to empower others in need via collective philanthropy, or pooling of funds into a grantmaking organization in order to make a larger financial contribution to groups in need.
Several organizations that have benefitted from women's collective giving as well as women helping women were represented at the WCGN leadership forum last week in Charlotte, NC. A snapshot of these women's stories are case studies in why women helping women is so important at the grass roots levels. Non-profits frequently fill in where government services fall short. Women-centric non-profit orgs often make gender a fundamental component of their giving. And the local knowledge women in these organizations bring to the group invariably helps improve overall community awareness of local needs.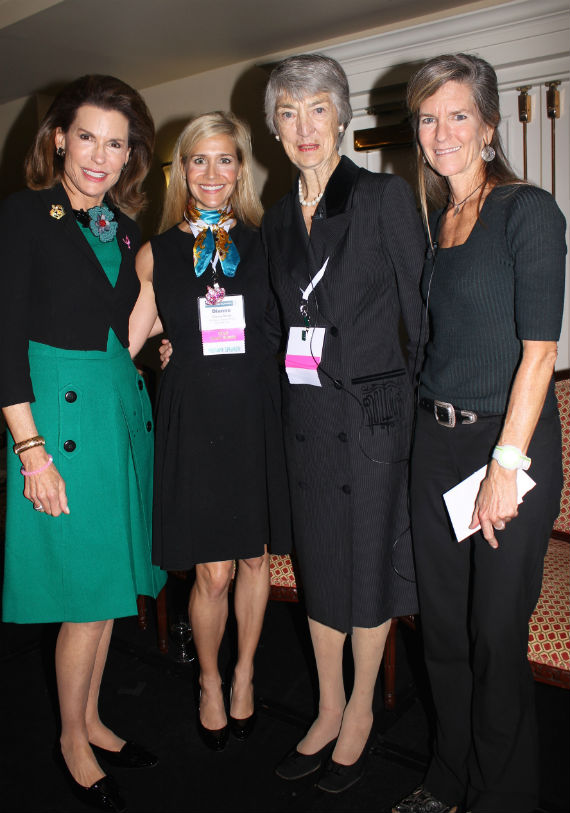 Founders Luncheon Speakers (left to right): Nancy Brinker, Dianne Bailey, Colleen Willoughby, Molly Barker)
Photo Credit: Dan Coston
The theme of this annual conference was Doing, Being, Leading. The concepts were manifest best in the "Founder's Luncheon," an event with three women who founded local non-profits that have become globally recognized brands. The panel included Nancy G. Brinker, the founder of the Susan G. Komen Race for the Cure (a breast cancer advocacy group) and Molly Barker, the founder of Girls On the Run. Their message was to "be the change" they wish to see in the world by doing everything they can to get their non-profits up and running (from cleaning the commodes to representing their constituencies at the White House). Colleen Willoughby, the founder of the national (umbrella) movement for the Women's Collective Giving Grantmakers Network and the first community-based group, the Washington Women's Foundation, also sat on the panel. All three ladies faced common personal and organizational leadership challenges and cultural myopia along the way, whether having to fund raise during times of austerity, facing misrepresentation in the media, or overcoming society's perspectives on who manages the family checkbook. But some unique qualities -- relentlessness and indefatigable attitudes -- were common as well.
In Brinker's case, she was influenced to lead change because of the premature death of her sister to breast cancer. Though the Race for the Cure is now a globally recognized brand, promoting her new effort was no small feat. Decades of sexism have no doubt influenced the challenge of raising funds to protect a woman's body part. Brinker shared that in the 50s, the NY Times refuses to publish an ad for a breast cancer support group stating that it would not print the words "breast" or "cancer." By 2014, 150 Komen race events with over a million participants were held worldwide, including in the U.S., The Bahamas, Belgium, Georgia, Germany, Greece, Italy, Puerto Rico and Tanzania. The pink ribbon is ubiquitous in nearly every women's clothing store and grocery store and on bumper stickers across the nation. But Brinker says this is not enough. The disease, second leading cause of cancer death in women, still affects women at an alarming rate (1:5). My mother-in-law, best friend from high school, and business partner have all survived breast cancer, so I can't help but express gratitude and solidarity for the relentless pursuit for the cure.
Molly Barker founded Girls on the Run to "provide pre-adolescent girls with the necessary tools to embrace their individual strengths and successfully navigate life experiences" by using a 5K training and race program to empower female students to "run like a girl," meaning run fierce and strong like champions! Barker formed the group in great part because she was "tired of others defining what it means to be a girl or a woman." Today, with the help of over 120,000 volunteers, the Girls on the Run program empowers over 168,000 girls in 225+ cities across North America each year.
Colleen Willoughby, the founder of this now international movement was also on the panel. (Colleen's start-up efforts were profiled here.) In addition to sharing insights on why private initiatives like this can fill gaps where government services fall short, Willoughby spoke about a humorous story that guided her mindset over the years. An elderly lady once whispered a poignant statement to her. "You know how men come into money? They earn it, inherit it, or marry it." Colleen could only agree. The lady continued, "And do you know how women come into money? They earn it, inherit it, or marry it." Working hard to deconstruct the concept that philanthropy is a man's decision, Colleen is a fierce advocate for women leading and being intentional with their giving. She is in the process of helping start similar efforts in Australia and China.
The intrepid dedication of these three women to their respective causes only symbolizes what thousands of women are doing across America (and the world) as part of the trend in collective giving. They are dispelling the myths that philanthropy is a men's club. They are proving that by working together, they can move millions. And they are using their so-called privilege to fiercely advocate for vital community needs, important causes, and positive social change.
This is the fourth article in a series on women's collective giving movement, published in support of the national leadership forum in Charlotte, NC, Oct 15-17th, 2015. Hundreds of female philanthropists gathered to share best practices, gain new skills, and network with globally-recognized philanthropists. For an overview of the social impact movement, tune into this NPR podcast with the WCGN founder and other key leaders.
Popular in the Community