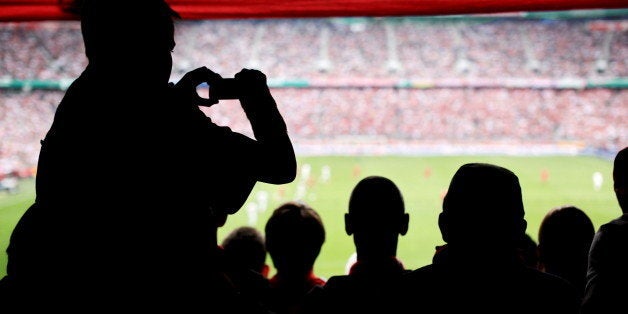 I remember my junior high soccer coach telling me that women's athletics would never be popular. I think he was trying to prepare me for the harsh realities of the world. He wasn't being malicious; rather warning that I shouldn't have any expectations beyond playing in college. He advised I wouldn't be able to sustain a living playing sports.
In some ways he was right. Most female athletes are not provided the same opportunities as their male counterparts.
Yet, when the U.S. women's soccer team played in the World Cup finals this past Sunday against Japan, it gave me a glimmer of hope.
Growing up, I had small photo of Mia Hamm displayed in my room. There were no posters of the soccer superstar back then; I had cut out a small picture of her from my Sports Illustrated magazine. You had to dig to find articles about your favorite women athletes. The only female jocks featured seemed to be tennis players like Chris Evert or Olympians Jackie Joyner-Kersee, Debi Thomas, Bonnie Blair and Mary Lou Retton.
My 7-year-old daughter Vivien, however, has many female athletes she can look up to and learn about. So does my 10-year-old son, Dexter, for that matter.
They don't just have one or two female superstars to look up to, but a wealth of successful women athletes to emulate. My kids can watch the newly crowned 2015 World Cup U.S. women's soccer team or follow the success of the U.S. Women's ice hockey program. They can watch Lindsey Vonn speed down the hill on her skis, Little League sensation Mo'Ne Davis pitch from the mound, the entire UConn women's basketball team, Danica Patrick race around the track, the Williams sisters pound the tennis ball, or flip on ESPN to watch women's college softball.
Granted, we still have a long way to go as far as gender equality. Women still don't take home the same paychecks as the professional male athletes do, but hopefully the momentum is building.
While listening to people talk on Monday and ask, "Did you watch the game last night?", it rocked knowing that "the game" referred to wasn't one involving a bunch of sweaty men playing in the NLF, MLB or NBA game.
Nope, instead it was a group of strong, passionate and sweaty women.
Should my kids want to display a photo of Alex Morgan or Carli Lloyd on their bedroom walls, I bet they could find a poster of their favorite soccer star instead of a small cut-out from a magazine.
Related
Popular in the Community