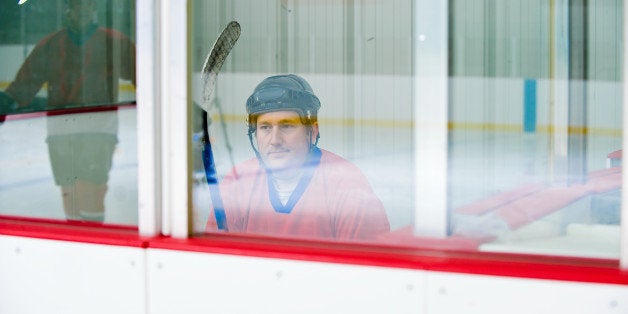 Throughout my life and career in hockey, I have been inspired by this famous quote from James Baldwin: "Know from whence you came. If you know whence you came, there are absolutely no limitations to where you can go."
I have always tried to live by that credo. My family background and all the people and events that have shaped my life will forever shape my views and actions. Speaking strictly in hockey terms, I try to stay true to where I came from and who I am.
As a player, my ticket to reaching the NHL and WHA was my toughness and work ethic. As an official, I respected the people who performed the policeman role because I knew just how difficult and misunderstood that job really is. Likewise, in my post-refereeing career of directing officials, I always try to keep my own experiences as a referee in mind.
By nature, I am an outgoing person. I love to stop and chat with others, and share a good laugh. I also try to help out others whenever I'm in position to do so. During my refereeing days in the NHL, if there was a situation where -- without impacting a game itself -- I could bring some recognition to a guy toiling in the enforcer role, I was glad to do so.
I got to the hockey equivalent of the major league the hard way. I had to literally fight my way up there one rung at a time from being a tryout player on the last-place team in the lowly North American Hockey League (NAHL) to the higher minor leagues and onward. Not every step was an upward one, either.
During my own playing days, goals were rare for me. Let's put it this way: One of these days when I am pressed for time, I'll do a blog on all my goals. It won't take long (haha). For the record, I managed to score two in my brief time in the NHL with Quebec, three in the WHA with Cincinnati and a few more in the AHL and other minor leagues.
I know you've heard this all before, but there's a reason why I'm repeating it: There are many others -- especially tough guys -- who had to take similar journeys to the NHL. These are guys who weren't blessed with the speed and talent of the game's stars. They had to work and scrap their way up from the bottom of the ladder. They had to deal with the lack of security (and modest salary) of minor league contracts. When they finally made it to the NHL, the goals and the glory were for others. They were just proud to wear the uniform and find a way to contribute something for their team in any way they could.
I always had a soft spot in my heart for those players even when I traded sweaters to don the stripes that my grandfather and father proudly wore before me. I knew very well from whence they came, because I had lived that life, too.
Here are two stories of how that played out on the ice, with only the player and I ever knowing about it.
I refereed Darren Langdon's first NHL game. It was during the 1994-95 lockout season at the Montreal Forum. He was called up to the Rangers for a game against the Montreal Canadiens. Langer was a player after my own heart. He was never drafted. He'd fought his way up from the ECHL and AHL to finally get his shot.
I had no idea how long this kid's NHL career was going to last -- as it turned out, he went on to play 521 games in the NHL -- but I suspected each and every goal he scored was going to be precious to him because he wasn't going to get many.
Around the midway point of regulation, with the Rangers trailing 2-1, a New York defensemen flipped a shot from the point toward the net with a mass of traffic in front of superstar Montreal goaltender Patrick Roy. It deflected off the pants of a Montreal player and into the net. I saw it clearly because I was stationed at the net, but it was hard to tell from most other angles who actually got a piece of it.
I skated over to the scorer's table and said, "Goal, number 15 blue. Assists to 23 and 26."
Number 15 on New York was Langdon. The next time he was on the ice, he said, "I think you made a mistake on that play. The puck never touched me."
"Sure it did," I said. "It's your goal."
I waved him away and folded my arms, He shrugged. On the inside, I smiled. The kid could forever say he scored a goal in his first NHL game and it came against the great Patrick Roy. The scoring on that play never changed.
As it turned out, Langer would score only 15 more goals and 38 more points in his next 520 NHL games after his debut. I was glad to help him get his first on a fluky bounce of the puck that might as well have bounced in off his uniform as the opposing player's right next to him.
A similar but perhaps funnier story happened one year earlier. Todd Ewen was a journeyman tough guy on the Montreal Canadiens who played on the team during their Stanley Cup season of 1992-93. The club was coached my old Cincinnati and Quebec coach Jacques Demers. Ewen only dressed in one playoff game after starting in 75 regular season games. That was enough to qualify for his name on the Cup, but he didn't get to take part in the celebration festivities because he was traded to Anaheim over the summer.
I liked Todd. He didn't get much ice time but he always gave his all. He had a big heart, on and off the ice. This tough-guy enforcer from Saskatchewan wrote and illustrated children's books in his spare time.
Anyway, when I refereed a game of his the next season, I told him not to feel bad about not getting to bask in the spotlight of his team's Cup win the previous year. Then I said, "I'll get you a standing ovation tonight from the crowd."
"How will you do that?" he said.
When his team scored its first goal of the game, I told the official scorer the goal belonged to number 36 (Ewen). The crowd jumped to its feet and applauded the rare goal by the proud owner of 36 tallies in 516 NHL games. Then I looked over at the bench and winked. He smiled back at me.
Ewen wasn't even on the ice when the goal was scored. I knew that. He knew that. I had to go back over later and correct the scoring in order to credit the right player. That wasn't the point. The important thing was the guy got his name called out for something other than a trip to the penalty box, and he got to feel some appreciation from the fans of his team.
I enjoy watching the superstars of the game as much as the next person; maybe even more so because I appreciate just how skilled they really are. Nevertheless, I will always feel a kinship with the Darren Langdons, Todd Ewens, Kelly Chases and Jody Shelleys of the game.
Those guys are getting pushed out of the game, year by year. Some call it progress. I call it sacrificing heart, character and the dedication of people who are willing and able to do a brutally difficult job in order to have a chance to make their NHL dreams come true.
Last but not least, let me say this: As a father, I certainly want my sons to be both safe and successful in everything they do both and off the ice. I also want them to be able to defend themselves physically. I know what goes on in this sport from 40 years of experience.
You say "enforcers aren't a deterrent to dirty hits and targeting skill players" because they are rarely on the ice at the same time. Well, maybe not in today's game, but it most certainly was a deterrent when players were allowed -- and expected -- to police the game.
There was also an internal policing factor. You may never have been privy to a dressing room "discussion" between a team's enforcer and a teammate who just did something stupid for which the designated policemen subsequently had to bust up his knuckles and maybe even spill some blood to stand up for the guy who was in the wrong in the first place. Trust me, even teammates did not want a Craig Berube or a Gino Odjick -- or even a Paul Stewart -- to be ticked off at them.
It's call team dynamics, folks, and checks and balances. You may not believe it really exists -- and maybe it doesn't in this politically correct and overly legislated age -- but those of us who made a professional living in this sport when I was on the ice knew otherwise.
Paul Stewart holds the distinction of being the first U.S.-born citizen to make it to the NHL as both a player and referee. On March 15, 2003, he became the first American-born referee to officiate in 1,000 NHL games.
Today, Stewart is an officiating and league discipline consultant for the Kontinental Hockey League (KHL) and serves as director of hockey officiating for the ECAC.
The longtime referee heads Officiating by Stewart, a consulting, training and evaluation service for officials. Stewart also maintains a busy schedule as a public speaker, fund raiser and master-of-ceremonies for a host of private, corporate and public events. As a non-hockey venture, he is the owner of Lest We Forget.
Stewart's writings can also be found on HockeyBuzz.com every Monday, Tuesday, Thursday and Friday. He is currently working with a co-author in writing an autobiography.