This company is putting their money where your mouth is. 
Cheeky is a tableware company that sells plastic and paper plates -- and for every item you buy, they donate a meal to people in need.
"As I learned about the issue of hunger in America, it became alarming how few people were talking about it," founder PJ Brice told the Huffington Post. "In one of the wealthiest countries in the world, fifty million Americans are food insecure? It's hard to believe."
The company partners with Feeding America, a nationwide network of food banks providing free food to families and individuals who need it. For every product bought from Cheeky -- say, a pack of paper plates -- the company donates the monetary equivalent of one meal to the organization.
In the 18 months since its inception, Cheeky's given over 7 million meals.  
"There are lots of other causes that are incredible, but I can't think of many more primary than hunger," Brice said. "If people are working full-time jobs and can't afford to feed their families, this is a problem."
In New York, one in five people lining up for free food at pantries has a job. And the problem is nationwide: One in six Americans lives in a food insecure household.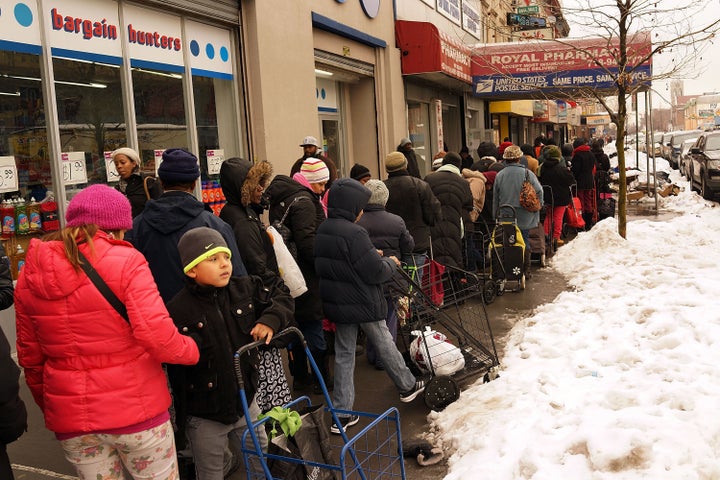 Brice thinks of Cheeky like a TOMS or Warby Parker: The buy-one, give-one model allows them to sell original products, while supporting an important cause.
"Cheeky is about generating meals," Brice said. "But it's also about raising awareness."
The next step for Cheeky is a kids' line, launching in the fall. The line will benefit No Kid Hungry, an organization that connects low-income kids to nutrition they need, like school breakfasts and summer meals.
"If children can't concentrate in the classroom because they haven't eaten breakfast, that's an issue," Brice said.
Brice's ultimate goal, though, is to go beyond just donating to food organizations:
"We want to change perceptions, and absolutely change behavior," Brice said. "For instance, let people know how much food goes to waste and why. A vast amount of food in American fridges gets chucked out. We want to help educate and empower people, so they can make the right choices."  
REAL LIFE. REAL NEWS. REAL VOICES.
Help us tell more of the stories that matter from voices that too often remain unheard.
BEFORE YOU GO
PHOTO GALLERY
America's 'Working Poor'