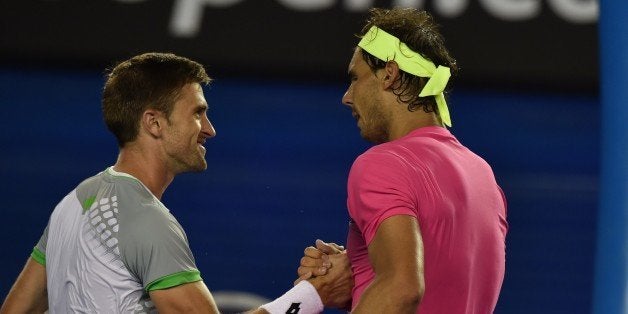 If you're concerned about Oxfam's prediction, that by next year a majority of global wealth will be owned by the richest 1 percent, then cheer for teens Madison Keys and Nick Kyrgios in Week 2 at Melbourne. They are hardly genuine underdogs, but they are the closest we have left in the singles draws at the Australian Open. Particularly those ranked lower than 100 -- Keys is ranked 35 among the women and Kyrgios 53 among the men -- will need your help to overcome an enormous resource advantage enjoyed by the elites, much as the truism, that it takes money to make money, perpetuates and exacerbates divisions of wealth and power.
You had only to watch Maria Sharapova's and Rafael Nadal's final-set escapes in the second round -- the women's second and men's third seeds, respectively conquering players ranked 150 and 112 -- to see how narrow the gap can be between the top players and the rest. Both matches went beyond the conventional distance, to a 7-5 score in the deciding set. Sharapova fended off two match points to prevail over Alexandra Panova, and Nadal scored only six more points of 310 played against Tim Smyczek. Yet the relative rewards enjoyed by the winners and losers are not close at all. Singles champions of this year's tournament will receive $3.1 million dollars, whereas Panova and Smyczek each left with $60,000 from the main draw, to add to the $16,000 they received for winning three extra matches just to qualify for the final 128. In 2014, between them, the top two men's prize money winners -- Novak Djokovic and Roger Federer -- took home more than the one hundred players ranked 101 to 200 earned collectively, and with the endorsement money that accrues to stardom, the legendary Federer more than quintupled his income.
Wealth disparity among the general population, which also made headlines last year with the publication of Thomas Piketty's Capital in the 21st Century, resembles that among tennis players. The trend of greater rewards for a shrinking few is unmistakable, and it is not new. Numerous studies show that the multiple of CEO-to-average-employee salary has risen sharply since the mid-20th century. In their 1996 book, Robert Frank and Philip Cook examined our Winner-Take-All Society, in which small differences in performance yield large differences in compensation. They argued that the disparity was not only unfair but also presciently, like Piketty, that it would generate social unrest and violence.
Extra-political agitation about perceived market injustice is a consequence of low confidence in conventional approaches to agree on solutions. The conservative attitude has been to suggest inequality is a temporary aberration or even an illusion, trusting the market in the long run to reward disproportionately those who create disproportionate value. This philosophy is espoused by sports commentators who excessively emphasize top players' talent, will and knowledge of how to win the so-called "big points." On this theory, small causes justify big effects, because genuine winners produce consistently more over time. Like the "Big Four" of men's tennis has won 36 of the past 39 Grand Slam tournament titles, the global economy has but a few growth sources -- countries and individuals -- without which its motor would stop, to evoke conservatives' beloved Atlas Shrugged metaphor. Spectators pay to see the glamorous Sharapova and muscular Nadal, not the plain Panova and slight (though gentlemanly) Smyczek. The liberal solution to inequality is to impose a post-market tax on the wealthy. That market-as-the-answer, market-as-the-problem quarrel explains why policymakers have such trouble agreeing -- and also why so many tennis stars choose tax-free Monaco for their primary residences.
From there, they travel to places like Melbourne by private jet, often carrying entourages of coaches, trainers, motivational speakers, business managers, nutritionists, massage therapists, spiritual advisors, and, if they have them, even spouses and children. (If you've read Andre Agassi's Open, you know how narcissistic even a mellowed, charitable and well-meaning Andre can sound when he enumerates his support team.) Even those who aren't quite so extravagant have the means to employ these acolytes when they need them and to train in luxury recovering from injuries or in the offseason, Sharapova in Florida and Nadal in Mallorca. When he requires an oxygen boost, Djokovic incubates (for now, legally) in an egg-shaped CVAC Chamber, a device designed for the very ill and/or the very rich. What makes Panova's and Smyczek's close calls all the more remarkable is that they were competing against their opponents' riches as much as they were battling the opponents themselves.
With equal resources, a tennis star is really only a glorified qualifier, likely luckier, perhaps marginally more talented, almost certainly resource-advantaged: better by degrees, but not different in kind. Without a level playing surface, pros typically last on tour a short time, playing qualifying tournaments, seeing the world, sharing rooms, riding with other journeymen in Eurovans, and eating peanut butter sandwiches until their money, their will, or their bodies abandon them. Tennis can be the "cruelest sport".
However, the sport's iniquities and inequities are no crueler than those of market economics, which afforded 1,700 private jets to fly last week to Switzerland, carrying mostly business leaders and their entourages of public relations specialists, speechwriters and the occasional massage therapist or spiritual advisor, too. Like tennis stars, Davos' leaders may be among the best at what they do by degrees but not by kinds. They are entrepreneurs and oil speculators (glorified fishermen), investment bankers (overpaid pawn shop appraisers), hedge fund managers (exalted poker players), and strategy consultants (venerated temporary workers). There, at the World Economic Forum's Annual Meeting, they discussed, among other topics, climate change -- caused in part by greenhouse gas emissions-intensive air travel -- and, in the ultimate irony, income inequality, with event co-chair Winnie Byanyima, Oxfam's Executive Director.
In the wee hours, some broke to cheer on the underdogs in Melbourne, to little effect. To make a meaningful difference, they'll need to provide more than their moral support. If the free market is going to help solve the problem of income inequality, then the solution needs to begin with materially rewarding and recognizing stars for being no more than who they are: luckier, resource-advantaged and perhaps slightly better. Not different in kind. Before we impose taxes, and before we wait for a market correction, we have to correct our star-crossed mindset and stop rewarding the 1 percent as though they create 99 percent more value than the rest.