A tribute tweet to the Purple One by the Cheerios cereal brand left many people on Twitter seeing red.
Cheerios on Thursday attempted to honor Prince's death with a tweet featuring the words, "Rest in Peace," against a purple backdrop. In place of the dot on the "i" was a single Cheerio.
The reaction wasn't positive and the tweet was quickly removed -- but not before it was screen-shotted for eternity.
Prince lived in Minnesota, where General Mills, the maker of Cheerios, is based. That shared location inspired the tribute, according to Cheerios brand spokesman Mike Siemienas. He released this statement to HuffPost:
"As a Minnesota brand, Cheerios wanted to acknowledge the loss of a musical legend in our hometown. But we quickly decided that we didn't want the tweet to be misinterpreted, and removed it out of respect for Prince and those mourning."
Cheerios isn't the only Minnestota-based corporate brand that attempted to honor His Royal Badness. The conglomerate 3M offered this tribute:
Maker's Mark bourbon, located in Kentucky, reposted an old photo of a purple-topped bottle as a tribute, but some people weren't impressed.
It's probably not surprising that one of the most tasteless corporate "tributes" to Prince came from a porn website.
Pornhub altered its logo by replacing the "P" with the male-female symbol that Prince used in the mid-1990s.

Jessa Moore, a New York-based crisis management expert, said there is really no good way for a corporate brand to honor a celebrity's death.
"It's insensitive," Moore told The Huffington Post. "It's like they're saying, 'We're going to capitalize on his death so we show up in an search algorithm.'
"When something like this happens, a company realizes how good their social media really is."
Related
Before You Go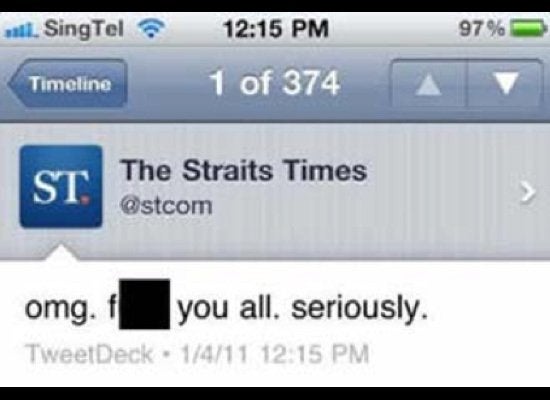 Twitter PR Fails
Popular in the Community