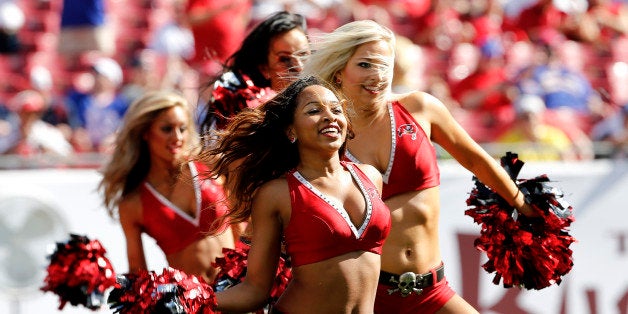 Following similar wage theft lawsuits filed by other NFL cheerleaders, a former cheerleader for the Tampa Bay Buccaneers sued the team over its pay practices on Monday, claiming she was paid less than $2 per hour for the time she devoted to the team over the course of two seasons.
Manouchcar Pierre-Val said in her complaint filed in federal court that she was paid $100 for each home game she cheered in, but didn't receive anything at all for the up to 15 hours of practice each week or the 40 hours' worth of annual "community appearances" she was required to make.
Her lawyer, Kim Woods, argued in a statement that the Bucs violated the Fair Labor Standards Act, which covers minimum wage and overtime laws. The lawsuit is a proposed collective action.
"Given the countless number of hours the Buccaneers required its cheerleaders to spend practicing and attending non-profit community events on behalf of the Buccaneers, these paltry wages were far less than the applicable minimum wage in virtually all work weeks," Woods said.
A Bucs spokesperson declined to comment on the lawsuit.
HuffPost readers: Have you worked as a cheerleader for an NFL team? Tell us about it.
Pierre-Val, who couldn't immediately be reached for comment, might upset the typical NFL fan's assumptions about who the league's cheerleaders are. According to a personal video statement posted on the squad's YouTube channel in 2012, her cheerleading duties came on top of her full-time job as a registered nurse.
"Nursing and cheerleading ... can't be any different from each other," she said in the video, "but they both allow me to be able to give back."
Hers is just the latest in a spate of lawsuits filed by former NFL cheerleaders. In recent months, women have sued the New York Jets (the Flight Crew), the Cincinnati Bengals (the Ben-Gals), the Buffalo Bills (the Buffalo Jills) and the Oakland Raiders (the Raiderettes) over alleged labor violations. Like Pierre-Val, the Raiderettes said they were paid a flat fee of $125 per game but weren't compensated at all for the other hours they had to put in.
The dispute could mean Buffalo's cheerleaders don't take the field this season, as the squad's management company, Stejon Productions Corp, suspended its operations after the lawsuit was filed.
Stephanie Mateczun, the company's president, said the Bills were trying to distance the team from its own cheerleaders.
"The Buffalo Bills own the trademark for the Jills, they control the field and everything that happens on that field, from the uniforms the cheerleaders wear to the dances they perform," Mateczun said. "Yet the organization appears content to attempt to wash their hands of any connection to their own cheerleading squad."
Popular in the Community