It was a packed house at the Middlebury College student center on Tuesday night. The College Democrats set up the old natatorium, retrofitted into a greasy late-night food joint, and brought down the giant scroll-down screen to stream the first Democratic debate. Across the country students went to parties put together by College Democrats, clubs to support candidate, or any number of other groups. At Middlebury, two political science professors served as commentators for the debate giving an introduction to expected strategies as well as their insight during commercials.
The evening began with a bit of a cheer off between the Hillary and Bernie supporters. Although Bernie supporters were louder, there was a vocal cohort of Clinton fans. Later on, during candidate introductions the students shook the room when Bernie entered onto the stage.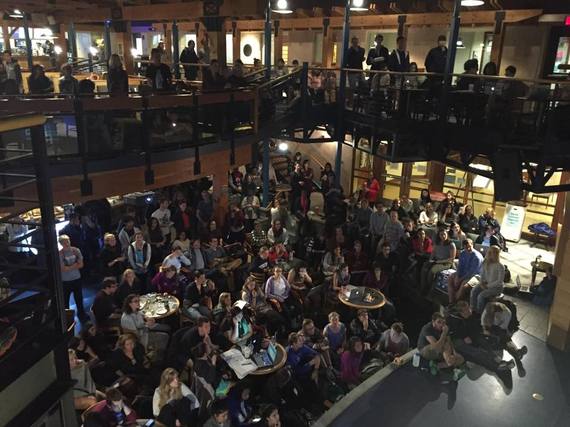 The Middlebury College student center was a packed for Tuesday night's debate. Photo by Julian Gerson.
At Middlebury College, a rural Vermont liberal arts school and headquarters of the College Students for Bernie movement, I learned a few things about my peers. From talking with students who attended debate parties across the country, I learned even more. Here's a quick run down:
Policy, not Politics: The single biggest applause from the night was for Bernie's powerful retort explaining that Americans "are sick and tired of hearing about [Clinton's] damn emails" instead changing the conversation to policy issues. And it wasn't only in Vermont that students felt the Bern at that moment. Jeremy Kaplan who attended the College Democrats party at the University of Michigan, explained how students followed up a huge cheer for Bernie with a nearly equally powerful one when Clinton said "No," choosing not to respond to Chafee's attack line about her emails moments later. At the end of the debate, O'Malley shined in his conclusion, earning a hearty round of applause with "what you heard was an honest debate of what will move us forward".
Cheers: Overall, students prioritized domestic issues over international ones. Problems at home in America got the largest responses. The two biggest topics for students were college affordability and climate change--youth expect these policies to have major impacts in their lives. Stricter gun control, support for Planned Parenthood and the Black Lives Matter movement also drew cheers from the crowd.
Jeers: There was ruthless laughter at any displayed incompetence. If Chafee had been at Middlebury, he would have been laughed off the stage during his failed attempt to justify his vote to repeal Glass-Steagall.
Bernie Wins: Unsurprisingly for Middlebury, Vermont, Bernie was the favorite of the night and came through for his base. Beyond the confines of rural Vermont, Arizona high school students watching at a Junior Statesmen of America debate party told me that they felt Bernie won. They supported his focus on education and income inequality and especially loved a trait that they described as "honest even when unpopular".
Students Care: As I described in a previous article on youth apathy; we have a generation ready to get involved in politics. Debate parties an incredible opportunity to bring issues to the national stage and catalyze conversations among students. We just need to keep those conversations happening all year long, in or out of election season.
Calling all HuffPost superfans!
Sign up for membership to become a founding member and help shape HuffPost's next chapter