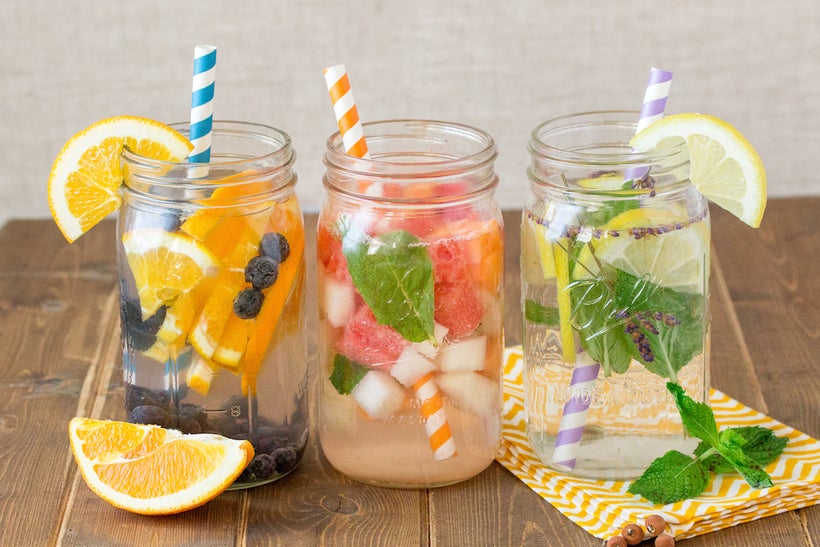 I believe in living in the present and do my best to make every moment count. That being said, where did summer go? And why didn't anyone warn me that I would once again feel as if I had just taken down holiday decorations and, "Bam", I am looking over the horizon of mid-August just as I was getting into the groove of this "summer thing"?
Granted, it's not over until it's over, and I am not about to give in a minute before I am forced to pack away my beach gear and fully embrace the arrival of autumn. Given this reality, how better to do so then to keep the party going with one of the simplest summer pleasures; a cool drink on a hot day. A refreshing concoction with just enough "fabulous" to keep my dreams of an endless summer alive and my taste buds thanking me for all the remarkable flavors that summer has to offer.
This summer marked some new beginnings for me. I got married and inherited four amazing "Step Somethings" making me a self-identified "Step Dude" to my millennial boys. I also decided to step up my health and wellness regime in a new way. I already exercise and, while I am not overweight, I have come to realize that, at nearly 47, what is happening on the outside is not always a true reflection of what is happening on the inside of my body.
New beginnings, new responsibilities, and a desire to continue to take life by the short hairs and live without limits or regrets. While this is a nice sentiment, it takes some planning and, with that, a few additions to my food plan. 
I will admit I was never one to believe in supplements, powders, pills, and some of the more heinous stuff that is supposed to be mixed into my beloved beverages leaving me with a bad taste in my mouth. Not to mention the gritty consistency akin to licking the bottom of my sneaker after a morning run on the beach.
So, what is my solution? While there are no quick fixes or magic elixirs, Collagen Peptides have certainly made a believer of me. Collagen is one of the most plentiful proteins found naturally in the body and, as a guy who isn't getting any younger, I am concerned about my skin, hair, and more importantly my bones and joints.
This is not an advertisement or an endorsement, but a chance to share what works for me. First, I encourage everyone to do their homework. The internet is a magical and chaotic place so, before you order anything, do your due diligence. I did mine and came across Vital Proteins.   The premise seemed sound to me but the science was a bit daunting, so I contacted the company and was impressed with their willingness to answer my questions and manage my expectations. They are not selling a dream or any form of the ever elusive fountain of youth, and their transparency was refreshing. To date, I have been enjoying some of their suggestions and using them to hold on to summer with an unrelenting grip.   I am not ready to say goodbye to balmy breezes and pool parties, and I most certainly will not give up the sense of health, wellness, and well-being I have worked so hard to achieve. Now, I just feel like I have a little extra help while still keeping things delicious.
NOTE: In truth, my abilities in the kitchen are, shall we say, "limited", but I can slice, dice, and mix with the best of them. Below are a few of my favorite summer beverages and, for an added twist this year, I have introduced Vital Proteins' Collagen Peptides into these summer recipes.
2 liters of sparkling water
8 – 10 scoops Vital Proteins' Collagen Peptides
Combine melons and mint into a pitcher
Pour the sparkling water over fruit. Serve chilled (with or without ice).
8 – 10 scoops Vital Proteins' Collagen Peptides
Combine fruit into a pitcher
Pour still water over fruit and chill. Serve with or without ice. 
1/4 cup of dried lavender
Mint (a handful or as desired)
8 – 10 scoops Vital Proteins' Collagen Peptides
Combine lemons and herbs into a pitcher
Pour still water over fruit and chill. Serve with or without ice. 
*I have no commercial connection to any brands mentioned in this article, nor was I paid to write this article
** This product and/or this article is not intended to diagnose, treat, cure, or prevent any disease.
REAL LIFE. REAL NEWS. REAL VOICES.
Help us tell more of the stories that matter from voices that too often remain unheard.
This post was published on the now-closed HuffPost Contributor platform. Contributors control their own work and posted freely to our site. If you need to flag this entry as abusive,
send us an email
.