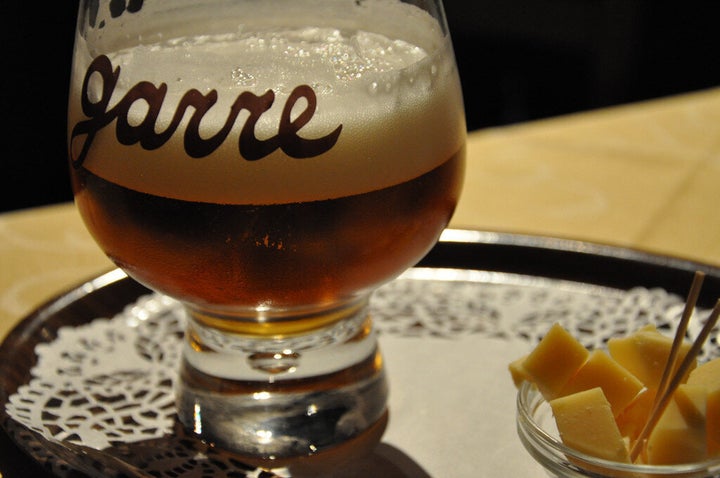 About a year ago, a good friend inquired about the cheese and wine classes I teach at the 92nd St. Y in Manhattan, and I told her that the next class there would be cheese and beer.

"Really," she asked, a skeptical eyebrow cocked.

Her reaction caught me off guard. I figured that everyone knew that beer was a better beverage companion for cheeses than wine. I explained that beer's carbonation was as good if not better than wine's acidity for cutting through the fattiness and encompassing dairy flavors of a great cheese.

She relented, but only a little. "Well I guess if you use a good beer like say, Sam Adams."

Ah, there was the problem. She wasn't familiar with the highest ends of the beer world (by the way, I have nothing against Sam Adams). I quickly explained that just as our classes use the finest hand crafted cheeses, we use very small producer beers from Belgium, Scandinavia and obscure American breweries. Here's an example.

Just as great cheeses distinguish themselves by communicating distinctive flavors to your palate (some examples of these are the grassiness of a Fontina Val D'Aosta, the sweetness of L'Amuse Aged Gouda, the butteriness of a firm sheep cheese like Calcagno or the peppery qualities of a fine blue cheese like Rogue Creamery's Caveman Blue), great beers also have a range of flavors ranging from cane sugar in Hof Ten Dormaal Amber to smoke and caramel in the Aecht Schlenkerla Doppelbock. Just as great wines communicate their terroir, beers communicate -- or rather should communicate -- the nuances of the brewing process: roasted or caramelized malts, for instance, or the different flavors of the hops (some are fruity others are piney and bitter).

Cheese and beer can go well together, but you can't do it carelessly. The earthy flavors a traditional English Clothbound Cheddar like Montgomery's may get lost when paired with a particularly hoppy beer like the Green Flash West Coast I.P.A. Similarly, the sweet, inviting flavors of an Aged Gouda can become redundant when paired with a beer like the Brooklyn Black Chocolate Stout.

Here are some recommended pairings:
Pale Ales are often the first step beyond the routine mass produced beers and for good reason, their extra hops lend the beer a unique realm of flavor: there are floral, pine and fruity notes depending on the geographic origin of the hops. These beers also tend to be aggressive in their finish, so the best way to balance their flavor is with a cheese that conveys a complex sweetness like Wilde Weide, an Aged Gouda. Its overtones of caramel and butterscotch will balance the beer nicely.
With their aggressive flavors and barnyard aromas, washed rind cheeses like Grayson, Epoisses and Winnimere, pair best with beers that are somewhat on the sweet side like Belgian Dubbels. Some of the best and most readily available of these include Chimay Premiere (red label), Ommegang, Smuttynose Winter Ale and Maredsous 8.
Soft ripened cheeses like brie and Camembert, Brillat Savarin, Kunik and Pierre Robert, are rich and creamy in texture and brimming with overtones of root vegetables, cauliflower and other delights. I think they pair best with the light sweetness of Saisons, especially Brooklyn Sorachi Ace, Saison Dupont, Pretty Things Jack D'Or and Stillwater Cellar Door.
With their nutty flavors and gentle grassiness, alpine cheeses, especially Gruyere, Comte and many delightful if harder to find wonders like Fricalin, Wildspitz Bio and Beaufort, are ideal beer companions. They have the body to stand up to a Porter or Stout and the sweetness and balance to pair with ESB, lager or Pilsner.
Lastly, what do you do with a blue? In general the sweeter the beer, some Belgian Trippels, for instance, Stouts, and the like, the more apt the beer is to handle the earthiness and pepper of a blue.
At The Joy of Cheese, we often do cheese and beer pairings, but my once skeptical friend won't be in attendance. She's saving her money for the next cheese pairing frontiers: cheese and whiskey and cheese and tequila. We will be doing classes on those pairings at the 92nd St. Y Uptown later this year.
Martin Johnson runs The Joy of Cheese, a series of informal cheese tastings that take place at several New York City bars and at the 92nd Street Y. He has worked in and around cheese for 28 years. He blogs at www.thejoyofcheese.com
Related