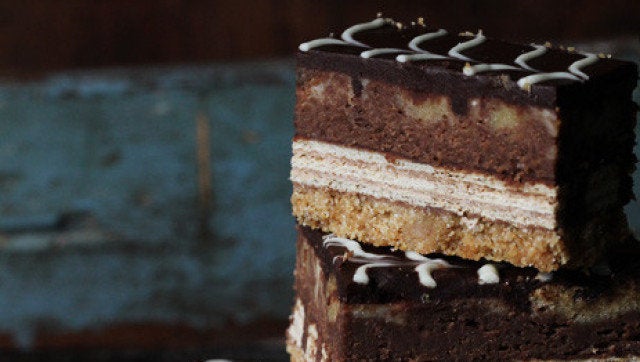 At HuffPost Taste, we adore cheesecake. It's simple, elegant and can be revamped in endless ways. Some of us would even venture to say that it is the best dessert out there. That is, until we discovered Kit Kat Cheesecake Bars.
Harkening back to the chocolate-filled days of childhood, this cheesecake bar recipe is as easy to make as it is deliciously nostalgic.
Naomi of Baker's Royale says of her cheesecake bar recipe: "It's a full fat cheesecake bar. No skinny or dieting resolutions here. Although you can easily make this 'skinny' with low-fat cream cheese. Either way you go, start from bottom with a graham cracker crust then stack whole Kit Kat bars on top and layer it with a rich chocolate cheesecake."
The final step of topping off the cheesecake with a extra layer of chocolate is optional, but we advise you to go for it.