Today is December 4, International Cheetah Day, a day to both celebrate the cheetah and draw attention to its plight as the most endangered big cat in Africa. To mark the occasion and spark dialogue, I am sharing a conversation I had recently with a new friend.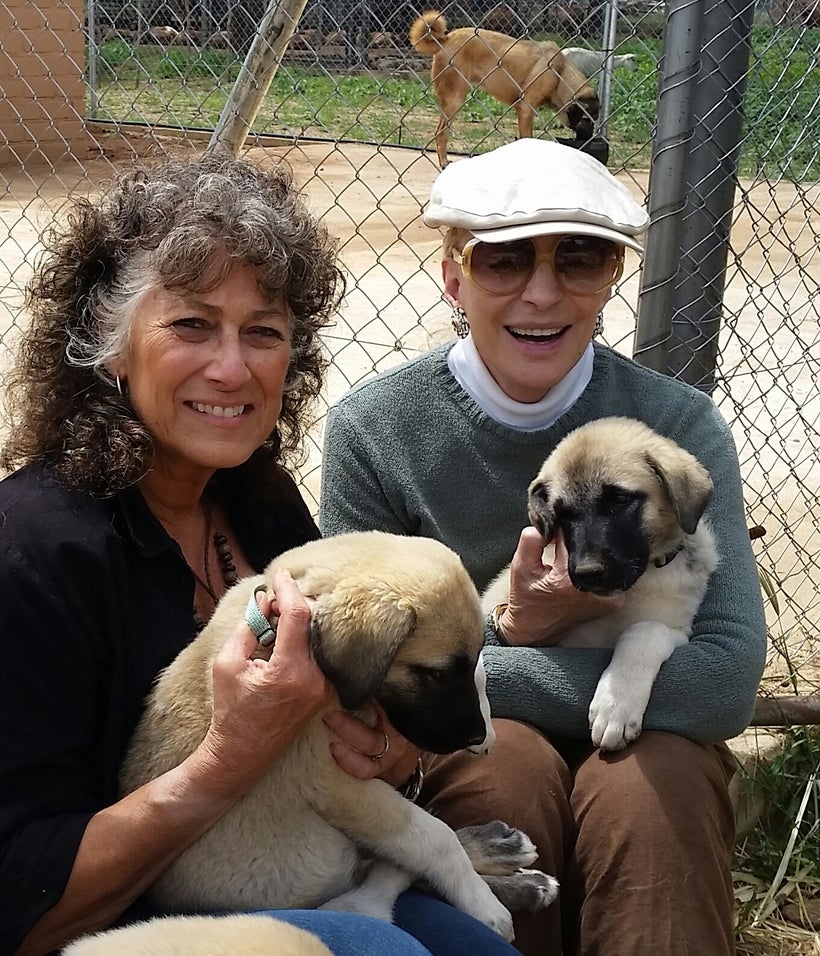 Earlier this year, Cheetah Conservation Fund's (CCF) mission to save the wild cheetah was given a tremendous boost by Her Royal Highness Princess Michael of Kent who joined as our organization's first-ever Royal Patron. We were first introduced by Jonathan and Angela Scott, our CCF UK Patrons, at a CCF event in the UK in 2016. When we met, we bonded almost instantly over our shared interest in the species. HRH Princess Michael has been active in wildlife conservation throughout her life, and for the past 20 years, she has also been a Royal Patron for the Hoedspruit Endangered Species Centre in South Africa. She expressed a desire to learn more about the current state of the cheetah's plight and determine ways she could help, so I invited her to travel to Namibia and visit our Centre. Last March, she did.
Over the course of five days at CCF, HRH Princess Michael of Kent toured CCF's Field Research and Education Centre to familiarize herself with CCF's Model Farm, veterinary clinic, conservation genetics laboratory and Biomass Technology Demonstration Centre. She met with staff administering CCF's Future Farmers of Africa and Livestock Guarding Dog Programs and accompanied CCF scientists to Erindi Private Game Reserve to observe the release of three cheetahs back into the wild. HRH Princess Michael also helped dedicate CCF's new five-suite Cheetah View Lodge that opened in June.
HRH Princess Michael of Kent and I have both been long associated with this amazing feline icon of speed and grace. During the 1960's in Mozambique she raised a cheetah from a cub, chronicling that experience in a book, A Cheetah's Tale, she authored that was published in September, in the UK, and it will publish in the U.S. next year. I was fortunate enough to attend her book launch event in London, and afterwards, we sat down for a conversation about our favorite big cat.
LM: People who read this blog or know me already understand why I think the cheetah is special. I go on and on about how they are the most mystical creatures, with soulful eyes and unique communications skills. But what is it about the cheetah that makes them so special to you?
HRHPMK: My youthful experiences raising a tiny cheetah cub when on my gap year on my father's farm in Mozambique started my love of these extraordinary cats. I think that whatever species I had raised from such a young age would have become very dear to me – I was seventeen and adored animals, especially cats and this one was so tiny she fitted into the palm of my hand. As she grew, I was totally absorbed by her and her kind – indeed for the rest of my life and I treasure the opportunities I have had working in conservation of cheetahs among other wildlife.
LM: I am so pleased you agreed to support our work and join us as CCF's International Royal Patron, but why did you accept my offer?
HRHPMK: There is not enough I can do to help with the survival of the cheetah especially once I had visited the Centre in Namibia and learnt about the superb work you and your team do there.
LM: You are currently on a world-wide tour launching your brand-new book, A Cheetah's Tale, in which you relate your personal experiences raising an orphaned cheetah cub in Africa as a teenager. Do you think people are more aware of the issues cheetahs face in the wild and their fight for survival?
HRHPMK: Yes. And I believe with more awareness people will respond. The cheetah is such a visually dazzling animal and that helps people empathize. But awareness of the cheetah's difficulties surviving is the crucial factor. Everyone knows the cheetah is fast and beautiful, but relatively few people realize it is endangered. The purpose of my book and tour is to help generate awareness.
LM: In your book, you share your special relationship with the orphaned cheetah cub, 'Tess,' who you successfully raised. What is your most treasured memory of your time with her?
HRHPMK: I have so many. The way she would gently touch my face with her 'gloved' paw to wake me when she wanted to go out early in the morning; how she would look at me quizzically when she was unsure what I was asking; the sound of her purr – loud enough to wake me if she came close and how she would stamp her foreleg hard on the ground when angry.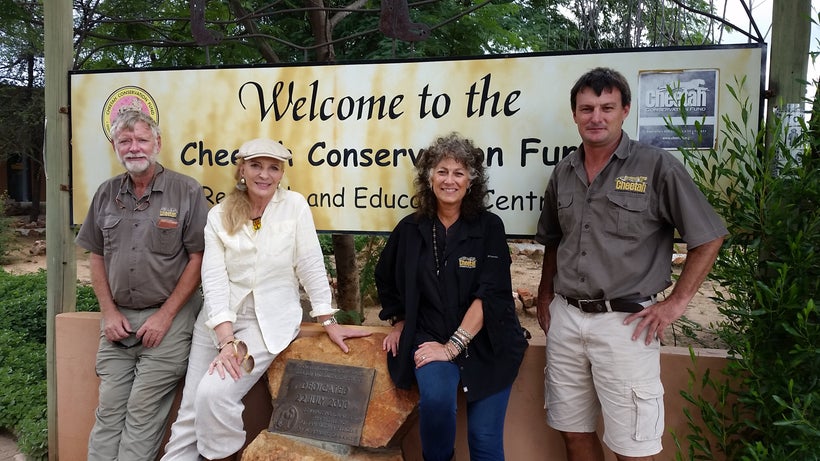 HRHPMK: A cheetah is NOT a pet – it is a wild animal and I believe should be respected as such. Cheetahs have a right to live in the wild and not have their nails and canines removed so that they can live like a pet dog in domestic circumstances. Cheetahs need very large home ranges to live in the wild, which is why we need to protect and restore habitat and work with populations that live alongside cheetahs so we can encourage peaceful co-existence.
LM: In recent media interviews, you have mentioned that you are looking to secure release sites in Africa for cheetah to roam freely, something which is very much needed to sustain wild populations. Have you had any progress on this goal since we last spoke?
HRHPMK: I have come across several possible sites but all within large conservation areas. In these areas, there is less chance of poaching but the danger still exists, along with threats from lions, African wild dog, hyenas, leopards and even man. I was hoping to be able to release some cheetahs into Gorongosa National Park where I released Tess many years ago, but this is no longer safe. I am in touch with other sites and still hoping….
LM: Do you believe there is hope for the cheetah?
HRHPMK: I am always hopeful but must listen to the experts. I believe there are areas in Africa where there is enough terrain and prey for the cheetah without too much conflict with farmers – or poachers.
LM: I enjoyed our time together so much when you visited our Centre in March. I have many treasured memories. For you, what was the most memorable moment?
HRHPMK: Again – so many! Any time spent with you is time well spent – I learnt so much! It was fascinating to observe the release of the three male cheetahs into the wild and their reactions, loping off in search of their new territory and ignoring the freshly killed antelope left with them. Good to hear they returned later! Meeting the Anatolian shepherd pups bred as livestock guarding dogs to bond and care for small stock and thus prevent cheetahs from preying on farm animals. What a genius programme! Visiting the Education Centre and hearing about the outreach work with young people. Opening the new lodge for overnight guests. So many interesting moments!
LM: I am planning on posting this conversation to my blog on December 4, International Cheetah Day, to help celebrate the species and generate more conversations about cheetah conservation. What is your message to people reading this now?
HRHPMK: All conservation work requires funding and the most important gesture anyone can make is to help with that. Joining or donating to CCF, or the other cheetah charity of which I am also the Royal Patron in South Africa, the Hoedspruit Endangered Species Centre (HESC), is always a much needed first step. Then awareness is essential. Become a spokesperson for the species. Tell your friends, families, co-workers or everyone else you meet about the problems threatening the cheetah. I have tried to do this with my book, A Cheetah's Tale, and I know this is a focus of your speaking tours. There are so many other ways people can help – visiting conservation centres in Africa, buying and donating research tools like satellite tracking collars, adopting cheetahs, adopting livestock guarding dogs. Volunteering with conservation groups in Africa or by joining a local effort in your own community. Many of these ideas are detailed on your website.
Happy International Cheetah Day from Her Royal Highness Princess Michael of Kent and Dr. Laurie Marker to all our cheetah friends. We hope you are celebrating with us!
REAL LIFE. REAL NEWS. REAL VOICES.
Help us tell more of the stories that matter from voices that too often remain unheard.
This post was published on the now-closed HuffPost Contributor platform. Contributors control their own work and posted freely to our site. If you need to flag this entry as abusive,
send us an email
.