What does the Cookie Monster say? nom nom nom nom nom nom nom.
It's not secret, everyone loves Momofuku Milk Bar's cookie tins of deliciousness because they taste so good you feel like you are being bad. The buttery goodness seeps through your napkin! In the words of Uncle Jesse, have mercy!
Just in time for the holidays, I asked the revered pastry chef about her holiday traditions.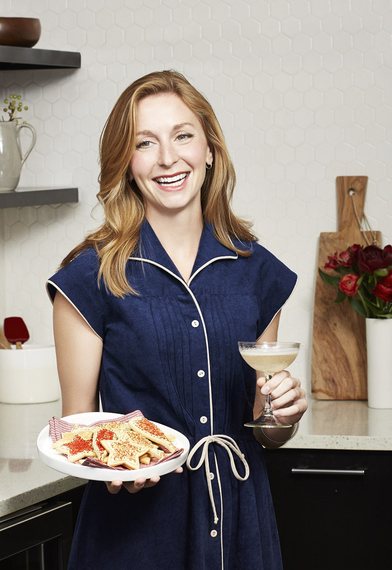 What is your favorite holiday tradition?
Baking way too many holiday cookies and handing them out to friends and family throughout the season.
What sweets do you make for your Christmas/New Year's/holiday dinners?
I make a huge batch of cinnamon buns on Christmas Eve and bake them off early Christmas morning. All Christmas cookies are consumed post-dinner over coffee tea and Uno or Skipbo tournaments at the kitchen table until the wee hours of the morning. For New Years, I try to bake something with a big wow factor. This year it will be a multi-layer coconut tangerine cake!
What is one secret tip you can give home bakers and pastry chef hopefuls?
I have 2! 1.) Be your own biggest critic. Don't let someone else beat you to constructive criticism. 2.) There is no right or wrong way to pair or prepare a dessert. Follow your instincts, edit and taste-tweak-taste until you get it just right!
Is there one dessert that you refuse to eat?
Being a great baker and pastry chef requires the upmost open mind. I try every dessert that comes my way!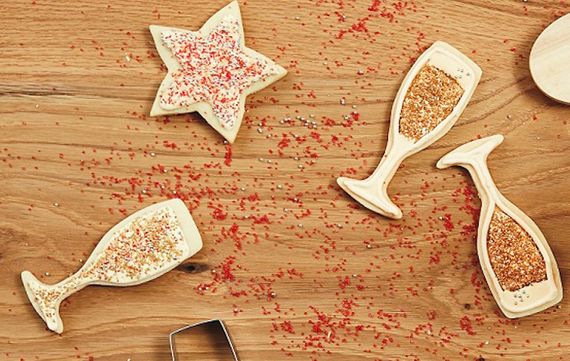 Tosi has come up with a Sparkle cookie that uses champagne as food coloring for your cookie decor. Who doesn't want to combine cookies, icing and booze? These are a few of my favorite things.
Tosi will be sharing her cookies from noon to 2 p.m. on Thursday, Dec 19, in Union Square Park, as well, so if you are in New York and want a taste without the 3 days of prep, go get one for free.
Christina Tosi's Sparkle Cookies
Dough
1 cup unsalted butter
½ cup light brown sugar
2¼ cups all-purpose flour
½ tsp kosher salt
½ cup all-purpose flour for dusting

In a stand mixer, with a paddle attachment, cream butter and light brown sugar on medium high for 2 minutes until well incorporated. Add all-purpose flour and kosher salt and mix on low speed until well incorporated, about 1 minute. Flatten dough into 2 evenly shaped pancakes. Wrap in plastic wrap or wax paper and chill in the fridge for at least an hour. Preheat oven to 350 degrees. Once chilled, remove dough from refrigerator, dust with a sprinkling of the additional all-purpose flour and roll out to ¼" thickness with a rolling pin.
Cut out desired shapes, gently transfer shapes to a lined or nonstick baking sheet. (Work quick! The colder the dough the easier it is to cut, transfer and bake!)
Bake cookies for 10 to 12 minutes, or until slightly golden around the edges. Frost with icing and sprinkles. Share and enjoy! Store in an airtight container in the fridge, freezer or room temperature.

Icing
2 cups confectioner's sugar
¼ cup sparkling wine (Brut, Rose or Blanc de Noirs) as desired food coloring

In a medium size bowl with a whisk, slowly whisk sparkling wine into confectioner's sugar. Color icing, as desired.

Sprinkles
1 cup granulated sugar
4 tbl sparkling wine (Brut, Rose or Blanc de Noirs) as desired food coloring

Day 1
In a small bowl with a spoon, combine the sugar and 2 tablespoons wine, tossing both ingredients together until sugar is evenly coated. Spread on a clean, dry baking sheet and let sit out at room temperature overnight to dry out.

Day 2
In a food processor or blender, pulse the sugar clumps down into a granulated sugar like state. Repeat steps 1-2 using only 1 tablespoon wine to your spiked sugar mixture.

Day 3
Repeat step 3. Then use sugar to glam up icing and cookies.
Christina suggests Chandon as her chosen sparking wine, but you can use whatever you like. Here are some more bits of wisdom.
Christina's Tips
Make and bake these cookies ahead! Store in an airtight container in the freezer for up to a month before icing, decorating or giving away!

I make this icing in a variety of muted tones for options when decorating, though Chandon Rose, makes a perfectly pink color, all its own!

Plan ahead! The sprinkles only take a minute to mix together, but it needs time to dry out. The sprinkles keeps for ages! So start a week or more ahead if you can!
Photos used with permission.
Related