Last May, Chef David Myers (Hinoki & The Bird and Comme Ça) and I were invited by the Hong Kong Tourism Board to visit Hong Kong during the inaugural Art Basel. I had visited the city once, many years ago, and was excited to see how it had changed.
David and I didn't want the trip to just focus on the food, but rather take in all this incredible city had to offer, the fashion, the art and, of course, the mind-blowing food scene that is the hallmark of this east-meets-west metropolis. I brought my cameras (and a small crew) and documented our amazing journey.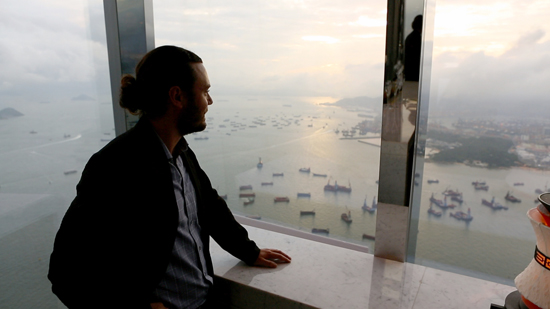 In this final episode, David heads back to all the incredible food that Hong Kong has to offer including a visit to the world's most affordable Michelin Star restaurant, Tim Ho Wan, where he samples the remarkable dim sum that has made them famous. Next, David drops in on Chef Esther Sham's Ta Pantry, a speakeasy restaurant that has become one of Hong Kong's coolest hidden treasures. From there, David meets up with Chef Alvin Leung at The Grand Stage for more dim sum and a conversation about traditional versus modern food. After lunch, David takes a trip back to the Graham Street Market to have tea at Lan Fong Yuen where he learns about the art of pulling tea. He makes a stop at Shun Kee at Typhoon Shelter for some clams, shrimp and the famous Chili Crab and finishes his journey at the 2 Michelin Star restaurant, Tim Lung Heen, high atop the Ritz Carlton Hotel in West Kowloon. The extraordinary food and breath-taking views make this a perfect finale to this wonderful journey though Hong Kong.
Thank you for taking this journey with us!
If you missed Episode One, click here.
If you missed Episode Two, click here.
If you missed Episode Three, click here.