Jesse Griffiths takes hunting seriously. "If you see an animal die or have a hand in that animal dying," he says, "that'll give you a bigger perspective about other things in this world." Griffiths hunts deer, feral pigs and game birds in the Central Texas Hill Country around Austin. Most of the time, he works at the other end of the chain, buying venison and feral pigs from state and USDA-inspected purveyors like Broken Arrow Ranch processing it, and selling it at weekend farmer's markets, turning it into sausages alongside homemade salsas and chutneys. He also cooks wild-boar burgers, hashes and breakfast tacos to order. When you buy from Griffiths' pop-up butcher shop Dai Due, you're getting the whole food chain, from someone who understands the whole food chain, start to finish. "It's such an exciting thing to see that process," he says. "To know where everything comes from."
In this beautifully made, deliberately tense video, we follow Griffiths on a wild-boar hunt in the Hill Country. With his shaggy red beard, trucker's hat and scruffy, logo-strewn clothes, Griffiths may look like a stereotypical food hipster. But there's nothing frivolous about him. He looks at hunting almost like a sacred duty, a social responsibility. He's a steward of the land and of the food it produces.
There are millions of feral pigs roaming the open land of Texas. They lay waste to crops and backyard gardens, causing up to $50 million of damage in that one state alone every year. And they're spreading across the country to Wisconsin and to the Adirondack Mountains because they're smart and because they have no natural predators. So Griffiths hunts them, culling the herd, not eliminating it entirely. He offers three-day hunting schools throughout the year to other people who are interested in joining him. The experience, as channeled through Griffiths' sensibility, isn't a glamorous gun party, some sort of senseless machine-gun slaughter. It's hard, long, boring work with visceral and emotionally challenging results.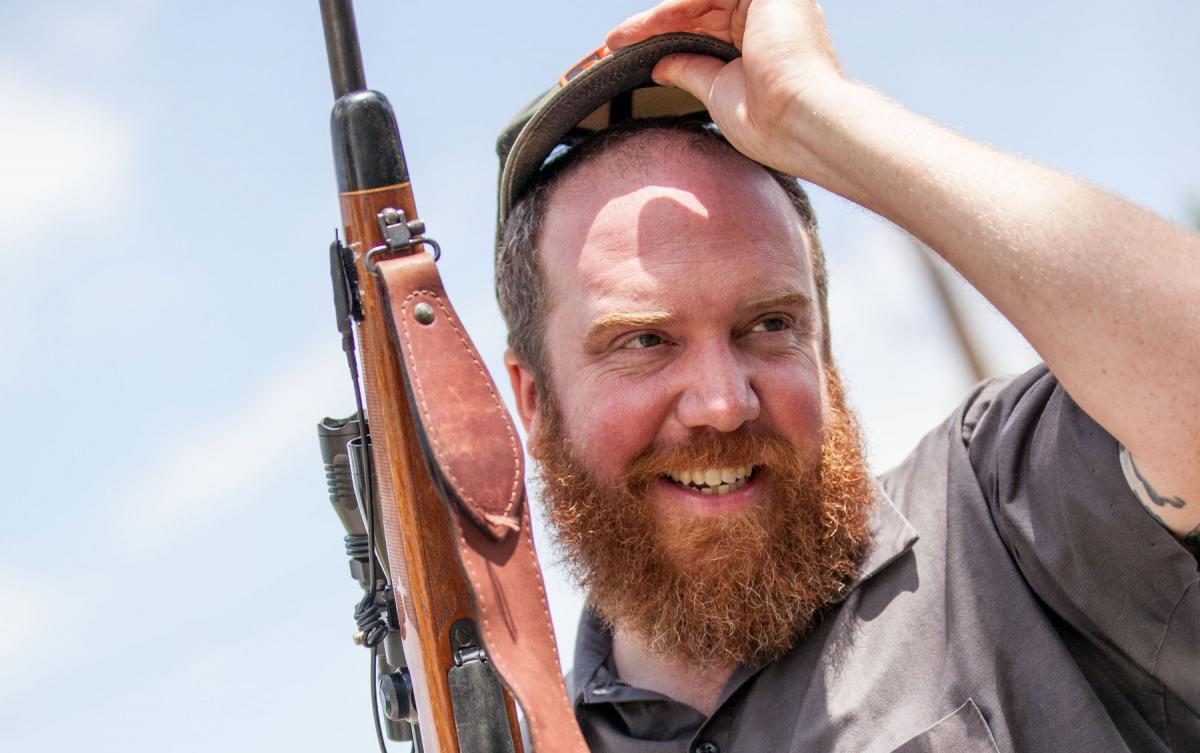 "Hunting's not going to be for everybody," he says in the video, "but I think that everybody who eats meat should see how it's done. Then you can make an informed decision about whether or not you want to eat meat."
Griffiths has taken his food philosophy and turned it into a book: Afield: A Chef's Guide to Preparing and Cooking Wild Game and Fish. It's a James Beard award finalist, and a perfect distillation of his life's philosophy, from which he draws the name of his butcher shop: Dai due regni di natura, piglia il cibo con misura, which translates as "From the two kingdoms of nature, choose food with care."
Jesse Griffiths urges you to think carefully about your food, where it came from, how it was prepared, and what that says about you and your lifestyle. Once you've seen him work and tasted the results, it's unlikely you'll ever think about food quite the same way again. Feral pigs are slippery creatures. Bringing one to the table requires the patience of a saint and the skill of a food genius. Griffiths appears to be a little of both.
"When you shoot the animal, you're not out of the woods yet," he says. "You have a lot of work to do after that." Fortunately for us, he's up for the job.
Correction: An earlier version of this post incorrectly stated that Jesse Griffiths sells the animals that he hunts at his butcher shop, Dai Due. Dai Due sources venison (state-inspected) and feral pigs (USDA-inspected) from Broken Arrow Ranch and several other vendors that trap and process in licensed facilities.
Related