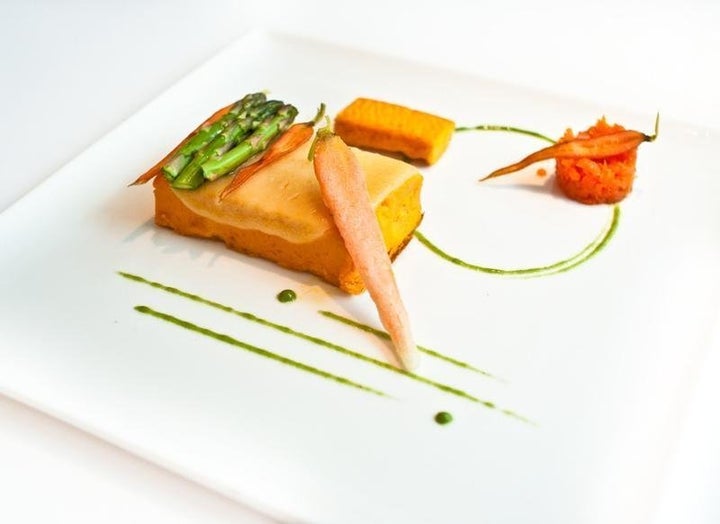 Eating a meal at Graffit is like paying a visit to the Museum of Modern Art. The dishes mix textures, shapes and colors in surprising ways, and they both confuse and amaze. The Upper West Side restaurant, which opened in January, is the masterpiece of Jesus Nunez, a star chef from Spain (and a former graffiti artist). Here, he opens up about his creative process, why he's being sued by another New York chef and the challenge of cooking for Americans.
Did you always know you wanted to be a chef? When you are young, some people know what they want to be in life, but I thought about what I wanted to be. I never said I want to be a policeman or fireman or baseball player. I studied in culinary school, I studied to be a hotel director, and I studied tourism, and then decided I wanted to spend my life working in the kitchen.
Well, you've definitely achieved that. How was opening restaurant in New York different from Spain? When you've opened three restaurants, you think that you know everything. But New York is a very different city. When I signed the lease, I discovered the space was a landmark. I had no idea what that meant. In this case, it meant delays--delay in papers and permits.
And after all that, you're dealing with a lawsuit from the owner of Graffiti, claiming you ripped off the name. How did you react to the accusation? Graffit is a fusion of "graffiti" because I was a graffiti artist and the phonetic sound of "eat." So when I received the first email from Graffiti restaurant I was in shock. Normally if I have a problem with somebody, I call this person first. But I can understand how the chef feels, because when you work hard to build a business and you think someone is stealing it, it's hard. But I'm not stealing anything. The name is not the same, the food is not the same, the location is not the same, the techniques are not the same, so I don't understand why he's doing this. It's hard for me because I really created a story behind the name.
What other challenges have you faced? It's a new world for me--the temperatures, ounces and pounds. Also, in Spain I worked for Spanish tastes, and here I'm working for American tastes. I cook for Spanish people and they say it's amazing, but the American taste is not like this. If I prepare, for example, bacalao, or salty cod, it's too salty for some people, but it's salty cod, and that is the flavor. I'm working for different kind of people and culture, so I need to think about who I'm working for.
Did you keep this in mind when creating your menu? My philosophy is I cook whatever I want, always. I don't really think to do food for everybody because it's impossible. We are going to do what we really feel. That's really important for us. We know that we are giving 100% of our love, passion and creativity. And it's going to be different, but people are going to enjoy it. I try to transform something that everyone knows into a totally different thing. And I like to play with my customers--I give them something that looks like an egg but is not an egg, or something that looks like a truffle but is not a truffle.
Your dishes look like works of art, which is definitely different from most restaurants. How does your background as a graffiti artist influence your cooking? I have my piece of art in mind, and work like a chef to create my piece of art. I think in colors and components on the plate with different forms, mediums and textures, and then I transfer the image I have in my mind onto the plate. I don't think in terms of ingredients.
What's your favorite dish on the menu? I like the entire menu. If you have a menu and someone special comes in and you can only choose five plates, it's because the rest of the menu is not as good. So I love everything I have on the menu. It's not too long or too short. We have 11 appetizers, four meats, four fish and six desserts.
When New Yorkers come to dinner, they get the check and leave the restaurant. We try to create a warm atmosphere so people can listen to music, enjoy the food and when they finish dinner, have a conversation. We are not the kind of restaurant who gives you the check because we have another group. We want our customers to be our customers for a long time. In three months, we have customers who have come 20 times with different friends and people because they really feel something different is happening here.
Graffit 141 W 69th St.; 646-692-8762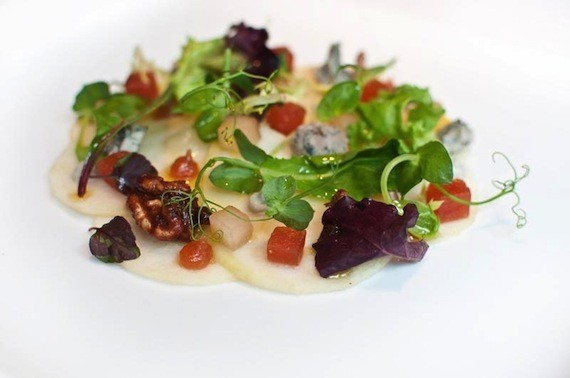 Popular in the Community