Ever since his days as an offensive lineman at the University of Michigan, John Prepolec has found himself in the role of protector. Today, the former football star works as a tireless advocate for children's health. No longer does he keep quarterbacks upright; instead, he is keeping school-age children in good health. And gone is the Prepolec moniker -- the kids know him as Chef Johnny Prep.
Prepolec, who hosts a cooking show and publishes cookbooks, found his way into the kitchen in his college days, when the owner of an Ann Arbor taco shop where he ate almost daily taught him to cook.
"At first, I was just a customer," Prepolec says. "Then we became friends since I loved the food ... eventually, he taught me to cook all his delicious recipes. Over time, he wouldn't even cook for me. He would just say, 'If you are hungry, just come back here and make something.'"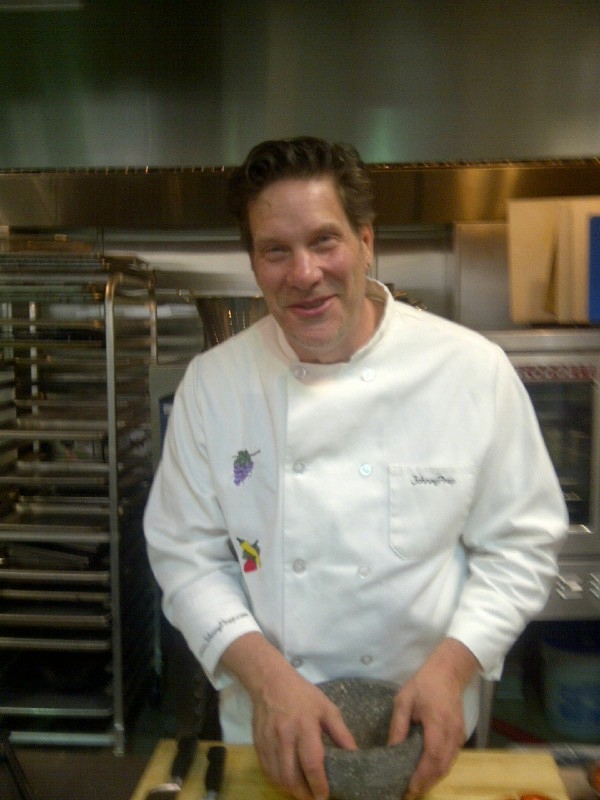 Chef Johnny Prep. (Photo by Scott Bridges)
A lifelong passion was born, which he shares with the public via his burgeoning celebrity. Through his Quality for Kids nonprofit, he created Veggie Wars, an innovative middle school curriculum that teaches children the value of a healthy diet.

"Our goal is to make it popular to eat healthy," he says. "I have been working in the schools for the last four years, teaching kids how to optimize recipes with healthy ingredients.
"After engaging the kids in a competition called Veggie Wars, we learned that kids can influence each other to eat healthy food much better than adults can. So now we have a new competition to do just that, called Clash of the Cooking Crews."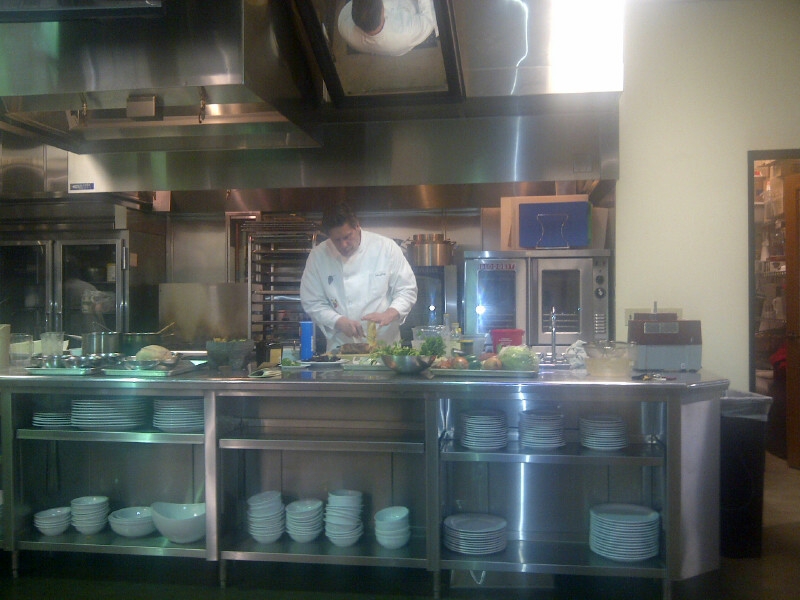 Chef Johhny at the Surfas test kitchen. (Photo by Scott Bridges)
The competition, which was launched at Bloomfield Hills Middle School near Prepolec's home outside Detroit, offers students a chance to win concert tickets, sporting event tickets, and other gift certificates. It is slated to begin in Los Angeles this fall.
"I think the club is important because when kids cook their own food, they are more likely to buy into eating healthy recipes and to continue to prepare them for themselves or even their families," says Bloomfield Hills' Principal Kaarin Averill.
"Peers also have more influence on other peers than adults sometimes do, so if a
student tells another student that a particular healthy food item tastes good, they
are more likely to try it," Averill adds.
"What we are trying to do here is to make it popular and cool to eat a healthy diet, and to get teens to convince other teens that they can prepare and choose healthy selections that taste great."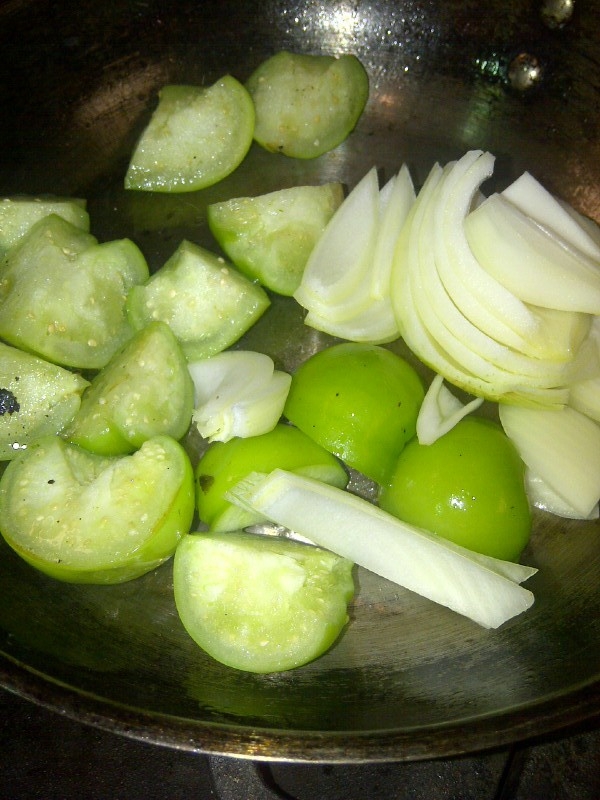 Tomatillo and onion: essential ingredients of Mexican cuisine. (Photo by Scott Bridges)
With the aid of Wayne State University's Department of Nutrition and Food Science, Prepolec is currently writing a book on child nutrition, with the goal of educating children on the harmful effects of consuming large amounts of highly processed carbohydrates, which, as he points out, has been identified as a major cause of childhood obesity and Type 2 Diabetes.
He became interested in the idea because he feels the national nutritional guidelines do a poor job of addressing the issue. And to further the cause, he has recently teamed up with nutritional expert and trainer to the stars Grant Roberts in an effort to bring attention to the issue.
But the chef's work does not end with children. He is a proponent of home cooking, as well, and seeks to inspire food lovers with no formal culinary education, parents who wish to prepare quick, healthy meals, and amateur, would-be chefs who seek to expand their culinary skills and knowledge of the basics.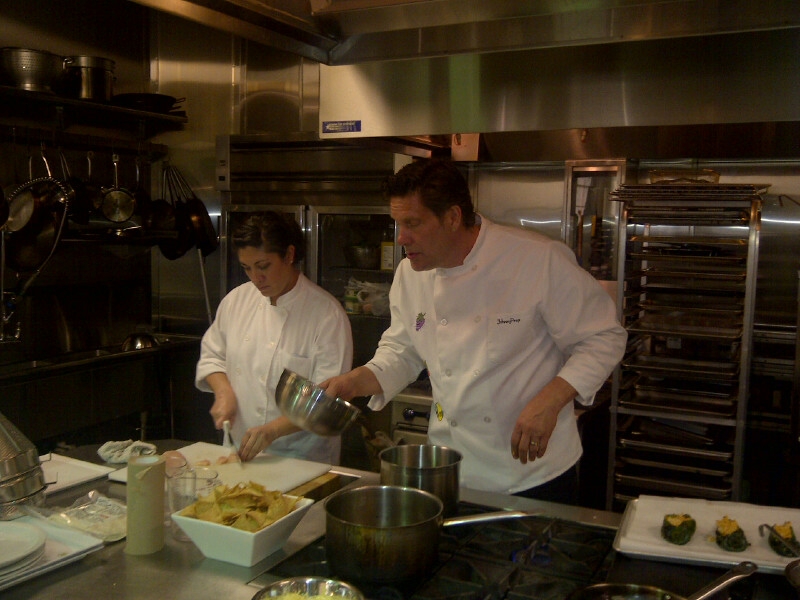 Chef Maia Sanchez helps prepare a Mexican feast. (Photo by Scott Bridges)
To that end, he published "The Five Star Entertaining Cookbook," providing guidance on down-to-earth meals capable of being prepared at home. He also produced and starred in the TV series, "Five Star Cooking at Home." He also includes instructional videos on his website to walk home chefs through the process of cooking his recipes. He points out that one does not need to go to culinary school to cook.
"I am committed to helping the home cook find affordable and simple recipes that replicate the flavors you find in top restaurants," he says.
I joined the chef recently in the test kitchen at Culver City's Surfas , a superstore for the home chef. With his local sous chef, Maia Sanchez -- a working personal chef in the L.A. area -- Prepolec walked me through his cooking technique as the two chefs prepared an authentic Mexican meal (he's something of a Mexican cuisine aficionado, having spent three years living in Guadalajara.)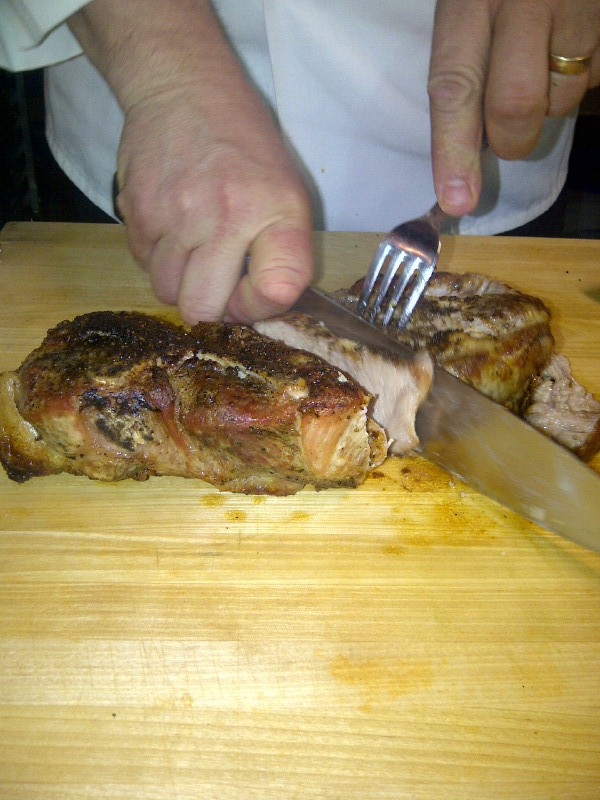 Slow-cooked pork for carnitas. (Photo by Scott Bridges)
Sanchez describes her perfect meal as guacamole, fresh homemade tortilla chips and beer. As she fries tortilla triangles into chips, Prepolec discusses helpful cutting techniques ("slice the flesh side of the fruit, not the skin side) as he chops fresh Roma tomatoes, which will become the base of his signature fresh salsa, as opposed to traditional Mexican salsa, which incorporates roasted vegetables. The secret ingredient of his salsa is chicken stock, which will blend into the veggie mixture and be heated by (stemless and seedless) chilies -- the sweet, smoky Habanero and what he considers the most consistent heat-wise, the Serrano -- ingredients he grows in his back yard in Michigan. Meanwhile, Poblano chilies, for chile relleno slowly burn over an open flame.
"To peel a Poblano, you burn the skin," he explains. And true enough, after steaming in a plastic-wrapped bowl for about 10 minutes, the skins shed right off.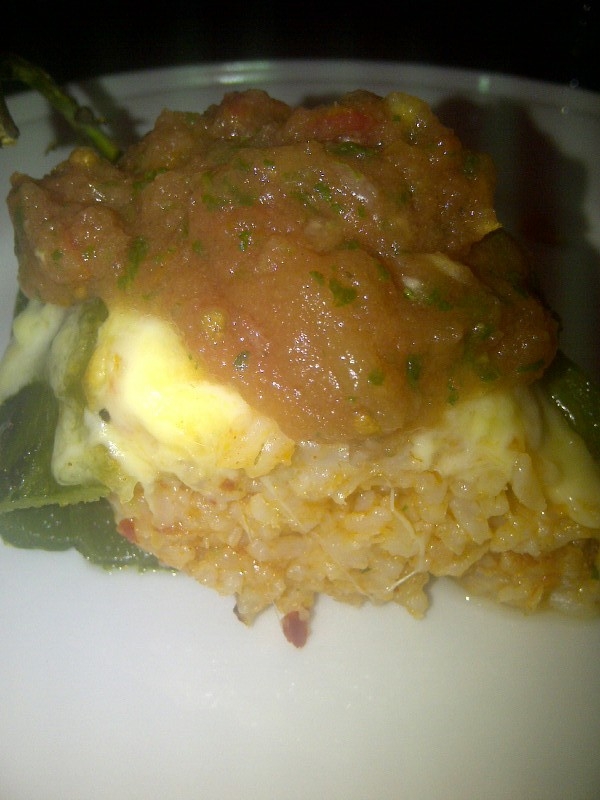 Prepolec burns skins off Poblanos for chile relleno. (Photo by Scott Bridges)
In addition to homemade tortilla chips, salsa and Poblano chile relleno, our dinner includes carnitas akin to a Tijuana street vendor and a tortilla soup that rivals any I've ever had at a good restaurant.
The chef says he likes to purchase all of his ingredients on the cheap at local market Vallarta -- a favorite among Angelenos for authentic Mexican items.
I watch as he grinds Ancho chili into powder in a mocahete -- a Mexican version of mortar and pestle. Other spices he grinds include Mexican oregano, coriander seed and cumin seed -- "Cumin almost defines Mexican food," he says.
With some essential spices, he points out, "You can cook really good food and not have to have a recipe."
Like the gregarious chef Gusteaux from "Ratatouille," Prepolec advances something of an anyone-can-cook philosophy, furthering his cause as the national spokesperson for Zoup! Fresh Soup Company. And he shares his wit and wisdom as host of Soup and Co., which airs in the Detroit metro area. And he is furthering his love of simple, healthful cooking with his latest effort, The Magic of Cooking with Really Good Broth.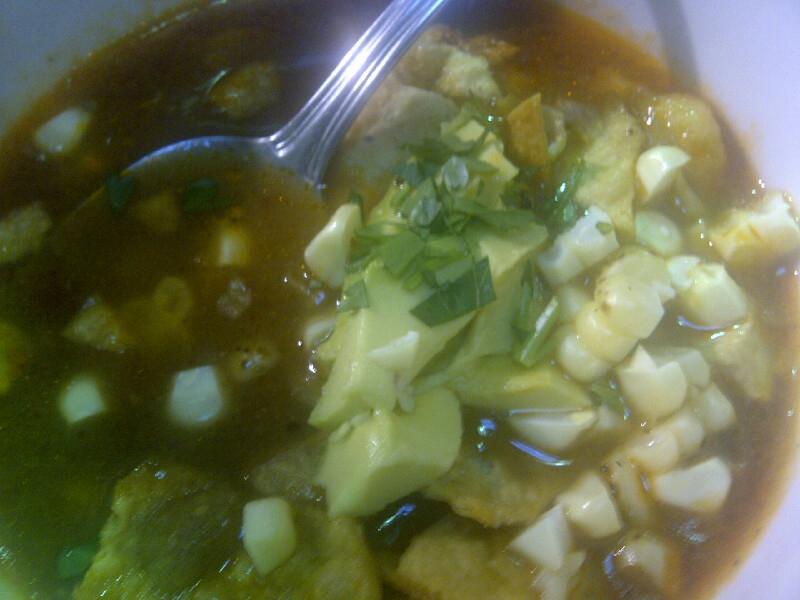 "The Magic of Cooking with Really Good Broth" will be available next month. (Photo by Scott Bridges)
The book will feature rich-tasting, healthy recipes -- everything from traditional soups to more adventurous, five-star inspired entrees -- that reveal a chef's best kept secret: broths and stocks, the essential ingredient in a wide variety of America's most beloved recipes. It's designed to encourage the involvement of children in the processes and methods of cooking, and is the first in a series aimed at providing the same sort of foundation that culinary school provides for professional chefs.
And as part of his philanthropic efforts, Prepolec donates a percentage of his proceeds to the Forgotten Harvest in Detroit and the Los Angeles Food Bank.
REAL LIFE. REAL NEWS. REAL VOICES.
Help us tell more of the stories that matter from voices that too often remain unheard.