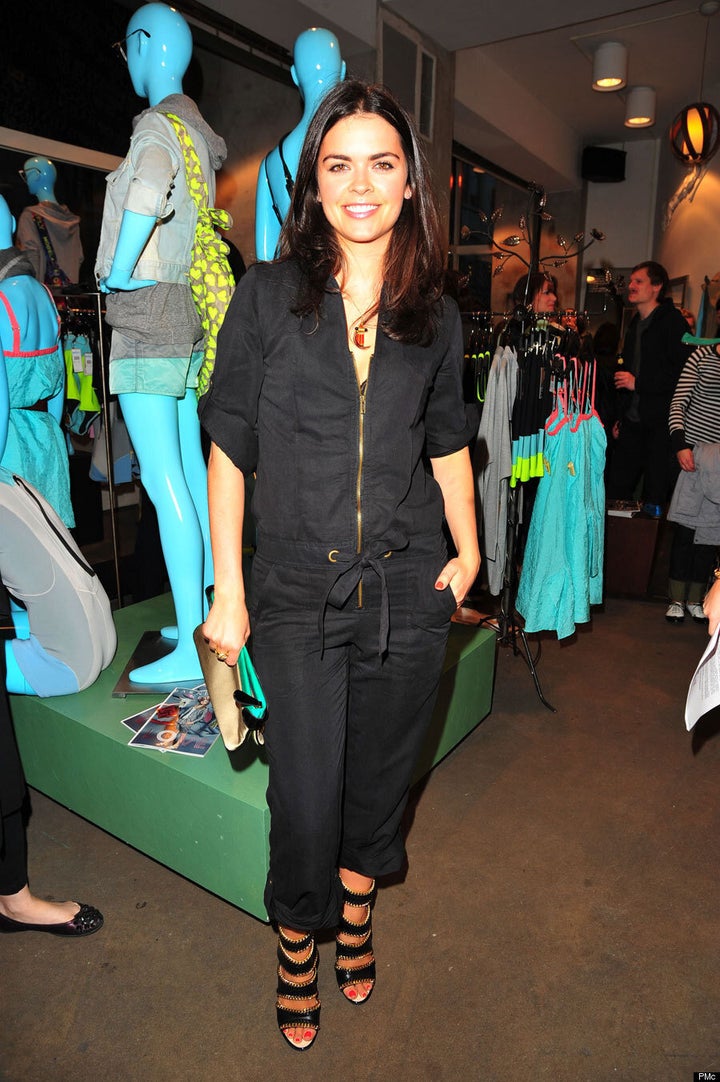 When it comes to entertaining, chef Katie Lee is all about simplicity--her brand of cooking is called Comfort Table for a reason. Since splitting from now former husband Billy Joel last summer, the West Virginia native has been reveling in the low key lifestyle, cooking for friends at home and working on her first novel. She also unwinds by shopping on eBay for Majolica and vintage china to use in her casual table settings. Lee recently shared some of her hosting tips and eBay picks with Sara James Mnookin, my colleague at The Inside Source. What follows is an excerpt of that interview. For the full article, click here.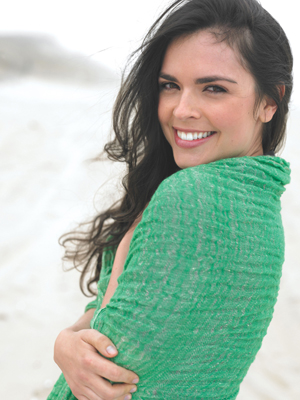 The Inside Source: You're a West Virginia girl. What are your favorite southern dishes?
Katie Lee: My favorite southern dish has to be fried chicken. I love to cook it. I love to have it in the summer. For a drink, I really like southsiders [a gin, lime juice and mint concoction]. I do them frozen. All summer long, I also have a pitcher of sweet tea in the refrigerator. And I can't forget deviled eggs!
TIS: How do you develop your recipes?
KL: A lot of my recipes I take from foods my grandmother used to cook, things she prepared for family reunions. I also travel a lot. And I live in New York, where there are so many great restaurants. I spend a lot of time in East Hampton, going to the farm stand and seeing what's fresh and coming home and making a great salad, or vegetarian dishes, even just a steamed corn on the cob with a fresh basil butter to go on top of it.
TIS: Mario Batali and Paula Deen both blurbed your book. Are you friends with a lot of chefs? Do you cook for each other?
KL: I like to get together with my chef buddies and cook. With all of the food festivals that go on now, those are kind of like reunions for us.
TIS: Do you have special serving pieces in your collection?
KL: My grandmother gave me a set of crystal glasses that were made in West Virginia. I have a set of Hermes china that I love for special occasions. I pick up a lot of pieces at Anthropologie and at flea markets and yard sales. I love John Derian. I'm always buying glasses and teacups. I have way too many to use, but I just love them, particularly anything vintage.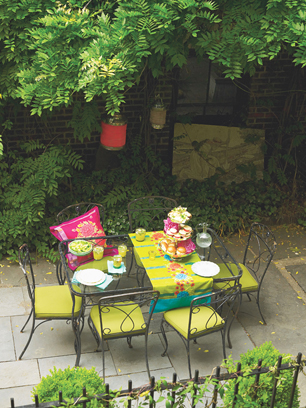 TIS: Do you ever shop eBay?
KL: I do shop on eBay. I love to buy china on eBay. I've bought quite a few sets of plates. I like to buy gifts as well. If I know somebody has a favorite writer, I look for a first edition. It's also a great place to buy vintage jewelry. I love vintage Chanel necklaces, the pearl necklaces with the Chanel logo, and brooches. I have a beautiful black coral Chanel brooch. I find myself, when I get on eBay, I end up staying on there forever, going through page after page. I've also bought a lot of Majolica.
TIS: Are you working on another cookbook at the moment?
KL: I'm actually working on a novel. It has a surfing theme to it and is set in Mexico and will be published in 2011 by Simon & Schuster's Gallery imprint. [Lee has recently been traveling to Mexico to research the book.]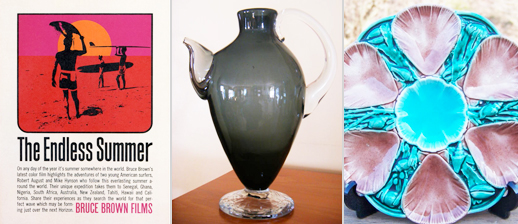 On eBay, Lee is currently eying surfing-themed items, as well as Blenko glassware and Majolica oyster plates. For the full interview, click here.
** Images provided by Katie Lee. **
Popular in the Community