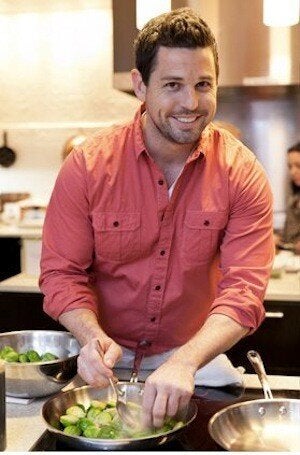 Who: Ryan Scott, the local culinary artist who rose to fame during the fourth season of Bravo's hit show "Top Chef."
Years in San Francisco: Born and raised in California's Central Valley, Scott relocated to San Francisco in 1999 and has lived here ever since.
Neighborhood: The Sunset.
Current Gig: You'd think Scott was trying to take over the world (or at least the city) with his cornucopia of food-related projects. In addition to piloting his popular food trucks 3 Sum Eats around town, Scott hosts a food radio show on KGO 810 Newstalk, runs catering business Ryan Scott 2 Go and serves as the official face of Bon Appetit's new kitchen collection. The celebuchef debuted West Portal's Market & Rye restaurant last week, and he's got plans to open a handful of sibling restaurants and develop his own cooking show in the near future. Whew!
We chatted with Chef Ryan (who hates to be addressed by "chef," for what it's worth) to discuss his latest projects and his relationship with our fair city.
After more than a decade, do you consider San Francisco to be home? The thing about San Francisco is that if you spend six months here, it's home. And it's my home without a doubt. Gary Danko told me something when I worked for him: If you invest in SF, it will be loyal and faithful to you. That's very tried and true. I love it here; I can't see myself anywhere else.
Gary Danko is a local legend. Will you tell us about your time working under him? I was 22 years old, living in my truck at the time, showering at the 24 Hour Fitness and eating $2 Whoppers. I didn't know who he was, but another chef I had worked for suggested I introduce myself. So I knocked on his door, and the sous chef answered. Told me there were no jobs available. After six months of persisting, they hired me. I stayed there for a very long time. I owe everything I have today in terms of knowledge and culinary artistry to Gary Danko. The man is a walking genius. He's the number one local chef on the top of my list.
Aside from Danko, which other locals do you admire? I love Loretta Keller at Coco500...I believe she's our Alice Waters. She's been here since the beginning. And my favorite underrated chef is Bruce Hill of Zero Zero, Pico and Bix. If people dont know who he is, they must be living under a rock. Hes a chef's chef, and he's done so much for San Francisco.
So what's the concept behind Market & Rye? I want to make food that my kids will understand. I don't like a restaurant that is like a Danielle Steel novel, full of shit you can't understand. We do food people will want to eat every day, but we do it well -- our salted bread is made from a pretzel recipe, the whole wheat has fresh oats on top. The space has a very minimalistic but also sexy vibe. There's a kids' corner so the moms can enjoy lunch while their kids play. (HuffPost SF highly recommends the Market BLT; you can view the whole menu here.)
West Portal seems like an unusual neighborhood to open a restaurant in. Why did you choose your location? Honestly? I decided on West Portal because the landlord offered me the space for no money down and 120 days free rent.
And what do you think of the neighborhood? West Portal is a hidden gem. It's absolutely exquisite; it's comfortable; its spaced. The rest of SF feels very 2012, and West Portal is kind of a throwback to comfort and safety. It reminds me of the first "Back to the Future" when Michael J. Fox traveled back in time to the 1950s. It's really just amazing -- it was love at first sight when I came here.
Any favorite neighborhood spots (aside from yours, of course)? West Portal Optical has the coolest glasses. There's a candy shop, Shaw's, that's been here for 30 or 40 years. I love that I'm surrounded by a Starbucks and a Peet's on either side, kind of a yin and a yang. And there's this cool antique movie theatre, the Empire. Also a really cute flower shop nearby. It's just a really quaint area.
Before opening Market & Rye, you ran Brunch Drunk Love. A friend of mine recently commented in a blog post that she hoped she wouldn't be 40 and still going to drunk brunch. What do you have to say about that? San Francisco is a young city; it's a fresh city. If you're 40 and single, its okay. We enjoy life in San Francisco, we spend our money and we party hard. Shit, man, I hope I'm still going to brunch at 40 and having a good time, too. We've definitely carried people out of Brunch Drunk Love, watched others making out in the bathroom. Fuck it, why not? Life is short. Have fun.
Any brunch spots (drunk or otherwise) you particularly enjoy? The brunch at Zero Zero is phenomenal. If you want a cheap-ass, deep-fried, bottomless good time, Dr. Teeth and the Electric Mayhem is the spot. And Dottie's True Blue Cafe is my favorite. What Kurt [Abney] has done there sets the standard for breakfast. No one can touch him with a ten foot pole. I dream, eat and sleep what he makes at that restaurant.
As the purveyor of two food trucks, do you have an opinion on recent legislation that would ban food trucks from operating near schools? My food trucks serve homemade bread, organic greens, none of that "pink slime" beef...why are you worried about us, when you can get deep-fried egg rolls across the street at 7-Eleven? I will go face to face with anyone who says we're doing harm. Slap the same mandate on brick and mortar restaurants if you're going to do it to trucks. Not to mention that 99.9 percent of these food trucks are serving way better food than schools are serving. These trucks order ingredients from farmers markers. Want your kid to go eat that slime-ass shit they serve instead of something on an acme bun with handmade sauerkraut? Give me a break. (Editor's note: Said food truck bill was withdrawn from the California legislature earlier this week.)
Let's change the subject from food. What's your favorite view in the city? It's a drive; it's not a view. Take the back entrance into the Presidio from Clement Street and drive all the way through. Start at Baker Beach and before you know it, you're on Lombard Street. I love cutting through the city and going through the Presidio. The trees remind me of Muir Woods and Yosemite. It cuts down on your drive time, too!
Scott shared the recipe for Market & Rye's carrot ginger soup with HuffPost SF. Take a look below, and afterwards, scroll through a selection of his instructional cooking videos:
Market & Rye Carrot Ginger Soup
1 Tablespoon Olive Oil 3 Cups Minced Onion 0.15 lbs. Ginger 3/4 Cup Garlic, Chopped 5 1/4 Cups Vegetable Stock 2.5 lbs. Sliced, Peeled carrots, Roasted 1 Tablespoon Agave 1 Tablespoon Tobasco Sauce
Cut carrots into 2 inch dice, roast with slivered ginger and cooked until tender. Heat oil in heavy large stockpot over medium-high heat. Add onion, garlic and sweat until onion is translucent. Add stock and roasted carrots. Cover and simmer until carrots are tender, about 30 minutes. Working in batches, puree mixture in blender or processor. Return soup to saucepan over low heat. Season soup to taste with salt and pepper. Add agave and tabasco wisely. Add a little at a time and taste to ensure you do not over-season the soup.
Calling all HuffPost superfans!
Sign up for membership to become a founding member and help shape HuffPost's next chapter