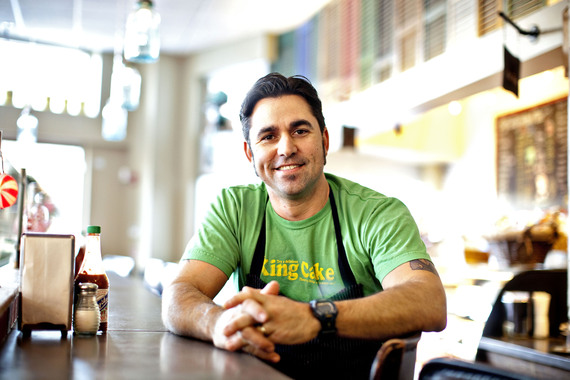 David Guas may be a celebrity TV chef, hosting American Grilled on the Travel Channel and appearing on Chopped, but his heart is in his kitchen, inspired by his New Orleans youth. That spirit is evident in his two restaurants Bayou Bakery, Coffee Bar & Eatery in Washington, DC and Arlington, Virginia. It's no wonder that Food & Wine calls his riff on the classic muffuletta one of America's best sandwiches.
What drew you to become a chef? At the age of 14, the lure of New Orleans and its nightlife got me sent off for a weekend at my Aunt Boo's in Abbeville, Louisiana. My parents thought some good, clean fun under the watch of my no-nonsense aunt would keep me in check. Aunt Boo's goal was to keep me occupied so she put me to work at the stove and kept me out of trouble. Truth be told, as I am older, I see that learning and perfecting the nuances of making a roux - the base for so many Louisiana dishes - was Aunt Boo's clever way of keeping me at one place for a while as you had to continuously stir the roux. Subconsciously, that's how it all began for me with my love for cooking and my pursuit of turning it into a career. Punishment in the kitchen became the greatest reward with these lessons of deep-seated culinary traditions - all starting with a cast iron skillet and a worn wooden spoon.
Any early memories of cooking? When I think back to my earliest memories of cooking, I think about grilling burgers with my dad and my grandfather [abuelo]. Coming from a family of Cuban descent that took grilling very seriously, being handed the tongs and given a turn at the grill was a huge rite of passage. I also cherish my memories of cooking with my Aunt Boo and learning the most fundamental elements of Louisiana cooking - from the roux to the Holy Trinity. They may seem simple, but I learned through much practice that these require patience, finesse and technique. It was the greatest gateway into cooking as it's literally the bedrock for so many cherished, traditional dishes of my birthplace.
How has the restaurant landscape changed since you first started? The dawn of the celebrity chef, the popularity of channels like the Food Network and the age of social media has certainly changed the landscape of the restaurant industry and created a more competitive climate. I think one of the biggest changes is between the relationship of the diner and the chef or restaurant owner. These social media platforms and avenues have created a new breed of savvier diners who want a complete culinary experience. DC's restaurant scene has grown drastically since I first landed here in 1998. As a chef, I only view this friendly competition and higher expectations from diners as a good thing; it keeps you striving to improve. You never want to rest on your laurels or grow complacent.
You are known for your desserts. What got you jazzed about creating sweets? Desserts are so entrenched in New Orleans' culinary makeup. I grew up loving the sweets and desserts of both my hometown and of my father's Cuban family. It was an exciting way to start my professional cooking career and it was my passion for pastry, [but by default as it was the only opening and my first job at the Windsor Court Hotel,] that led me to pen my first cookbook, DamGoodSweet: Desserts to Satisfy Your Sweet Tooth, New Orleans Style. The book encompasses everything that I love about pastries: it's a vehicle for sharing recipes, traditions, stories and experiences with readers. It was especially meaningful for me to write the book after the devastation of Katrina crippled New Orleans. It was an amazing way to preserve and honor many of the city's recipes and iconic restaurants in the wake of Hurricane Katrina.
How did growing up in New Orleans influence you? New Orleans is a city full of personality, culture and charm. It's an epicenter for cuisine and music and its vibrancy is intoxicating. Growing up in a place so rich in history and character has shaped me in every way imaginable. It's so intermeshed with who I am, what I love, what I cook, the music I enjoy and how I live my day-to-day life. My love affair with the place where I was born and raised was the motivation for maintaining the integrity of its roots through my cookbook and my restaurants. Hell, I even married a woman from New Orleans!
You now have two places, one in Arlington and one on Capitol Hill. Any differences between the two locations in terms of what you serve or what customers particularly like? Both locations of my restaurants, Bayou Bakery, Coffee Bar & Eatery in Arlington, Virginia and Washington, DC, share the same concept of showcasing the flavors of my native Louisiana and the South. They both have robust coffee programs inspired in part by my Cuban ancestry. The atmosphere of each carries a similar funkified N'awlins vibe, but each has an entirely unique style of architecture. My latest location, opened on Capitol Hill in DC, is in a historic carriage house that was sanctioned by President Abraham Lincoln the year before his death. It originally served as the stable for the medic horses of the neighboring Old Naval Hospital during the Civil War. We brought the space back to life, leaving as many original parts as possible and outfitting it with Civil War era antiquities that nod to its history. There are a few menu differences between the two, but both serve all the signatures that our guests love - from beignets served under a mound of powdered sugar, to our Muff-a-lottas, crumbly buttermilk biscuits and savory gumbo.
When you're not working, what's your favorite go-to meal at home or out? I love anything that touches the grill. Nothing beats the smoky char flavors that it lends to anything from big, juicy cuts of meat to tender, flaky fish and fresh veggies. A go-to would be burgers for my boys or a nice T-bone or Tri-Tip, simply marinated with some seasonal veggies. I'll throw them on the grill, let them kiss the flames and finish it with some lemon juice for that nice citrusy, bright burst. For me, grilling is the best way to relax and cook at home while hanging with friends and family. The chef often gets the raw end of the deal when it comes to hosting and getting stuck in the kitchen. But grilling allows you to be outside, gathered around and socializing with your guests. And honestly, my backyard is a lot more spacious for guests than our kitchen! Hopefully that will change once I have extra cash to build a larger one. But for now, I have three ways to grill in our backyard - and it's big enough to fit an army of hungry eaters.
Any dessert trends that you predict will (or should) wane soon? I'd like to predict that we are nearing the end of trends. If I had to pinpoint something that might be up-and-coming, I'd say that hybrids of food will likely gain popularity as it's a way to bring favorite foods together in one bite. Especially in larger cities that have so many cultural influences, it really can be a smart way converge flavors.
Are there any ingredients that you haven't had a chance to work with yet but would love to incorporate? I've become a big fan of mead. I'm just dabbling with it in cocktails and incorporating it in both carbonated and still form. Anything made from honey is going to add complexity and flavor to whatever it is that you're cooking. It can only benefit the dish or drink. Mead has these yeasty undertones that give it a completely unique component that leaves people scratching their heads as they try to make out what they're tasting that's giving off those smooth, soft, yeasty and sweet notes. They're even more surprised when they find that it's stemming from the mead.
Flash forward ten years: What are you doing? I'm a water guy. My wife and I made a pact that when the boys go off to college, we would sell the house and get a boat. During the summer months, we would sail and cook from one island to another. We'd map out areas with close-knit islands in the U.S. or abroad and set sail, hopping from one spot to another experiencing each location's unique culture and community. The rest of my year I would be in my restaurants, cooking and doing what I love most. To me, this isn't a job, but who I am. Perhaps, if I'm lucky, I'll continue doing more TV.