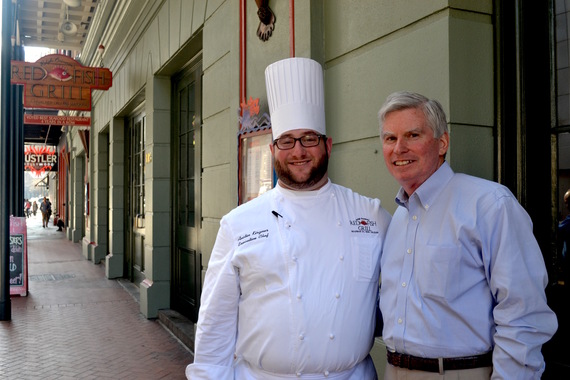 In a city like New Orleans, where great food is the norm rather than the exception, Ralph Brennan's Red Fish Grill's staying power - it has thrived in the French Quarter for 20 years and earned a spot among the Best Seafood Restaurants in America by Travel + Leisure - is a tribute to its kitchen. Executive chef Austin Kirzner, a native New Olreanian, has deep roots in local cooking. Steaming pots of gumbo and jambalaya are among his earliest culinary memories. His local sources provide the freshest fin fish, shellfish and crustaceans, and thanks to his wife's brothers, who own Covey Rise Farms on Lake Pontchartrain's Northshore, he is able to source their fresh tomatoes, squash, greens, and citrus.
What drew you to become a chef?
I think I've always known I was going to be a chef - I started working in restaurants in high school and truly fell in love with the industry and the culture. When I went to culinary school and chased my dream of becoming a chef, I never really thought I would get this far.
Any early memories of cooking?
I remember helping my grandparents cook in their kitchens when I was young. I have three children now and they enjoy helping me cook. I can't help to get nervous that they will burn themselves--the kitchen can be a dangerous place - but I guess they will find out at a young age if they love cooking because it comes with the territory in our house!
Red Fish has been a French Quarter staple now for nearly twenty years. How do simultaneously keep favorites up to standard while at the same time keeping the menu fresh and interesting?
I feel extremely lucky to be at the helm of a restaurant that has been thriving for 20 years. Red Fish Grill has always been known as a great place to get fresh local seafood, and maintaining that tradition is key to its continued success. The now iconic dishes like BBQ oysters and wood grilled redfish and double chocolate bread pudding continue to be menu must-haves, but we are always striving to try out new items and techniques to keep the menu fresh. It's easy to just hang our hats on our signature dishes, but I want to be relevant in a culinary landscape that is ever-growing and evolving.
Can you share any tips on finding great food in the city? Any hidden gems? Perhaps a Lebanese butcher, a Cajun spice market, a crawfish joint. (Something the average visitor might not otherwise discover.)
New Orleans is an iconic food city. If you are in the French Quarter you have to experience Breakfast at Brennan's, but I always encourage visitors to venture into different neighborhoods and explore the outskirts of the city. I like to sneak over to a place called Salvo's in Belle Chase -they have great seafood that is caught within 20 miles of the restaurant.
When I visited recently, I tried the snapper ceviche infused with coconut milk and topped with shredded coconut, a dish you had just created. Can you tell us how you conceive of and try out new dishes?
At Red Fish Grill we are trying to utilize the entire fish - from head to fin. We use the bones for stock and we use anything that doesn't have the correct weight in dishes like ceviche. Beyond our signature dishes, we are committed to keeping our menu seasonal - for example you will only see crawfish on our menu if it's fresh and in season.
When you're not working, what's your favorite go-to meal at home or out?
When I'm at home I like to cook for friends - so I really like to do boils in the backyard! This usually involves freshly caught crawfish, shrimp or crabs - whatever is fresh that I can get my hands on.
Are there any ingredients that you haven't had a chance to work with yet but would love to incorporate?
Being from Louisiana you get a change to work with great exotic ingredients, but I would still like to continue to branch out and work with some different seafood from the coasts like skate or cold-water mollusks.
Flash forward ten years: What are you doing?
Hopefully in ten years I'm still cooking and teaching young cooks that hard work pays off.
Related