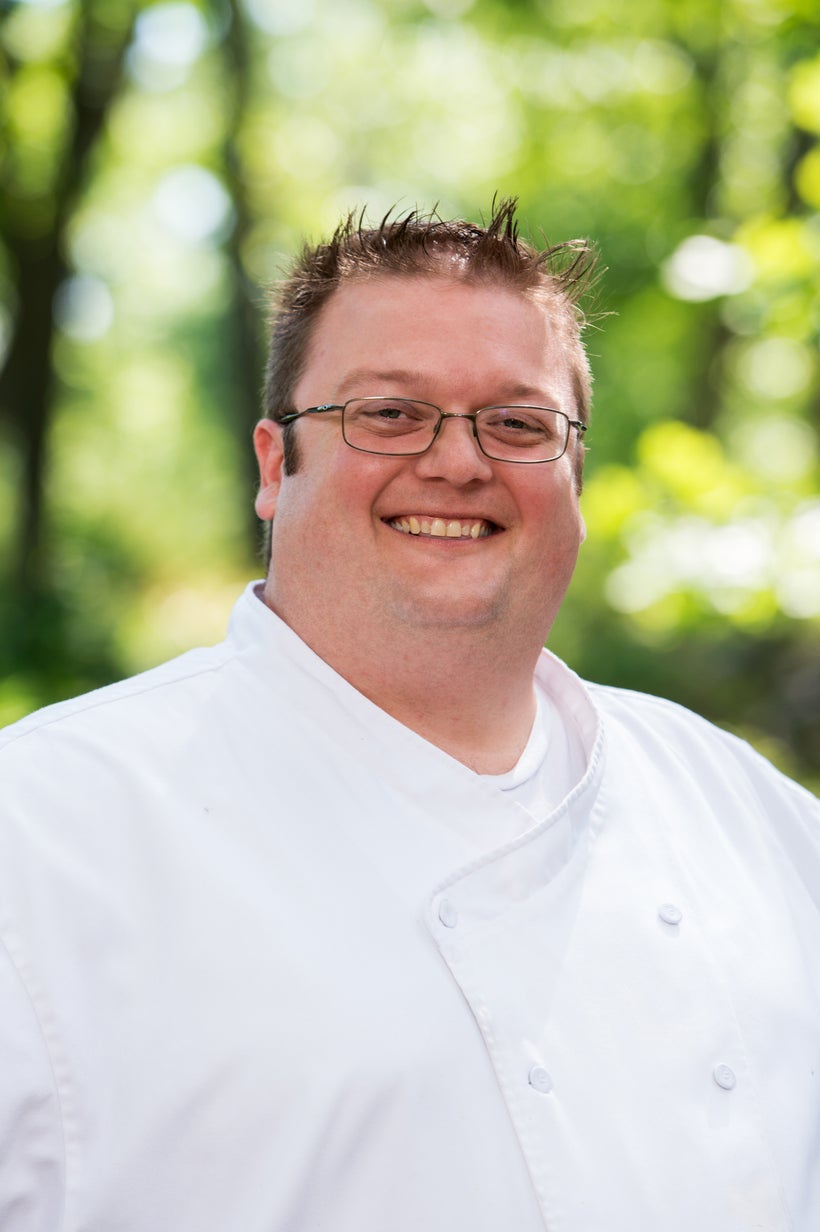 Chef Rick Shell is at the helm at one of Maine's most talked about properties, the newly reimaged Cliff House in Cape Neddick. The Tiller, the resort's signature restaurant, features a sheet of windows overlooking the water. You'll feel like you're on a cruise ship until you look down and notice that you're on land and a very fine landing it is with the craggy rocks that plunge into ocean spray. Time it right, as I recently did, and you're treated to a full moon's rays streaking across the sea. This isn't just a hotel restaurant: locals and long-time Maine vacationers have now made this a destination.
Chef Shell, a graduate of the Culinary Institute of American in Hyde Park, New York, did stints in Washington state and Reno, Nevada before launching the kitchen at the new Cliff House.
Locally sourced isn't a slogan here; it's a credo. Chef Shell, who visited more than 30 local farms to hand select the best growers, has introduced elegant new twists on New England classics, like lobster mac n' cheese drizzled with truffle oil, along with dishes like wild Maine mussels and duck breast braised in local cider. The creamed carrot soup topped with tarragon, crème fiche and candied ginger sounds like heaven, and that's because, well, it is.
Since the restaurant is located within a hotel, mornings matter. The Tiller doesn't disappoint with fresh pressed health juices, quinoa bowls with poached eggs, zucchini bread French toast with maple bourbon butter and a peeky toe crab omelet with hand-dipped ricotta.
Lunch at Nubb's, the casual lounge with hewn wood tables and foos ball, delivers an elevated lunch that you can experience in your bikini. Go with classics like a tender lobster roll, flavorful lobster hush puppies and bacon-studded potato salad. Pair all of it either with a craft brew from New England, or, when in season, a blueberry lemonade.
What drew you to become a chef?
I started in the dish pit scrubbing pots, pans & dishes. I would always go over to the line and see what the chefs were doing. The head chef would tell me to get back to my job, yet I still went back to the line. One day he said if you like the line so much, come do it. He gave me a prep list and the rest was history. The chef took me under his wing and taught me the business and I was sold from then on.
Any early memories of cooking?
I have so many memories of cooking and being around food. Food sets a social platform for people to come together for all types of occasions. I remember trying to recreate dishes at home and the trial and error is both fun and rewarding. Another memory I have is Brunswick stew cooking over the open flame, getting ready for a game day tail gate. My mother's chicken and dumplings is comfort food at its best.
Any tips on finding great food in southern Maine?
Oh, this is the fun part of day's off. Going from one place to another and trying others' creations. Always keep in mind that even the off beaten path or hard to find places offer some great eats. Anju in Kittery, Maine has a great bone broth for the noodles. Visitors must visit try Vida Cantina in Portsmouth, Red's Eats [ a quintessential lobster shack in downtown Wiscasset], the bakery at Roost Café in Ogunquit and, of course, I always find something fun at Northern Union [a wine bar and restaurant also in the seaside village of Ogunquit].
When you're not working, what's your favorite go-to meal?
That changes with my mood, weather and, most of all, the season. Right now, halibut and stripped bass. The local farms are producing some incredible items that go fantastic with some fish or grilled meats. A local verde chorizo makes a great verde chorizo taco, in the fall and I love roasted and braised items. The smells put me be at peace and in a great frame of mind.
Are there any ingredients that you haven't had a chance to work with yet but would love to incorporate?
Locally, I have not played around with kombo, AKA kelp. I can't wait to get a chance to create something with it.
Flash forward ten years: What are you doing?
Food and beverage is in my blood. One of many great things about this industry is that it is always changing and evolving and that makes it fun, exciting and truly keeps me on my toes. Maybe by then I'll have a food truck that I can drive from farmers markets, fishing docks and fields to bring some uber-local taste to people!
Calling all HuffPost superfans!
Sign up for membership to become a founding member and help shape HuffPost's next chapter
This post was published on the now-closed HuffPost Contributor platform. Contributors control their own work and posted freely to our site. If you need to flag this entry as abusive,
send us an email
.