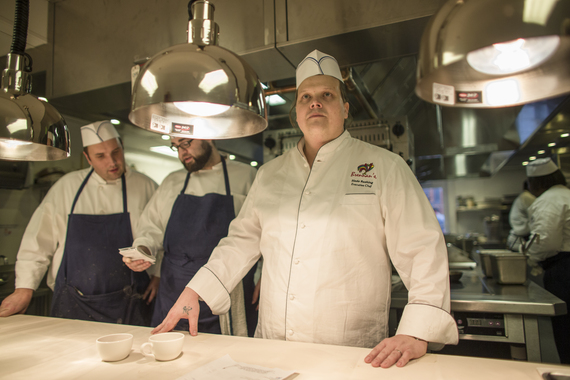 Brennan's, the French Quarter institution, has been named Restaurant of the Year by New Orleans Magazine -- and that's saying something in one of America's greatest food cities. Executive Chef Slade Rushing, a 2015 and 2016 James Beard Award Finalist embodies what's distinct about Southern cuisine. A native of Mississippi, he recalls a childhood spent hunting rabbits and cooking them with greens plucked right from his family's garden. After graduating from Johnson & Wales University, he worked in kitchens from coast to coast before settling in New Orleans. At Brennan's Rushing showcases beloved classics like eggs Sardou and bananas Foster while at the same time lightening up the menu to reflect the taste of the New South. His book Southern Comfort, A New Take on the Recipes We Grew Up With also reflects his passion for ensuring that classics have legs into the 21st century.
What drew you to become a chef?
I'll never forget trying to make the shrimp Richmond recipe from Antoine's cookbook in high school--it took me all day, but, thankfully, it was well worth the wait. I look back at that and laugh at that being my first real foray in the kitchen because today, that dish would take me just a half hour to prepare. When I entered college I began studying to become a mechanical engineer, but instead I quickly found myself skipping class to watch episodes of Great Chefs, Great Cities and eventually dropped out in order to pursue my true passion of being in a kitchen.
Any early memories of cooking?
My first memories in the kitchen are as my father's helper - my dad would let me stand in a chair beside him cutting green onion with a butter knife for his turtle soup. When I look back at these memories, I think this when my true love for cooking must have begun - at this early age learning to cook beside my dad.
Brennan's is such a New Orleans staple among locals and visitors. Can you explain how you honor the traditions while keeping the menu relevant? How often do up update the menu or introduce new dishes? When I was there recently, the kitchen was testing out a decadent new dessert , a rich chocolate cake topped with red peppercorn ice cream encased within a globe of white chocolate.,
My team of chefs and I are always looking to the past to find inspiration for new menu ideas. I find there is such a rich culture and history of creole food in New Orleans to draw upon - from old cookbooks to menus from years past. Brennan's obviously has a special place in people's hearts, so I do my best to simply enhance what everybody already loves about the menu with fresh, seasonal and modern cooking techniques.
Can you share any tips on finding great food in the city? Any hidden gems? Perhaps a Lebanese butcher, a Cajun spice market, a crawfish purveyor. (Something the average visitor might not otherwise discover.)
I really enjoy going to Hong Kong market on the west bank - it's a true locals' spot. The market has a huge selection of ethnic food and authentic ingredients to keep things new and dynamic.
Breakfast at Brennan's is so engrained in the New Orleans psyche that the restaurant even issued a cookbook with that title. From your point of view in the kitchen, what makes breakfast and brunch here so special?
Breakfast at Brennan's is an early morning celebration unlike any other - from champagne to Brandy Milk Punch - the fun begins here at 8 a.m. We put a lot of love into what we serve, and our breakfast dishes like the eggs Hussarde with house-made English muffins, coffee cured Canadian bacon, hollandaise, and marchand de vin sauce are no exception!
When you're not working, what's your favorite go-to meal at home or out?
If I'm dining out you will most likely find enjoying a warm bowl of pho at Nine Roses. At home, it's hard to beat making pizza with the kids!
Are there any ingredients that you haven't had a chance to work with yet but would love to incorporate?
I love discovering new and exotic ingredients to work with. That's' what makes being a chef exciting and challenging. Currently, I am interested in incorporating Beluga caviar and basil fed snails.
Flash forward ten years: What are you doing?
I like to hope that in ten years I will be signing a new James-Beard-Award-winning Brennan's cookbook for a guest.