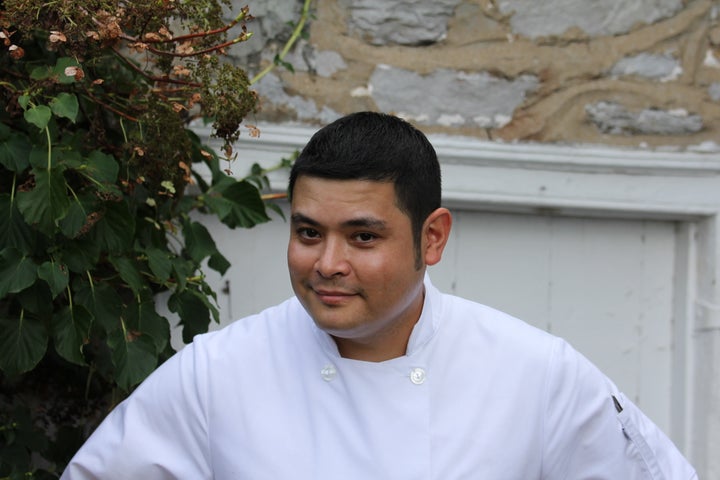 Born in the Philippines, Executive Chef Richard Wright started his career in New York City at the famed Gotham Bar and Grill. Soon after he was recruited by the three Michelin star chef Eric Ripert to his Manhattan mecca, Le Bernardin. After five years at Le Bernardin, Chef Wright began to crave for a different atmosphere, so he left the city for the countryside so he could pick his own vegetables from the garden and have access to more local ingredients.
Wright now helms the sophisticated kitchen at L'Auberge Provençale, a charming country inn that attracts a big-name clientele just outside Washington, D.C. in the shadow of Virginia's Shenandoah Mountains. The low-key dining room is prized for its extraordinary menu with dishes. With an orchard and garden on site, much of the menu is plucked from the yard or nearby neighbors, like filet mignon (local beef, local chanterelles), pork jowl (local) paired with cornbread and honey (local, of course), tender scallops with diced Asian pear. Cocktails here are known for their distinctive, fresh flavor thanks to infusions of herbs and fruit grown on the property.
Of all the chefs that have you have worked with, who had the most influence on you?
I'd say Chef Chris Muller, Culinary Director at Le Bernardin. He just knew how to get the best results out of somebody and had a great mental mise en place. Another chef I admire is someone I started out with: Chef Neil Annis of Restaurant Sydney in East Berlin, Pennsylvania. He had been the sous chef for Christian Delouvrier at Lespinasse in New York's St. Regis Hotel in the early 90's. His style was very French and he always knew of that one thing you could put on the plate if it needed it.
What is your favorite dish at home with friends and family?
I like to grill and BBQ. For a chef who spends so much time in a kitchen, it's nice to be outside.
What aspirations do you have for the restaurant at L'Auberge?
I'd like to take the philosophy of the owners along with my own and elevate our food and give it a modern approach. To me, it's also important to include even more local and sustainable cuisine. We already use ingredients from our own garden and local farms, but I'd like to do even more of that.
Where do you see yourself 5 years from now?
I guess staying humble and to keep learning. I'd also like to have more of a work/life balance!
Related
Popular in the Community