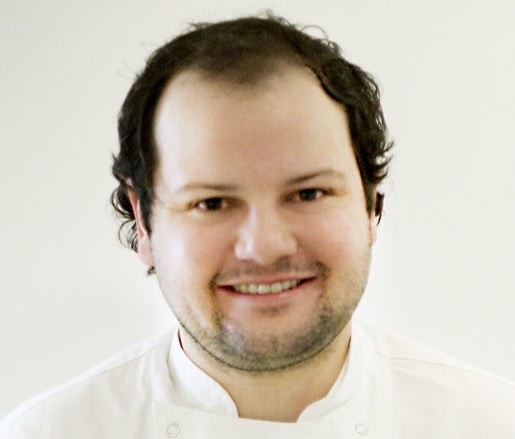 New York chef Jason Hall is making his mark at Legasea, which as the name implies, is all about seafood, sustainable seafood at that. The industrial chic restaurant perched on the second story of the Moxy Hotel, a new hipster hideaway, opened last fall in the Garment District in Midtown Manhattan, an area long known as a culinary desert. Teeming with people and energy, this neighborhood near Madison Square Garden has long deserved some culinary love.
Hall, who grew up in Toronto and Nashville, brings a nice guy, unpretentious approach to his food with a menu that's meant to be enjoyed not pondered as is the case with far too many foodie "temples" in Manhattan. A graduate of the Culinary Institute of America, Hall earned his chops at New York institutions Craft and Gotham Bar & Grill.
Legasea is populated with a friendly staff, who seem genuinely enthusiastic about the menu. It features blissfully simple grilled fish, including a whole bronzino, along with creative dishes like unforgettable spicy crab beignets (presented almost as savory mini creampuff sandwiches), along with yellowtail sashimi that's bedded in yuzu marmalade and dolloped with clouds of pureed hearts of palm. Salads come with galaxy of ingredients. Take Hall's version of the Waldorf salad, which is composed of curly kale, almonds, paper thin slivers of honey crisp apples and cheddar shavings tossed in a honey mustard dressing. Desserts include mammoth make-you-own sundaes with all the classic flavors, plus the option of updates like Greek yogurt and caramel popcorn, along with multi layer chocolate cake served with poured-at-the-table caramel sauce.
What drew you to become a chef?
This is the only job I've ever known. Cooking is something that I've always found interesting and truly enjoy. So, I just went for it!
Any early memories of cooking?
I grew up in Toronto before my family moved to Nashville, Tennessee. In the summer of 8th grade, I broke my arm and couldn't do all the normal summer activities or travel to the beach. Because of this, I went back to my grandparents' house in Toronto, and spent the whole summer cooking with them. My grandfather had all these old cookbooks, and we tested out a lot of the recipes together.
Legasea is tucked inside Moxy, a new hotel in the Garment District. What makes the hotel and this neighborhood such a good fit for your restaurant?
We are quickly becoming an anchor for the neighborhood, offering a destination unlike any other in the Garment District where guests can find great food and craft cocktails in a lively atmosphere. As we continue to draw people to this untapped area, we make sure to provide customers and guests with an experience that they won't forget. Our food fits perfectly for the millennial crowd that is attracted to Moxy Times Square with great sharable bites and unique twists on some classic dishes.
What made you want to open a seafood restaurant?
As the dining landscape changes and diners choose to eat lighter and prefer shared items, we thought that seafood would be a great choice. Classic seafood offerings, like the shellfish towers or our lobster bake are accessible for those looking for lighter fare, while dining with their friends. Additionally, we also realized that there aren't many approachable, high-quality restaurants in the neighborhood, and we thought the offerings at Legasea would bring a dining destination like no other to the area.
I know you source locally and sustainably. How does that affect the quality of the food you serve?
For me, sourcing food locally and sustainably should always be the standard. It's a no brainer. When you are serving fresh ingredients, they are able to just stand on their own and you don't have to manipulate them as much.
When you're not working, what's your favorite go-to meal at home or out?
A good breakfast is my favorite go-to meal. I love scrambled eggs -- perfect for a late-night snack, but also a great way to start off the day.
Any food trend that you predict will (or should) wane soon?
There are so many health trends that are popping up these days, that sometimes I think people forget how simple food can be. Keeping your food intake fresh and clean will outlast any food trend. I try to stick to going to restaurants that play off of the classics, since they always provide consistent food and service without all the "noise" of trying to be trendy.
Are there any ingredients that you haven't had a chance to work with yet but would love to incorporate?
When TAO Group's Chef Ralph Scamardella was in Japan doing a rice tour, he sent a lot of interesting Japanese and Malaysian spices back. As we begin opening LAVO in Singapore, I'm excited to start exploring some of the Malaysian spices that the chefs will be using there and test them out myself.
Flash forward ten years: What are you doing?
We have enough to worry about today. I'm not going to project that far. The next 10 years are all predicated on the success of today!
REAL LIFE. REAL NEWS. REAL VOICES.
Help us tell more of the stories that matter from voices that too often remain unheard.
This post was published on the now-closed HuffPost Contributor platform. Contributors control their own work and posted freely to our site. If you need to flag this entry as abusive,
send us an email
.