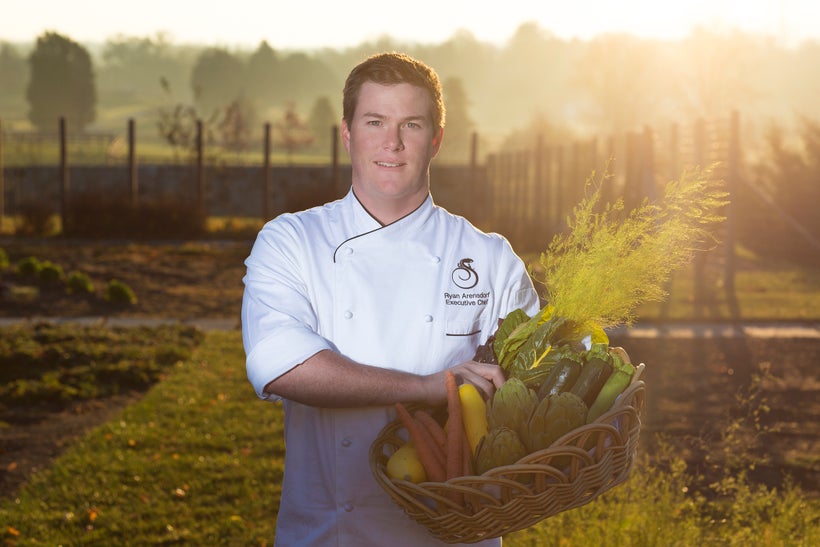 Chef Ryan Arensdorf, who is the 
Executive Chef at Salamander Resort, hails from the Midwest and those roots that shine through in his menu. Harrimans, every bit the low-key elegant country restaurant it has always been, has amped up its comfort food under his guidance with dishes like slow-cooked short ribs and country fried chicken served with buttermilk biscuits topped with the resort's own honey. (From many of the tables in the dining room you can actually spy on the bees working the apiaries). The greens, if they aren't plucked from the resort's garden, are from neighboring farms, meaning that dishes like grilled ramps with olive pistou and delightfully spiked with the heat of chili peppers are worthy of starter status. Aresendof comes to the rural idyll of Virginia's horse country after honing his skills at some of the top kitchens in Chicago, including Café des Architectes at Sofitel Chicago Water Tower and the W Hotel Chicago Lakeshore.
What drew you to become a chef?
I have always wanted to be in the kitchen. When I was eight years old I told my babysitter I was going to be a chef. The first paper I wrote in 4th grade was titled, "How To Make Scrambled Eggs" after my father had just taught me. When it came time to decide what to do with my life, cooking was the only thing that was interesting, even mysterious, and I knew I would love doing it.
Any early memories of cooking?
Probably too many too list here! My fondest memories of cooking, always involve my grandmothers. I was always in the kitchen with them. My grandmother on my dad's side taught me about preserves and how to make fried chicken while on my mom's side, it was all about pies.
I know you came to Middleburg from Chicago….pretty big change from city to countryside. What are some of your favorite things cooking in this rural area outside DC?
I really love the peace and quiet the resort and the countryside offer. You really wouldn't know you are so close to DC! Unlike Chicago, you are able to take a walk around outside and it's incredibly relaxing. Also, the property offers so much. I can go to our garden and pick fresh fruit, vegetables, and herbs for the menus as well as use honey from our very own beehives.
The menu at Harriman's has changed under your guidance. Can you talk a bit about what drove those changes? I love how you still honor the vegan, including local veg, ancient grains etc, while simultaneously providing a meat-forward concept, including short ribs and steak. How did you develop this balanced menu, something, literally, for everyone?
I fell in love with the property and everything it had to offer. This sparked so many creative ideas for how to incorporate all of the unique offerings the property has. That is when I decided that I wanted a menu that would be multifaceted. That meant being very vegetable forward. Another aspect is that we are an equestrian resort in the countryside, which makes me think big and impressive. That's where the butcher's block comes from.
When you're not working, what's your favorite go-to meal at home or out?
At home I try to make sure that I cook different styles of cuisines to keep sharp, but lately I have returned to a good stir-fry with market vegetables. It's quick, easy and always hits the spot.
Any food trend that you predict will (or should) wane soon?
Kale. Soon this will return to being a vegetable option but not a necessarily a focal point of a dish.
Flash forward ten years: What are you doing?
I am doing what I am now. I thoroughly enjoy Virginia and Salamander Hotels & Resorts is such an amazing company to work for.
REAL LIFE. REAL NEWS. REAL VOICES.
Help us tell more of the stories that matter from voices that too often remain unheard.
This post was published on the now-closed HuffPost Contributor platform. Contributors control their own work and posted freely to our site. If you need to flag this entry as abusive,
send us an email
.