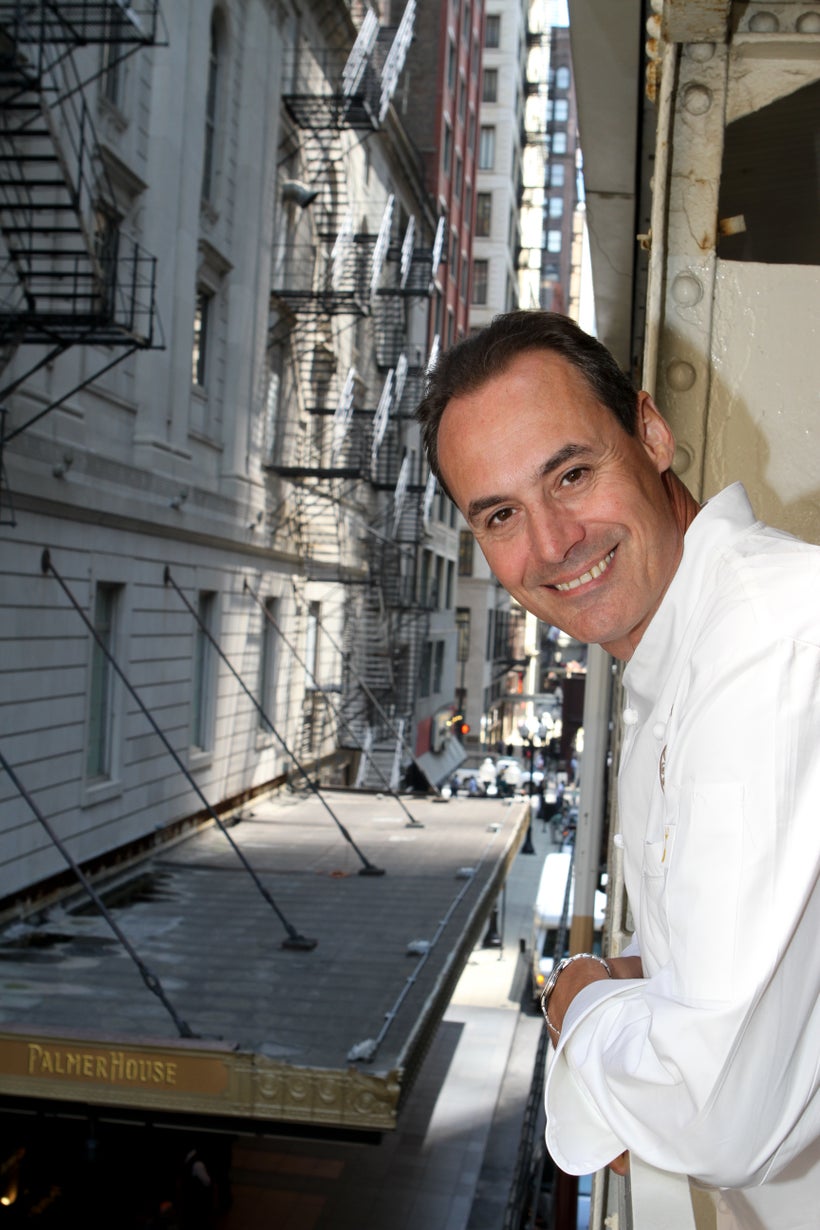 Chef Stephen Henry, who is leading the acclaimed kitchen inside Chicago's storied Palmer House, A Hilton Hotel, grew up in Dublin, Ireland, where he began his culinary career at the age of 16 at a local restaurant called Goat Grill in Goatstown. Later, after graduating from culinary school, he was offered a chance to join the kitchen at the Hilton Chicago. Many years later, he achieved his dream of becoming Executive Chef at the hip & historic Palmer House, A Hilton Hotel, where he continues to serve today.​
What drew you to become a chef?
I remember when school ended for the summer break I flopped in the chair in front of my father in the family room and said, "I'm done now for the summer." Little did I know that my father had gone to see Chef John at a local restaurant in Dublin, Ireland (probably to keep me out of trouble) and asked if I could work at the restaurant for the summer. I had my interview with the on the restaurant steps, where he told me to get my hair cut and said I start at 6 a.m. the following morning…all of which I did and I never looked back!!
Any early memories of cooking?
I had just started cooking school and was working with Chef John for about 3 months by then. One day my mom was not feeling very well and I offered to cook dinner for the entire family. I had three brothers, my mom, dad, grandpa and grandma to feed.
We had the mushy peas at…4pm
Chicken and gravy at…5: 45pm
And a total dessert disaster at…7pm
How has the restaurant landscape changed since you first started?
Drastically. I've been in the culinary world now for over 30 years (I know, I know) and have seen many changes, restaurant themes, and trends – everything from the Atkins diet in the 80s, SlimFast in the 90s, Seattle Suttons Diet in 2006 and now in 2017 we see many guests reporting serious allergies. We see different dietary trends now (i.e. Gluten free is big, Halal, Pescatarian, Vegan and vegetarian, etc.).
Consumers read labels on packaging and now become foodies, which we never had in my early career as a chef. In the earlier days, it was hard to be an assistant chef; no one shared their knowledge and you had to consistently look over the shoulders of the Chef. NO HGTV, NO INTERNET, just limited books and magazines on the shelf – thank God for Julia Child and Jacques Pippin, teaching us skills and techniques. Now, everyone can cook and eat a healthy diet.
In the professional world, the standards have skyrocketed . I just bought a jar of honey powder and a jar of Cheddar cheese powder. Really, this is jaw dropping; even food presentation skills and our techniques are carefully mastered. Food is becoming a work of art. You can't scroll through Facebook or Instagram without seeing posts of food, drinks and even videos of people's dining experiences. This continues to raise the bar and set the tone for new young chefs entering the food scene.
I know you grew up in Ireland. How does that background influence your food?
Growing up in Ireland in the 70s and 80s was a lot different than it is now. The menus in most restaurants in Ireland had very similar offerings influenced by French cuisine, especially in hotels and the higher end restaurants, whereas the bars and pubs served traditional Irish fare like lamb stew, Irish breakfast, fish and chips, smoked salmon, etc. Foods were usually locally sourced.
With Ireland joining the European Union this really opened the doors to all cuisines. Many younger folks moved to Ireland to work and take advantage of the educational systems available, which introduced their cultures and cuisines to Ireland.
The Palmer House has a long and storied history. How did you honor the past while bringing menus into the 21st century?
Most dishes I believe honor the past in some way and there are very few dishes that don't have a history attached to them. For example, I took a dish that was famous in the 1920s where the Palmer House Chef would wrap a beef round in fat and slow roast it. It was called the "Palmer House Barron of Beef" and they would hand carve it. I simply take individual beef filet steaks and wrap them in Prosciutto, pan sear them in olive oil, fresh garlic and roof top herbs.
Chicago and burgers just go together. The new burger bar just sounds perfect. Can you talk about your unique approach, what makes it stand out?
The burger is probably the most popular dish in America, and so we thought we should tap in to that and offer an awesome burger . We chose to name and create our burgers using the diversity and influences of the Chicago neighborhoods.
Any great food tips on finding great food in Chicago? Any hidden gems?
One of the great hidden gems I found a couple years ago is Luella's Southern Kitchen. A chef I used to work with – Darnell Reed – opened the restaurant and uses recipes and dishes that he learned from his Grandmother Luella.
When you're not working, what's your favorite go-to meal at home or out?
I love eating Chinese out, and bread, wine and cheese at home.
Any food trend that you predict will (or should) wane soon?
I think the very high-end, white table cloth, over-priced restaurants are becoming a thing of the past. There will always be a few for special occasions, but I think the younger crowd wants to eat out more frequently, try new cocktails, the latest beers and experiment with food choices.
Flash forward ten years: What are you doing?
Teaching, coaching, learning, and traveling with my wife Melissa.
REAL LIFE. REAL NEWS. REAL VOICES.
Help us tell more of the stories that matter from voices that too often remain unheard.
This post was published on the now-closed HuffPost Contributor platform. Contributors control their own work and posted freely to our site. If you need to flag this entry as abusive,
send us an email
.