Every neighborhood needs that go-to spot where patrons can count on a delicious sandwich, fresh salads, homey baked goods and other comfort food staples. Enter Sara Mann and Alex Eusebio, co-owners of the newly opened Sweetsalt Food Shop in Toluca Lake. A modern day mom and pop shop, Mann conceptualized the design and feel of the space (she also runs the front-of-house) while Eusebio works as the Executive Chef (you might remember him for his short run on Season 5 of Top Chef, where he was sent packing for his not quite set creme brulee).
Eusebio and Mann opened Sweetsalt just over two months ago and have already earned a stable of loyal customers who regularly line-up for the daily soup specials, mac 'n' cheese and decadent sandwiches (see "Short Rib Roll" to understand just how decadent). They might reach their peak at the lunch hour, but Eusebio points out that locals are stopping by multiple times a week to pick up dinner to bring home to the family. Read on for Eusebio's take on cooking, eating and how becoming a chef saved his life.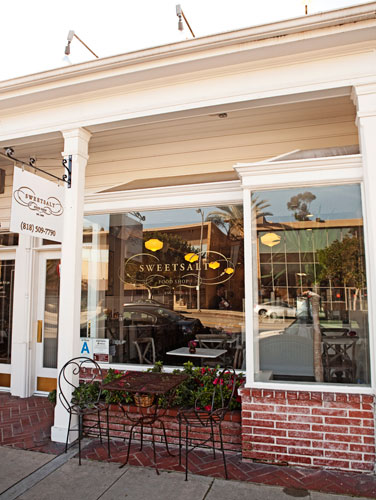 Sweetsalt's charming storefront.
Heather Taylor: What motivated you to open Sweetsalt?
Alex Eusebio: We really felt the neighborhood was lacking a decent lunch spot where people could find healthy, affordable and tasty food. We wanted to create the kind of place where diners could stop in for a cheese plate or a cheesy panini with a cup of fresh tomato soup. We also wanted to create a gourmet food shop with great espresso, pastries and a variety of olives and cheese. There's a little bit of everything at Sweetsalt.
HT: What is your cooking style?
AE: I was born in Spain and grew up in the Dominican Republic and in New York. I would say my style is eclectic. I love to add French influences to my cooking, but in the end it's about simple and fresh ingredients.
HT: Has food always been a big part of your life?
AE: When I was young I was always helping my mother in the kitchen. She taught me a lot about food and I'm very grateful to have the Spanish and Dominican influences.

HT: I know you've only been open for a couple of months, but has a dish already emerged as the most popular item on your menu ?
AE: It would have to be the Short Rib Roll. It seems like I make a hundred a day. I slow braise the meat in coffee and lots of great spices for four hours.

HT: When you aren't cooking, where you do like to eat?
AE: My wife and I love to go to Mexicali for a pitcher of margaritas and chicken nachos after a busy day at work. We actually went there on our one-year anniversary because it's so convenient and consistent. For upscale, we love Hatfields. You can't go wrong there. The best is when Sara cooks dinner and we eat at home together in peace.
HT: Was there a defining moment when you thought that food could become your career?
AE: I went to Canisius College and got a degree in finance. I was working on Wall Street at Lehman Brothers at the World Trade Center as an FX trader. I was in charge of trading millions of dollars and it was incredibly stressful and not fun at all. I quit my job and left for culinary school in August 2001 - to my mother's chagrin. She stopped speaking to me because she was so angry I quit my job to become a "cook." Right after that, 9/11 happened and we all know the rest. She called me that morning in tears. Thank god I had decided to change careers. I might not be alive today.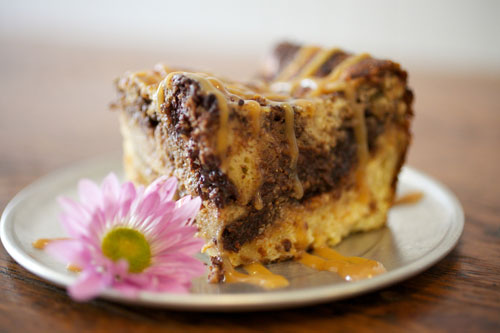 Sweetsalt's signature dessert, a rich Chocolate Bread Pudding.
RECIPE

Sweetsalt's Chocolate Bread Pudding

Ingredients:
10 Croissants or Challah Bread (can be day old)
8 egg yolks
11 whole eggs
2 cups sugar
1 shot of favorite rum or brandy (optional)
Tablespoon vanilla extract or 1/2 vanilla bean
5 cups heavy cream
7 cups milk
1/2 lb dark chocolate (shredded or chopped fine)

Directions:
Preheat oven to 325

In 8 1/2 X 11 pan tear up bread and fill pan
Combine egg yolks and eggs; whisk together
In a separate pot heat the cream, milk, sugar, rum and vanilla and bring to a boil.
Slowly temper the milky mixture INTO the eggs while whisking. This will prevent the eggs from cooking. (remove vanilla bean if you went this route)
Pour mixture over the bread in pan. Crumble the chocolate over the top and push down into a few different spots in the pan so it gets deep in there as well.
You can also add your favorite dried fruit (like cherries) or walnuts for a little crunch...
Cover with tin foil and bake for 50 minutes.

Yields 20 servings.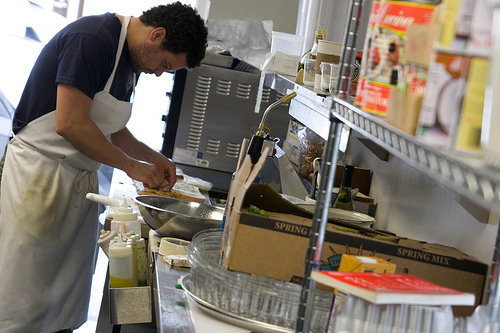 Chef Alex Eusebio hard at work in the Sweetsalt kitchen.
Photography courtesy Sweetsalt.
Chef Speak is a bi-monthly column by LA-enthusiast Heather Taylor in which she explores LA's diverse and dynamic food culture, featuring interviews with Angeleno chefs of-the-moment, seasonal recipes, and rising restaurants.
Popular in the Community