 Established in 1948, Dominick's was once an exclusive Hollywood hangout frequented by the likes of Frank Sinatra and The Rat Pack. Now, this cozy West Hollywood spot is where foodies go to eat killer spaghetti and meatballs on what might just be the prettiest patio in Los Angeles.
The restaurant's New Orleans-bred Co-Owner and Executive Chef Brandon Boudet seems to have the Midas touch. After opening Hollywood's 101 Coffee Shop in 2001 he bought the historic Dominick's along with his business partner, Warner Ebbink, in 2004. And in 2008 the duo opened Little Dom's, an inviting New York-inspired Italian eatery on the East Side, which has taken off like gangbusters. Simply put, Angelenos flock to Boudet's restaurants because he makes food we want to eat. Read on for the chef's take on cooking, eating, and what makes LA different.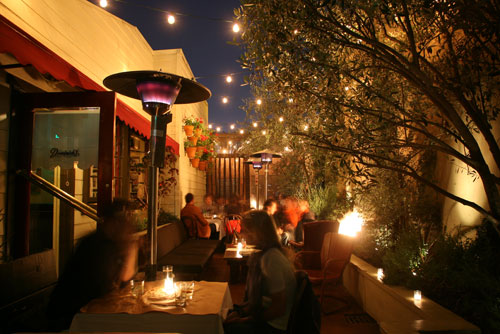 Side patio at Dominick's.
Heather Taylor: How and when did you develop a passion for food?
Brandon Boudet: When I was seven, all the students in my class were assigned a project to assemble a cookbook for Mother's Day. While most of the other students' recipes didn't quite make sense, mine was a very detailed description of Banana Cinnamon Toast right down to preheating the broiler and spreading butter on lightly toasted bread. I had already made this several times by myself at this point.
HT: In a nutshell describe your style of cooking.
BB: An updated version of Italian-American home cooking.

HT: In addition to your full menu at Dominick's, you have "Sunday Suppers," a three-course set meal for $15. How long have you been doing this and what has the response been like?

BB: We've have Sunday Supper for four years. People have been so enthusiastic that we started doing "Monday Night Supper" at Little Dom's, our restaurant in Los Feliz.

HT: What about Los Angeles inspires you in the kitchen?
BB: Definitely all the produce that is readily available. I have cooked in New Orleans, Las Vegas and New York and none of those places come anywhere close to Los Angeles when it comes to produce.

HT: Do you shop for Dominick's at any of the local Farmer's Markets?
HT: Any favorite vendors?
BB: Laura the avocado lady.

HT: Speaking of produce, what seasonal ingredients are you excited about cooking with right now and what's a simple way you like to prepare them?
BB: Tuscan kale and winter squash. I like to prepare them together in a simple salad. I grill the squash and then drizzle with aged balsamic vinegar. I add the grilled squash to the raw kale, which I've dressed with lemon and olive oil.

HT: That sounds amazing. What are some of your other favorite things to cook at home?
BB: I've been grilling pizza on my Weber Grill.
HT: When you're not cooking where do you like to eat in the city?
BB: I usually open the book Counter Intelligence by Jonathon Gold to a random page and go! I recently went to La Cabanita in Montrose and loved the pork chops.

HT: All of your restaurants have taken off quickly. Any projects on the horizon?
BB: Yes, but it is not finalized yet.

While we patiently await Boudet's upcoming venture (he is tight-lipped on the details), you can bring a taste of Dominick's into your own kitchen by following the chef's recipe for Spaghetti and Meatballs. This rich and classic dish is perfect for a chilly winter night. Bon Appetit!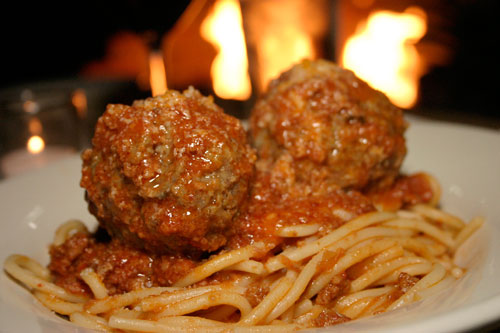 RECIPE

Dominick's Meatballs
2 1/2 pounds ground pork
2 1/2 pounds ground beef
1 1/2 cups soffritto (see Tomato Sauce recipe), saute 3 min
1 tablespoon ground fennel seeds
1 teaspoon red pepper flakes
1 tablespoon porcini mushroom powder
1 cup mushrooms, saute 5 min
4 cups bread crumbs
2 eggs
1 tablespoon salt

-Mix all ingredients in mixer or by hand
-Using 2 1/2 oz ice cream scoop, scoop meat mixture to make meatballs
-Bake on sheet pan with parchment for 15 min at 375 degrees

Dominick's Tomato Sauce
6 28 oz cans tomatoes, passed through food mill
4 cups soffritto (3 ribs of celery, 1 large yellow onion, 3 cloves garlic , 1/4 bunch parsley), chopped
1 bunch each of basil & oregano, wrapped in cheese cloth
1 teaspoon sugar
3 Tablespoons tomato paste
3 teaspoons salt
1 teaspoon Red Pepper flakes
1/4 cup olive oil
Add olive oil to pot.
Add soffritto and saute 3 minutes.
Add salt, sugar, pepper flakes and tomato paste, saute 2 minutes.
Add canned tomatoes and simmer 3 hours.
Add basil and oregano and leave in sauce till completely cooled to infuse flavor.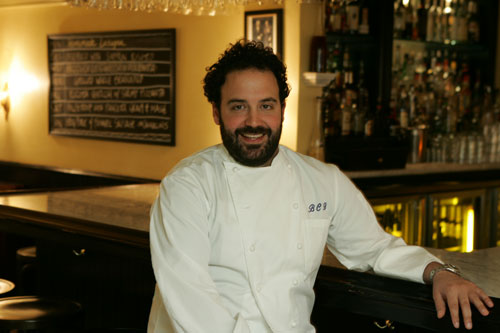 Chef Brandon Boudet. Photo credit: Alex Berliner
Dominick's Restaurant
8715 Beverly Blvd
West Hollywood, CA 90048
310.652.2335
www.dominicksrestaurant.com

Chef Speak is a bi-monthly column by LA-enthusiast Heather Taylor in which she explores LA's diverse and dynamic food culture, featuring interviews with Angeleno chefs of-the-moment, seasonal recipes, and rising restaurants.

Popular in the Community