With the launch of summer (read: bikini season), it seems like the perfect moment to slowly step away from the ground beef and pickle tacos and embrace something a bit lighter. Or in the case of the juices at West Los Angeles's pocket-sized stand, Pressed Juicery, a lot lighter. After acknowledging that her high-stress job in New York City was having an adverse effect on both her mental and physical health, LA native Carly Brien enrolled in the Institute for Integrative Nutrition on a quest to change her lifestyle. The shifts brought about by regular juicing and healthy eating prompted her return to Los Angeles, where she opened Pressed Juicery with friends and fellow juice advocates Hayden Slater and Hedi Gores.
Customers can purchase juices individually, in cost-effective packages or sign up for the three- or five-day cleanses, which include door-to-door delivery of eight signature juices every morning before 7AM. In just eight months since opening up shop, Pressed Juicery has become West LA's preeminent juice bar, featuring freshly pressed blends that are equally healthful and delicious. Their creamy almond milk, made with almonds, dates, vanilla bean, sea salt and filtered water, tastes more like a milkshake than skimpy juice, and after a few sips of Cayenne Pepper and Lemon Water, you'll wonder why you ever needed coffee. We chatted with Carly about juicing, cleansing and where she likes to indulge.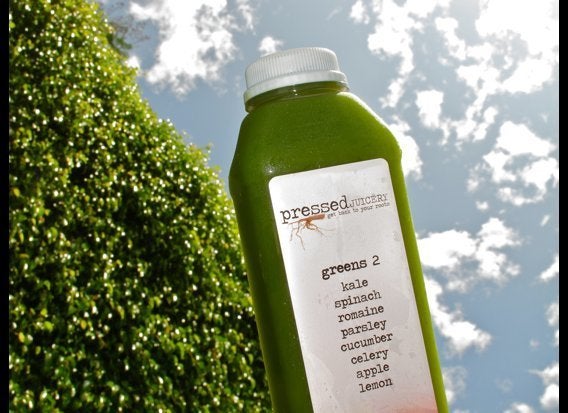 Pressed Juicery
Heather Taylor: What is the philosophy behind Pressed Juicery?
Carly Brien: Pressed is all about simplicity. We understand that our average customer has a hectic lifestyle and that there are never enough hours in the day to get everything done. Health often falls by the wayside. Our philosophy is to create the freshest, most nutrient-dense and delicious product we can and make it easy for people to incorporate into their lives. We don't believe in deprivation, but sometimes the body needs a break from all the digesting it does day in and day out, and giving it a rest while drinking fresh pressed juice can actually feel like quite a treat! The idea is that once you start making even one pressed juice a part of your daily life, the negative habits more or less fall away because the body starts to crave healthier, more wholesome foods.
HT: Cleanses are definitely having a moment. How does the Pressed Juicery Cleanse differ from other popular cleanses?
CB: One of the things that sets us apart from other cleanses is the fact that customers can customize their program to fit their taste preferences. Instead of giving people one option or even three options, we allow our customers to choose different juices within their cleanse. This keeps things interesting and allows for more variety. We've noticed that when people get bored with what they are consuming, they begin to focus more on what they are missing out on and less on the positive aspects of what they are doing for their health and well being.
HT: What are the top five health and nutritional benefits to juicing?

CB: The benefits of juicing are endless! Some of the results people find are: balanced pH, weight loss, increased mental clarity and energy, clearer skin, organ and tissue cleansing... the list goes on and on. Your immune system and health depend on healthy elimination of toxins from the body which is what juice cleansing allows to happen as it gives the digestive system a proper and much-needed break from the work it has to do on a daily basis.
HT: Are you a full-time health nut or do you ever indulge? And if you do, where is your favorite place to indulge in LA?
CB: I fully believe in being able to eat what you love and enjoy it. Life is too short! I'm currently expecting a baby in September so you might be asking me at the wrong time because I am definitely indulging. That being said, everything in moderation of course. I try to find recipes and restaurants that promote eating delicious food made with top-notch ingredients. I do believe it is worth splurging on the very best quality foods. My personal favorite place to indulge is at Gjelina -- I order the mushroom, goat cheese, truffle pizza and the salted butterscotch pot-de-crème for dessert -- to share of course. I am definitely going on a post-baby cleanse in the fall!
HT: Can you give us a recipe for one of your favorite blends?
CB: One of my favorite recipes is for a simple green juice that anyone can make at home. I love it because you can easily interchange ingredients to have some variety each day. I personally believe that a green juice a day is essential for optimal health. Anyone who tries it after a few weeks is completely hooked.
RECIPE

Pressed Juicery's Green Juice

Ingredients:
1 head romaine
2 pieces of celery
5 stalks kale (or other leafy greens)
1 to 2 Fuji apples
1 lemon
1 Tbsp ginger
1/2 bunch of watercress
1 dash of cayenne pepper

Instructions:
Roughly chop fruit and vegetables, making sure to remove lemon peel. Place ingredients in juicer, alternating between different types so that they blend together well. Add cayenne and stir.

Yields approximately two 12 oz servings of juice.
Pressed Juicery
13050 San Vicente Boulevard
Los Angeles, CA 90049-4800
(310) 477-7171
Chef Speak is a bi-monthly column by LA-enthusiast Heather Taylor in which she explores LA's diverse and dynamic food culture, featuring interviews with Angeleno chefs of-the-moment, seasonal recipes, and rising restaurants.
Related
Popular in the Community