After years working in Los Angeles kitchens (including Trumps, Grill on the Alley and his own Rocca Restaurant), New York-bred chef Don Dickman has truly hit his stride with the cozy Silver Lake eatery, Barbrix Restaurant and Wine Bar. Recently lauded by Los Angeles Magazine as one of the city's ten "best new restaurants," Barbix is the brainchild of local restaurateur Claudio Blotta (most recently of La Terza) and his wife Adria Tennor Blotta. They recruited Chef Dickman who, as a newly relocated eastside resident, saw the area's hunger for a neighborhood restaurant featuring farm-to-table food and a serious wine list minus the hefty price-tags.
Soon after opening its doors in the spring of 2009, Barbrix found itself packed with regulars. The restaurant is exactly the kind of place you want to pop into after a long day. The environment is warm and inviting and the menu is packed with simple Mediterranean-inspired dishes along with a juicy list of cheese and charcuterie. After sampling the crostini misti with sun-dried tomato pesto or maybe the shrimp and chickpea flour tortillas, while sipping a great glass of wine, suddenly the day is behind you and all that matters is the delicious fare set out before you. Read on for a quick culinary chat with Chef Dickman and a recipe for an irresistible veggie side dish.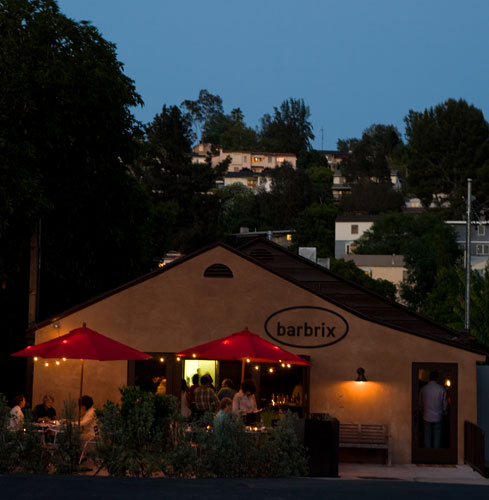 Barbrix Restaurant and Wine Bar, street view

Heather Taylor: Have you always been passionate about food?
Don Dickman: My passion started when I was born. I have been hungry for great food ever since.

HT: And when did you decide to make it your career?

DD: In 1977 I was in my seventh year of college for liberal arts and still hadn't graduated! I decided to take a semester off, got a job as the salad bar prep guy in a local restaurant. After two weeks I knew the kitchen was my place. I never finished college.

HT: Describe the type of food you prepare at Barbrix.
DD: My style of cooking is accented with simplicity first. It also encompasses a certain nod towards classic preparation, no fusion-y mixture of unrelated items. My main message is use the highest quality ingredients you can afford, don't try to do too much with them and they will speak volumes about themselves.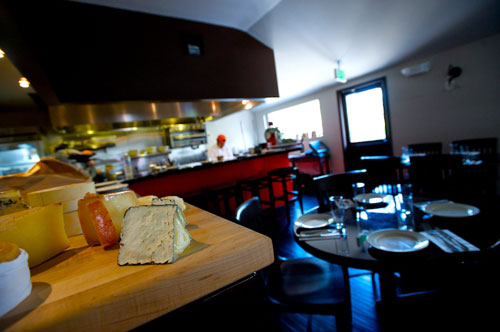 HT: The wine and beer list at Barbrix is quite inspiring. How does it relate to the food you're cooking?

DD: Many of the wines remind me of certain food tastes. Sometimes I sense Moroccan spices in the nose of the wine...or a sort of licorice type earthiness. I try to match similar flavor profiles with spices or sauces.
HT: What's a seasonal ingredient that you're excited about and what is a simple way you like to prepare it?
DD: Fresh fava beans! I will sometimes puree them, make a small 'sformato' or 'budino' out of them with cream, eggs & pecorino. Maybe garnish with pea shoots or pickled ramps.

HT: And when you aren't feeding the droves at Barbrix, where do you like to eat?
DD: I have been going to 'Sapp Coffee Shop' in Thai Town/Hollywood alot. Their 'Pad-See-Ew' may be the best around. And the spicy shrimp salad is perfectly cooked to a medium rare succulence. It is a very low-key kind of place and the people that work there are incredibly nice.
HT: What about Los Angeles most inspires you in the kitchen?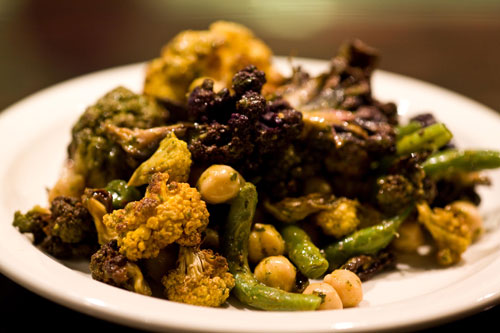 RECIPE

Roasted Cauliflower Salad with Green Beans, Chick Peas & Charmoula Dressing

Ingredients
1 head Broccoflower
1 head Purple Cauliflower
1 head Orange Cauliflower
1 lbs. Blue Lake Green Beans
2 cups Chickpeas- cooked & drained of liquid
1-2 cups Extra Virgin Olive Oil
1 1/2 cups Charmoula Dressing
Salt & Black Pepper

Instructions

Make the charmoula dressing and set aside. (see recipe below)
Preheat oven to 350 degrees.
Cut the cauliflower into bite size pieces.
Toss the cauliflower in a bowl with Extra Virgin Olive Oil, Salt & Black Pepper.
Evenly distribute the cauliflower pieces in an even layer on a roasting pan.
Roast the cauliflower for 10 minutes, and then stir the pieces to redistribute, place the pan back in the oven to finish cooking. The cauliflower should be nicely browned and fully cooked through before removing from the oven to cool...about another 10 minutes.
While the cauliflower is cooking, set a large pan of water on the stove to boil.
When the water comes to a full boil, add some salt. Make sure to have a large container of ice water nearby so that when the beans are just cooked they can be "shocked" in ice water to stop them from overcooking. Please do not break this important Chef Don rule of "Getting the Ice" before cooking the vegetables.
When the green beans are cooked, chilled and drained of water, they may be cut into smaller pieces for the salad.
To assemble the salad, toss the cauliflower, green beans and chickpeas with salt, pepper and the charmoula dressing. Place in a pile in the center of the plate.

Charmoula Dressing

1/4 cup Lemon Juice
3 ea. Garlic Cloves - peeled
2 tsp. Paprika
2 tsp. Ground Cumin
2 tsp. Ground Coriander
Pinch - Cayenne Pepper
1 bu. Fresh Cilantro Leaves
1/4 bu. Fresh Parsley Leaves
1 cup + 2 Tbl. Extra Virgin Olive Oil
1 1/4 tsp. Kosher Salt
1/2 tsp. Black Pepper

In a blender, place all ingredients, except the oil, salt & pepper.
Turn the blender on and get everything mix smoothly.
With the blender on, drizzle in the oil slowly. Add salt & pepper.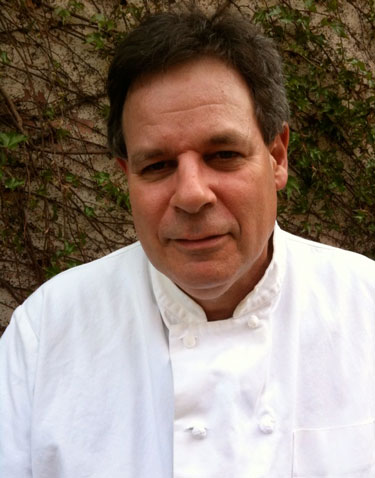 Chef Don Dickman
Chef Speak is a bi-monthly column by LA-enthusiast Heather Taylor in which she explores LA's diverse and dynamic food culture, featuring interviews with Angeleno chefs of-the-moment, seasonal recipes, and rising restaurants.
Related
Popular in the Community