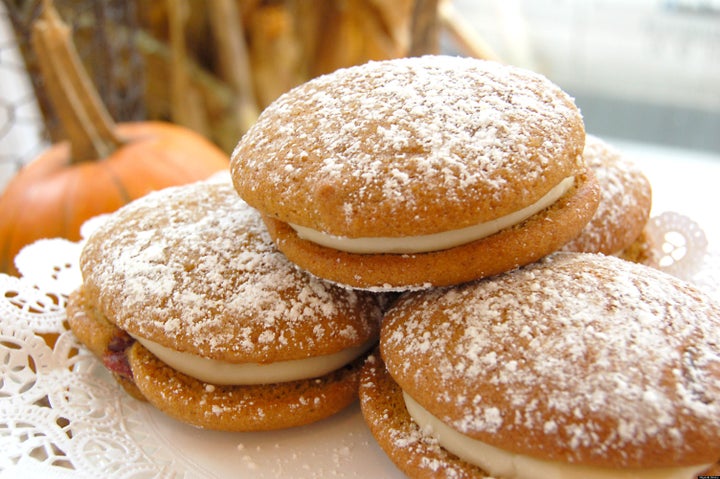 With Thanksgiving just days away, we thought it appropriate to offer up a seasonal fall dessert with a twist. And who better to speak with than Bobbie Lloyd, President and Chief Baking Officer of Magnolia Bakery, the iconic culinary establishment famous for perfect pastel frosting-topped cupcakes and nilla wafer-laced banana pudding. A career baker, Lloyd took over the helm in 2007, just in time for a multi-city expansion (the charming Los Angeles outpost opened in July). Read on for our quick chat and a recipe that you can most definitely be thankful for.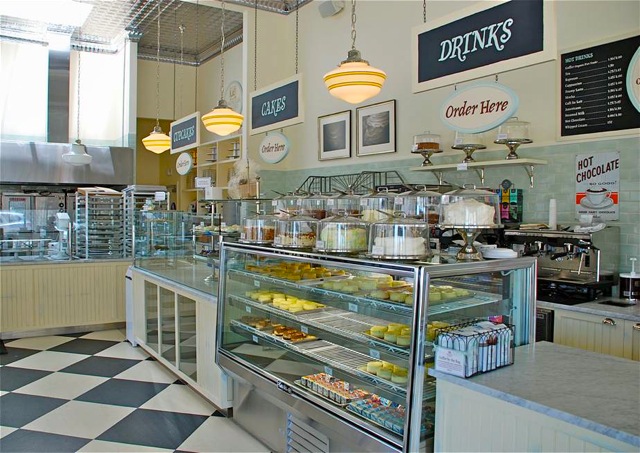 The interior of Magnolia Bakery in Los Angeles. Photo courtesy Magnolia Bakery.
Heather Taylor: When did you start baking?

Bobbie Lloyd: I was eight years old when I took my first baking class. We made cinnamon toast and hot chocolate on the first day! I have always baked with my Mom and making Christmas cookies was a big annual event with my Grandmother and Great-Grandmother.

HT: For those living under a culinary rock, tell us a bit about Magnolia?
BL: Magnolia Bakery is all about home style baking. If your Mom or Grandmother made it, you may find it at Magnolia Bakery. When I am feeling inspired to try something new, I love to read everything I can find about it. This past month I was focused on a traditional apple crumb cake. I found an old recipe from my family as well as from some of my favorite cookbook authors.
HT: After baking all day, do you have a sweet tooth? Also, when you're not noshing at Magnolia, where do you find your favorite dessert?
BL: I can always find room for a perfect chocolate chunk cookie! I'm actually not a huge dessert fan, however I do love meringues. Le Pain Quotidien makes these amazing giant pillows of white meringue. If I happen to be there I usually can't walk away without getting one. And ice cream is my other all time seasonal favorite. Please note: all seasons are ice cream seasons!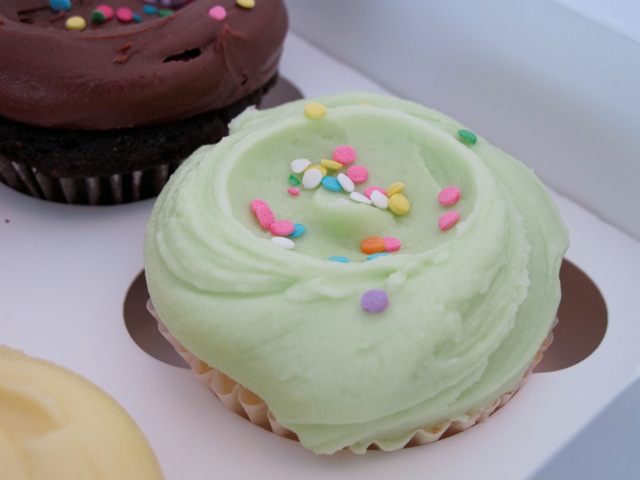 The cupcake that launched a craze. Photo courtesy Heather Taylor.
HT: How big of an impact did the Sex and the City moment have on Magnolia's success?

BL: Sex and the City is certainly part of the lore of Magnolia and we recognize and appreciate how much it has helped us grow our business. Fans from all over the world still come in regularly.
HT: What's a seasonal recipe that you're excited about?

BL: The Pumpkin Spice Whoopie Pie! I love it and it's perfect for fall. I just had one on my way home yesterday!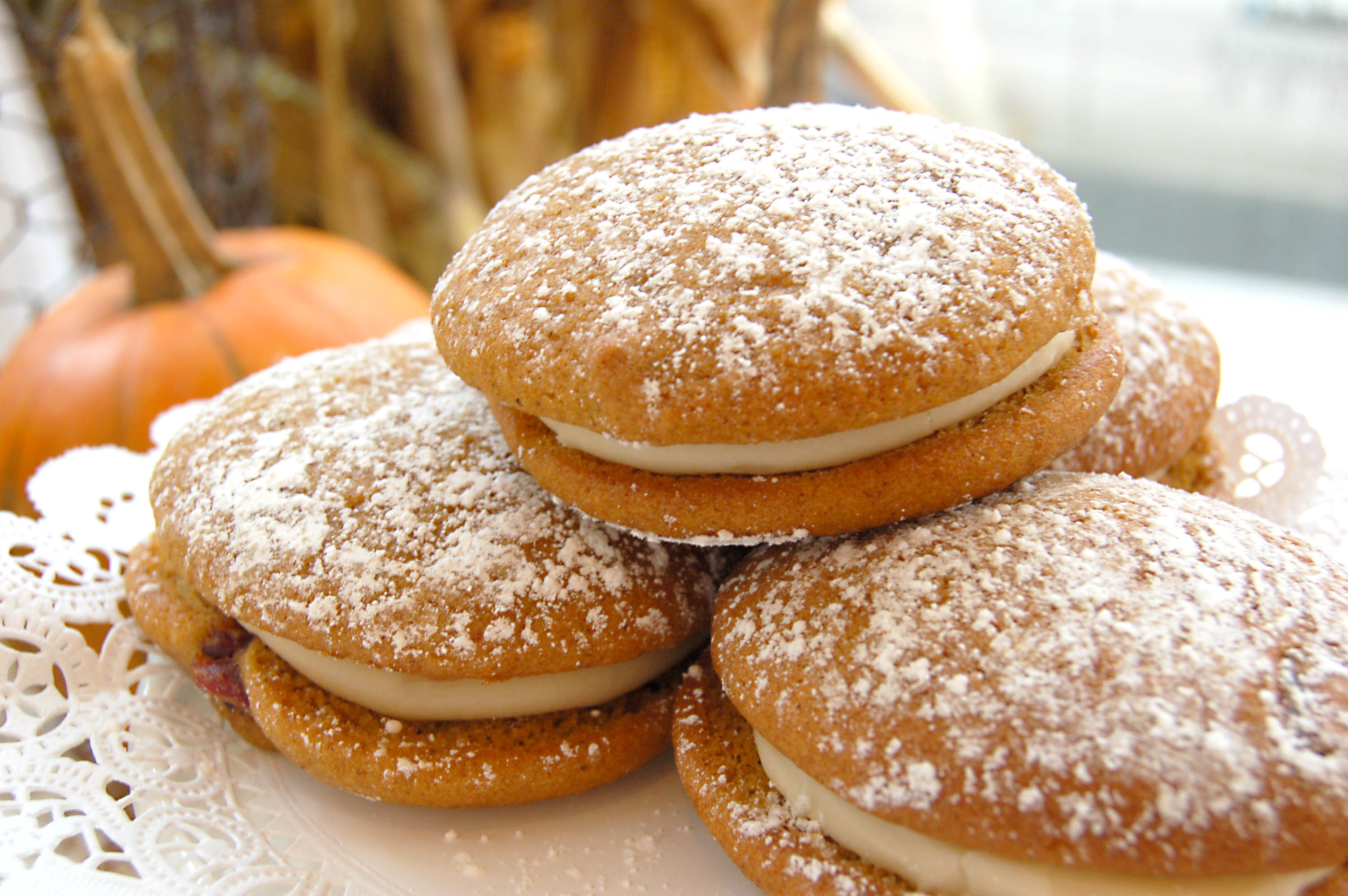 A new take on a pumpkin dessert - the Pumpkin Spice Whoopie Pie! Photo Courtesy Magnolia Bakery.
RECIPE

Pumpkin Spice Whoopie Pie

Yields 60 halves or 30 Whoopie Pies

Ingredients:
3 cups Hecker's AP Flour
1 TBSP Cinnamon
2 tsp Ground Ginger
2 tsp Baking Powder
1 tsp Baking Soda
1 tsp Ground Allspice
1 tsp Salt
½ tsp Ground Cloves
½ tsp Ground Nutmeg
1 ½ cups Sugar, Granulated
1 cups Light brown sugar
1 cups Vegetable Oil
4 large eggs
1 ½ cup + 2 TBSP + 2 tsp Pure pumpkin
1 TBSP Pure Vanilla Extract
1 TBSP Orange zest
¾ cup Dried Cranberries

Instructions:
Preheat your oven to 325◦ degrees.
In a large bowl Mix the flour, cinnamon, baking powder, ginger, baking soda, allspice, salt, clove and nutmeg, whisk together well and set aside.
Put the sugar, brown sugar and vegetable oil into the mixer and mix together using the whisk attachment. It will look grainy.
Add the eggs, one at a time, scraping down the sides of the mixing bowl and mixing well after each addition.
Add the pumpkin, vanilla and orange peel to the mixer and mix until well blended.
Stir in the flour mixture, by hand until just combined.
Stir in the dried cranberries.
Using an small ice cream scooper, scoop the batter onto a paper lined cookie sheet and bake at 325◦ for 8-10 minutes

Maple Cream Cheese Frosting:

Ingredients:
1 cups Cream Cheese, softened and diced
½ cup Butter, Softened
3/8 cup or 6 TBSP Maple Syrup, Grade B
1 tsp Pure Vanilla Extract
4 cups Confectioners Sugar

Instructions:
Using the paddle attachment and starting on speed one or low, mix the cream cheese and the butter. After cream cheese and butter has combined, turn mixer speed up to speed two and beat using the paddle attachment until smooth, about 3 minutes.
As the butter and cream cheese are mixing add the maple syrup and vanilla.
Gradually add in the sugar 2 cups at a time, scraping down the sides and bottom of the bowl frequently. Beat until all of the sugar is incorporated and the icing is smooth and creamy. Slather icing between two cake halves and dust with confectioners sugar.

Magnolia Bakery
8389 West 3rd Street
Los Angeles, CA 90048-4312
(323) 951-0636
Chef Speak is a bi-monthly column by LA-enthusiast Heather Taylor in which she explores LA's diverse and dynamic food culture, featuring interviews with Angeleno chefs of-the-moment, seasonal recipes, and rising restaurants.
Related
Popular in the Community