For this edition of Chef Speak we head northwest of Los Angeles to the beautiful Ojai Valley. Approximately eighty miles from downtown LA, Ojai has long been a mecca for nature lovers, spa enthusiasts and foodies alike. One of the area's most interesting restaurants is The Farmer and The Cook, owned by long time Ojai resident Olivia Chase and her husband Steve Sprinkel. If Chase is the "cook," Sprinkel is most definitely the "farmer," growing much of the produce that Chase uses in the kitchen and sells in the "marketplace" section of the eatery. A trained nutritionist, Chase found it much more satisfying to cook healthy food for people than to stand around in a lab coat discussing the nutritional benefits of vegetables. After stints in San Francisco and Seattle, she returned to Ojai and opened the City Bakery-Cafe in Ventura in 1989. After much success, she opened The Farmer and The Cook in 2001, and it has since evolved into a community hang out where locals regularly gather to sample her fresh farm-to-table cuisine and a truly stunning array of baked goods. Doubling as a marketplace, the restaurant features homegrown produce and specialty ingredients (preserved meyer lemons and chipotle lime salt are among the perfectly packaged offerings), leaving diners with full bellies and overflowing shopping bags if they so desire.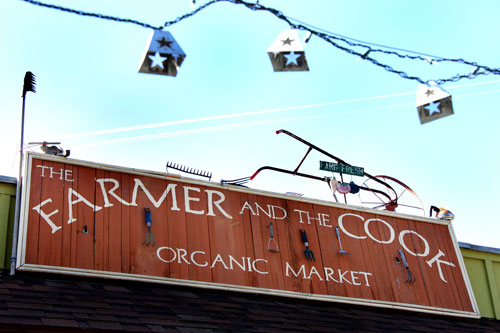 Heather Taylor: When did you think to yourself that you could make a career out of cooking?
Olivia Chase: I became very interested in food while eating street food as an exchange student in Mexico. How could tortillas, beans and coleslaw on the beach in San Blas taste so good? The answer became our mantra today at The Farmer and the Cook - local, organic and scratch cooked.

HT: So you're the cook and your husband is the farmer?

OC: Yes, Steve is the passionate farmer. Through him I get to experience the flavor of just-out-of-the-ground vegetables and the pleasure of working outdoors.
Restaurant co-owner and farmer Steve Sprinkel.
HT: How much of what you serve at the restaurant do you grow yourselves?
OC: About forty percent of vegetables we serve come from the farm.
HT: Can you describe the kind of food you serve?
OC: We're a vegetarian restaurant so we have a very eclectic menu. We serve Mexican food for lunch and make spring rolls and sushi for grab-and-go. On weekend evenings we serve veggie burgers, pizza, coconut curry, farm salads and nut loaf. And we have a large selection of homemade breads and baked goods.
HT: There's a handmade quality to all your dishes that is perhaps the most defining feature of your restaurant.
OC: It's my curiosity that tends to lead me in this direction. I recently made Indian curry and wondered what it would be like to grind the whole spices instead of using a mix. Of course, it was better.
HT: It must be endlessly inspiring living and working in such a beautiful part of the world. What excites you most about cooking in Ojai?

OC: Living in the Ojai Valley I get to be inspired by the citrus. I love using meyer lemons, cara cara oranges, pomelos and page tangerines in the kitchen, especially in salads.
HT: Any seasonal ingredient that you are excited about cooking?
OC: We are growing brussel sprouts for the first time. I like to cut them in half, steam them then combine them with sauted shallots. I finish them with some meyer lemon juice and a little cream.
HT: Sounds simple and delicious. Any interesting projects in your future?

OC: I am planning to have monthly "straight from the farm" meals. I actually started that on Valentine's Day and made vegetable tarte tatins. Another project is we will be growing our own dried beans this spring, anasazi, tarbais, peruanos, christmas limas and borlotti.
HT: And you'll be selling them in the marketplace?

OC: Yes and incorporating them into new recipes.
HT: And finally, what activity is not to be missed when visiting Ojai?
OC: I would say the Ventura River Preserve hiking trails. Also the the east-end citrus groves are a must.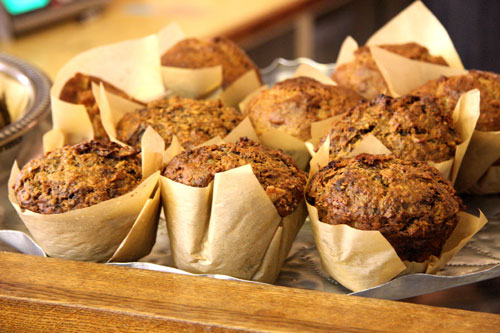 RECIPE

Date Pumpkin Seed Honey Muffin
1 cup millet, dry
4 cups dates, pitted, cut into quarters
2 cups pumpkin seeds
1/2 cup poppy seeds
4 eggs
2 Tbls molasses
2 cups milk (soy, cow or rice)
3/4 cup oil
2/3 cup honey
4 cups flour
3 cups rolled oats
1 Tbls baking soda
1/2 tsp salt

Pre-heat oven to 350' F. Paper-line 12 muffin tins.
Cook 1 cup of dry millet in 2 cups of water for 10 minutes.
Combine dates, pumpkin seeds and poppy seeds in a bowl with the cooked millet. Add the eggs, molasses, milk, oil and honey. Combine well.
Combine flour, rolled oats, baking soda and salt and mix well.
Add the wets to the dries and stir until all of the dry flour disappears.
Scoop into muffin tins, lined with paper cups.
Bake for 30 to 35 minutes or until they are firm to touch in the center.

Yield: 12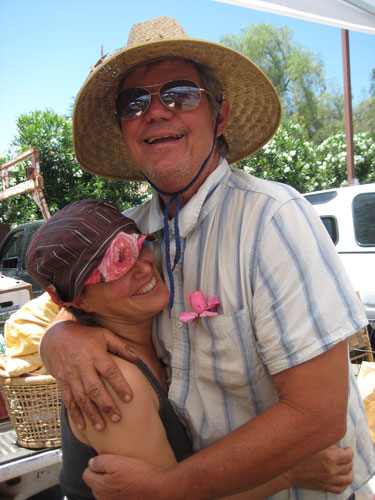 Olivia Chase and Steve Sprinkel.
Chef Speak is a bi-monthly column by LA-enthusiast Heather Taylor in which she explores LA's diverse and dynamic food culture, featuring interviews with Angeleno chefs of-the-moment, seasonal recipes, and rising restaurants.
Popular in the Community