 When I asked Rick Bayless to describe his initial attraction to Mexico and its cuisine he cited the country's vibrant culture. "I was attracted to the passion of the street vendors, the market vendors and the cooks there," mused the chef. "I loved the spirit of the Mexican people. It was like falling in love."
Bayless has been referred to as the greatest Mexican chef in this country and has led the way towards acceptance of and enthusiasm for Mexican food as gourmet fare. He is chef and owner of two of Chicago's most celebrated restaurants, Frontera Grill and Topolobampo - favorites of the Obamas. He is winner of the first season of Top Chef Masters and host of Mexico One Plate at A Time, an earnest and exceptionally informative cooking show on PBS. (If watching him isn't enough, check out his Twitter Feed - he tweets constantly -- Ask him how to properly de-seed a poblano pepper and you'll likely receive an answer. Quickly.) And now, to the delight of Angelenos, he is the contributing chef of Red O Restaurant in Los Angeles, the first restaurant outside of Chicago featuring his signature take on traditional Mexican cuisine.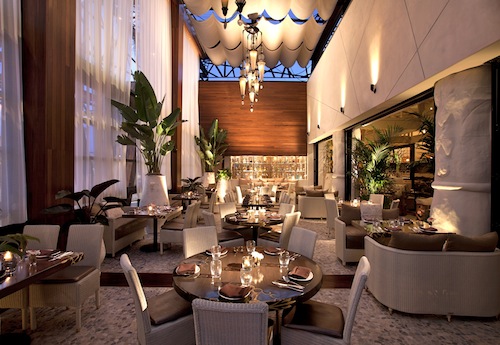 RED O dining room. Photo: Skott Snider

Heather Taylor: What is your earliest memory of cooking?
Rick Bayless: My earliest memory is making peach cobbler with my grandmother. A wonderful memory. I grew up in a restaurant family--BBQ restaurant.

HT: And when did you become passionate about food?

RB: After my first trip to Mexico when I was 14 years old.
HT: Had you spent a lot of time in Los Angeles before the launch of Red O?

RB: Not really. I had shot Top Chef Masters in LA but didn't get out much! Before the opening of Red O, I did manage to spend some time eating at many of the city's restaurants. I wanted to get an idea of what was going on in the food community.

HT: So where do you see Red O fitting in?
RB: I love that we are bringing the flavors of Frontera to Los Angeles. I think we can only add to the booming food community in Los Angeles. Our food is gutsy and soulful. Who doesn't need that?
HT: For someone trying Red O for the first time, what are a few not-to-be-missed dishes?
RB: I always gravitate to the small bites first. I think our guacamole is not to be missed. It's simple, fresh and just plain good. Ceviches are light, bright and refreshing. The Celebrated Seven (my classics) have a few not to be missed (the mojo de ajo is a crowd favorite).

HT: Why did you choose to expand to LA, before say New York or San Francisco?
RB: When the Red O team asked me to design their menu and dessert menu (and tequila list) and also train the key staff, I thought the project was exciting. Because I am not an owner I could leave the day to day running of the restaurant to the Red O team and I could concentrate on the food. Opening a restaurant is very hard and this seemed like the right opportunity at the right time.
HT: Part of your success has been your ability to take traditional Mexican dishes and make them your own. How do you develop your recipes?
RB: Traveling to Mexico...talking to vendors in markets. Eating a lot. The Frontera team takes trips to different regions in Mexico and we learn as much as we can. We come back to the states and brainstorm on what we can do here in our places in Chicago.
HT: What's a seasonal ingredient that you're excited about and what's a simple way you like to prepare it?
RB: Right now it is all of the amazing fruit we are getting. I know Los Angeles has it better than Chicago when it comes to produce year round! We have a limited time frame, so we make the best of it. We have an amazing mulberry-blackberry salsa that I am crazy about.
HT: After a long night of cooking, do you have any late night cravings?
RB: Wine.

HT: And lastly, I understand you're going to be sharing a recipe for a ceviche that appears on the Red O menu. Can you tell us a bit about the dish?
RB: This is one of my favorite dishes of all times: that seductive texture of fresh fish with a citric sparkle, the savor of roasted garlic and green chile, and the oh-so-attractive vividness of fresh cilantro and parsley. Add a little farmers' market cucumber and buttery avocado, and you've made a dish no one will forget. My inspiration was an all-green ceviche I ate in Mexico, prepared by my Veracruzana friend Carmen Ramírez Degollado, and the chimichurri they serve on steak in Argentina.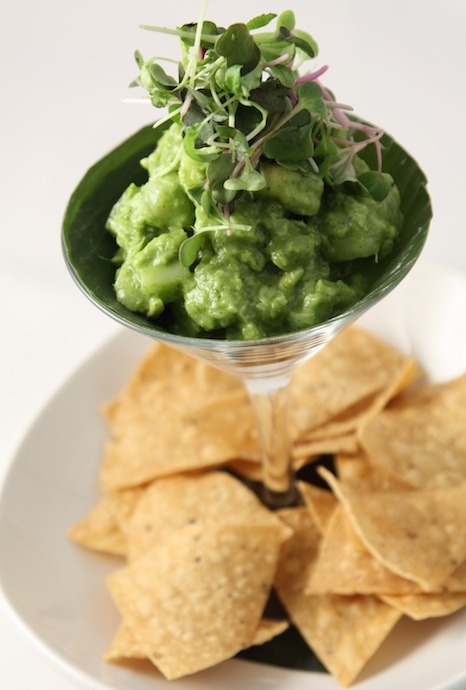 Alaskan Halibut Ceviche with Cilantro-Serrano "Chimichurri", Cucumber and Avocado


Makes about 4 ½ cups, serving 8 to 10 as a starter.

Ingredients:
1/2 head garlic, cloves broken apart
2 to 3 fresh serrano chiles
1 medium bunch cilantro, thick bottom stems cut off
1 small bunch flat-leaf parsley, thick bottom stems cut off
1/2 cup olive oil
Salt
1/4 cup fresh lime juice
1 1/2 pounds "sashimi-quality" skinless, boneless fish fillets-- Rick's favorites are Alaskan halibut, ahi tuna and aqua-cultured Kona Kampachi (a type of yellowtail)--cut into 1/2-inch cubes
2 (7 ounces total) small "pickle" cucumbers (the kind you get in the farmers' market) or Persian (baby) cucumbers, cut into 1/2-inch cubes
2 ripe large avocados, pitted, flesh scooped from skin and then cut into cubes
Lettuce leaves (butter lettuce works great here) for garnish

Instructions:
1. Make the herb seasoning. Set a dry skillet over medium heat. Lay in the unpeeled garlic cloves and chiles. Roast, turning frequently, until soft and blotchy brown in spots, about 10 minutes for the chiles and 15 minutes for the garlic. Cool until handleable, then slip the skins off the garlic, pull stems off the chiles and roughly chop (no need to remove the seeds). Place in a food processor along with the cilantro (about 1 cup if packed), parsley (about 1 cup if packed), oil and 2 generous teaspoons salt. Process until nearly smooth (it will be pasty). Scrape into a storage container and refrigerate until serving time.

2. Finish the ceviche. In a large bowl, whisk together the lime juice and ½ cup of the herb seasoning. (Cover and refrigerate the remainder for another preparation.) Add the fish and cucumber, and stir to combine. To blend the flavors, cover and refrigerate for a half hour (for best results no more than an hour). Taste and season with a little more lime juice or salt if you think necessary, gently stir in the avocado (save out a little for garnish if you want), then serve on lettuce leaf-lined plates or martini glasses.

Recipe notes from Rick:
I don't usually follow regular ceviche procedure here, thoroughly "cooking" the fish in lime juice for several hours before serving. Instead, I toss the raw fish with lime and flavorings, scoop it into something pretty and carry it to the table--that's the essence of freshness. But if that doesn't sound good to you, stir a couple of cups fresh lime juice into the raw fish, refrigerate it for a couple of hours until the fish has a cooked texture, drain it and add the herb mixture and vegetables. Or just use cooked shrimp instead of raw fish, which I did last week for dinner and loved the outcome.

One thing to keep in mind: you'll have more than you need of the herb mixture (we call it Mexican chimichurri in our kitchen). You'll thank me for that. Store it in a covered container in the refrigerator (pour a film of oil over the top). It'll keep for a month or more. I smear it on chicken before grilling or roasting it. I stir it into scrambled eggs. I add it to salad dressing and cream sauces. It'll make your everyday cooking taste special-occasion.

Working Ahead: As I said, the herb seasoning can be stored in the refrigerator for a month or more. All the basic prep work can be done early in the day you're serving; store everything separately, covered, in the refrigerator. Mix and season the ceviche shortly before serving--no more than hour--waiting to add the avocado until the guests have assembled.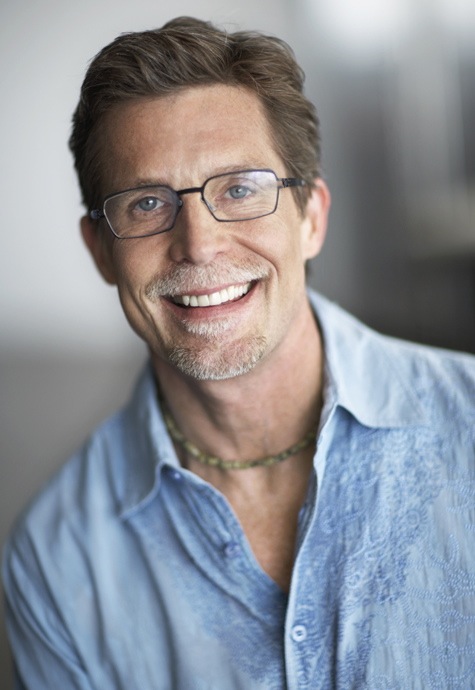 Chef Rick Bayless. Photo: Skott Snider
Red O
8155 Melrose Avenue
Los Angeles, CA 90046-7016
(323) 655-5009 begin_of_the_skype_highlighting (323) 655-5009 end_of_the_skype_highlighting

Chef Speak is a bi-monthly column by LA-enthusiast Heather Taylor in which she explores LA's diverse and dynamic food culture, featuring interviews with Angeleno chefs of-the-moment, seasonal recipes, and rising restaurants.
Popular in the Community