Ground Beef and Pickle Taco. When I first read the seemingly mismatched words on the menu at the restaurant Malo in Los Angeles' hip Silver Lake neighborhood, I suddenly felt overwhelmed by intrigue. I knew I had to order it, that was a given. But once I tasted what has since become one of my favorite dishes in the city, my curiosity really kicked in. How did the chef come up with the idea to combine these ingredients? And why? It tastes kind of like a cheeseburger. But in a taco. Turns out, Chef Robert Luna grew up in LA's Boyle Heights area where his mother cooked at local restaurants. The Ground Beef and Pickle Taco, along with many items on Malo's menu, is a recipe adapted from her arsenal of homey Mexican food by way of Los Angeles.
Following high school, Luna attended Tri-Tech Culinary School and soon after he launched his career cooking for discriminating Angelenos. First, he landed the gig of executive chef at the popular Spanish-inspired tapas restaurant Cobras and Matadors. He currently helms Malo and the newly opened Mas Malo in downtown LA. Located in a 9,500-square-ft foot historic building (the gorgeous space was originally Brock's Jewelers in 1921 before it became Clifton's Silver Spoon Cafeteria from 1975 to 1997), Chef Luna has taken on his most ambitious project to date. Considering the room is perennially packed with smiling faces sipping margaritas and noshing on tacos, he is clearly meeting the challenge. I chatted with Luna about cooking steak at age nine, growing up in LA, and of course those famous tacos.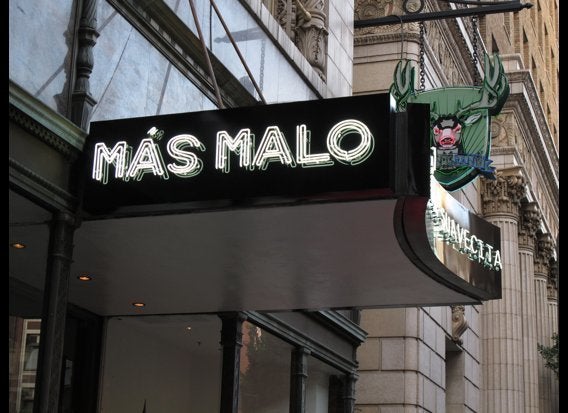 Mas Malo
Slideshow photos by Alex de Cordoba
Heather Taylor: How would you characterize your cooking style?
Robert Luna: At Malo and Mas Malo our style is LA-based comfort food, with a commitment to locally sustainable urban cooking. We source most of our ingredients locally, from the butcher shops to the farms. If it's not from Cali, I'm not interested. We also want to make people aware that Boyle Heights is a culinary destination, as far as flavors are concerned.
HT: Tell us about your childhood and food.
RL: I had grown up cooking in the kitchen with my mother who owned restaurants and was a culinary arts teacher. I remember a specific instance when I was nine years old, sneaking into the kitchen and cooking for my family. I made steak, baked potatoes and vegetables. I remember the look of surprise and delight on my parents' faces. At that moment, I realized that I can make people happy with food and that was going to be a passion of mine.

HT: How has your mother specifically influenced your cooking?
RL: I have been greatly influenced by my mother. It probably has something to do with her breastfeeding me in the back her restaurant. I tagged along with her as she shopped farmers markets where I saw the personal relationship she developed with local growers. I was inspired. I feel like my mother has her hand in all the dishes on my menus -- from the ground beef and pickle taco to the enchiladas and carne asada, which is her favorite combination.

HT: Let's get back to the Ground Beef and Pickle Taco, my personal favorite dish on the menu and the one for which you are best known. How did that recipe evolve?

RL: It's simple. I was twelve years old and my mom was prepping for hamburgers when she realized she had no bread. She took a tortilla and turned it into hard taco with the beef and the pickles. Since then I haven't wanted hamburgers any other way.
HT: Where do you eat when you're not at your own restaurant?

RL: There are a lot of great culinary things happening in the city. A local favorite, and right down the street from Mas Malo, is Wood Spoon for their chicken pot pie. Another hands down favorite place to have a glass of red wine and relax is Angelique Café. Their house-made charcuterie and pâté is a standout dish.
HT: What's a seasonal ingredient that you're excited about and what's a simple way you like to prepare it?
RL: My favorite herb is verdolago -- aka purslane. It's a great herb to use in salads and to flavor green chilies -- really earthy and not as sweet as cilantro. Look for it on our Spring Menu.
HT: And lastly, are there projects on the horizon?
RL: Looking forward to a Malo spinoff -- East LA seafood. That's all I can say about that.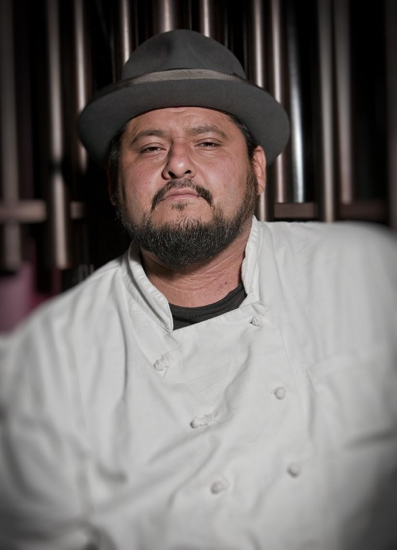 Chef Photo Courtesy of Mas Malo
RECIPE

Ground Beef and Pickle Taco

Ingredients:
1/4 cup olive oil
1lb ground beef
2 boiled russet potatoes (cut into small dices)
1 teaspoon garlic powder
1 teaspoon cumin
1 teaspoon dry oregano
2 tablespoons paprika
Salt and pepper to taste
8 oz cheddar cheese grated
Small jar of kosher pickle chips
Soft Corn tortillas

Instructions:
Sauté ground beef in olive oil.
Add all the dry spices and cook 5 minutes add cooked diced potatoes. Continue to cook 8-10 minutes.
Remove from heat let cool on counter 30 minutes.
Heat corn tortillas and fill them with the beef and potato mixture.
Close both ends with a tooth pick.
Fry them in canola oil about 2 minutes on each side.
Once cooked, place them on a paper towel, remove toothpicks and open.
Add cheddar cheese and kosher pickle chips.

Mas Malo
515 West 7th Street
Los Angeles, CA 90014
(213) 985-4332
Chef Speak is a bi-monthly column by LA-enthusiast Heather Taylor in which she explores LA's diverse and dynamic food culture, featuring interviews with Angeleno chefs of-the-moment, seasonal recipes, and rising restaurants.
Related
Popular in the Community