I like an Apple Pan hickory burger as much as next guy, but when I've reached my grease quota and start craving clean, delicious food, I call upon Jenny and Heather Goldberg of Spork Foods to bring me back to reality. Along with running a successful catering business, the LA-bred sisters have been teaching organic vegan cooking classes out of their cozy Silver Lake home for the past three years and have attracted a following of devotees in the process. Their success is no doubt due to their creative recipes and practical tips for how to use food as a means to maintain health and avoid sickness. In addition, their joie de vivre is contagious and their dedication to mindful eating without sacrificing flavor makes Spork Foods downright aspirational. The Goldbergs recently moved their operation to a larger space in West Hollywood and with it are hoping to create a vegan community center of sorts (the girls have already hosted yoga classes and movie nights). Read on for their tips on how to increase health through food and of course, scroll down for a recipe.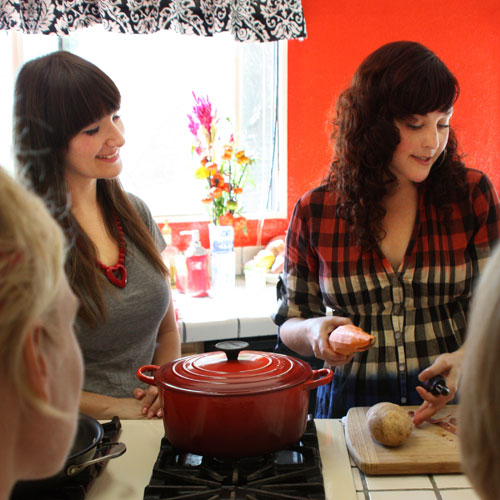 Heather Taylor: When did you become vegan?
Heather Goldberg: We both turned vegan in college. Jenny was focusing on Environmental Studies, which set her on the vegan path. I had a vegan roommate who would cook really interesting, exotic foods, like African Ground Nut Stew. I saw firsthand that you could still eat amazing foods when you're vegan.

HT: Since launching Spork Foods you've developed such a loyal following, and for good reason! Your menus are so eclectic and enticing, even for a non-vegan such as myself.
Jenny Goldberg: Our style of cooking is very doable with a little modern gourmet twist. We try to break the old stigma of "hippie and brown rice vegetarianism" even though we sometimes do make granola (and love it!). We show people that great food is great food, especially if it makes you feel good, lose weight, and prevent illness too. Our classes are inspired by the whole world and range from Central American foods to French, Italian, Fresh, Fast and Healthy, Gluten Free, Japanese, and Jewish! (yes, we believe "Jewish" is a cuisine.)

HT: Rewind. Foods that "prevent illness"? Unpack that, please.
HG: We like to inform about the medicinal qualities of food. Did you know peppers have been used to prevent blood clots, or that cinnamon is used to treat insomnia and menstrual problems? And basil can cure your headache, and miso will fight off a cold? Our classes offer a crash course on this type of information because one of our main goals is to keep you out of the doctors office and show you how to take the health of you and your loved ones into your own hands every time you eat! Our food is more than just calories and protein. When you eat well and eat naturally, you have the ability to improve your body and mind. We'll drink some carrot juice to that!
HT: Clue us into a couple of simple ingredients that anyone can buy to instantly increase the healthfulness of the food they're preparing?
HG: [...] Every pantry should have a heat-tolerant oil. We recommend non-hydrogenated expeller-pressed coconut oil. The expeller-pressed refined coconut oil does not have the taste and smell of a coconut, so it's very versatile. Also, coconuts have antibiotic, antimicrobial, and weight-loss properties. Yes, you can eat oil and lose pounds! Coconuts got a bad wrap for having a form of saturated fat, but just as we now know that avocados are a "good fat" we know that coconuts are a "good fat" as well. Coconut oil is beneficial to the skin and hair, making it not only good for your insides bur your outsides too!

HT: It seems like there is a lot to learn regardless of whether you're a vegan, veg or full-blown meat eater. Do lots of non-vegans take your classes?

JG: More often than not, our classes actually have more non-vegan students than vegan. Some look at our class as a way to learn a new cuisine, others are healing from an illness, and some just want to add to their kitchen repertoire. Our favorite part about non-vegans coming to class is what we call our "kitchen confessionals." One by one, people sneak away from the dining table and come into the kitchen to ask us personal questions about our own choices to stop eating meat or consuming dairy. We don't preach about the negative effects of milk and meat, rather we open the door to all the positives of veganism, and that's a lot easier to do when the food happens to be freakin' delish!

HT: Describe one of your recent menus that you think was particularly freakin' delish.
JG: The line for our "Southern Comfort" class was out the door and around the corner. We love to take cuisines that are loaded with butter, cream and all things Paula Deen and veganize those "darn tootin" recipes! For that class we made:
- Skillet Jalapeno Cornbread with a Whipped Lime Maple Butter
- Baked Mac and Cheese with Smoky Tempeh Bacon and Spelt Bread Crumbs
- Slow Cooked Collard Greens with Heirloom Tomatoes
- Red Velvet Cupcakes with a Whipped Cream Cheese Frosting
HT: In addition to moving into your new and larger space, what else is in on the horizon for Spork Foods?
HG: We are launching our new website this summer, Spork Online. It's a membership-based website where anyone can watch user-friendly, professionally produced cooking classes. The webisodes will include two classes and eight original recipes per month. We have real students on camera asking questions that you would ask! So if you can't make it to one of our classes in the flesh, you'll be able to find us online this summer! And in the meantime, here is our recipe for tasty Veggie Burger Sliders with a White Wine Cashew Cheese. Enjoy!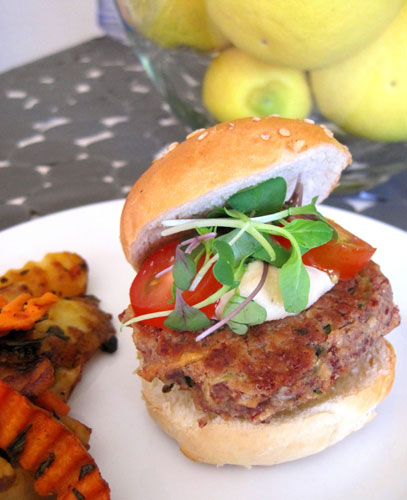 RECIPE
Veggie Burger Sliders with White Wine Cashew Cheese

Yields 8 - 10 small patties

Ingredients:
2 Tbsp neutral tasting oil
1 onion, finely diced
1 clove garlic
2 zucchini, shredded or finely chopped
2 carrots, shredded or finely chopped
2 cans organic kidney beans, drained and rinsed
3/4 tsp un-bleached sea salt
1/2 tsp ground black pepper
3 Tbsp vegan Worcestershire sauce (Wizard brand preferred)
2 Tbsp lemon juice
1 Tbsp agave
1/2 cup organic rolled oats
2 Tbsp cornmeal
1/4 cup spelt flour
1/4 cup canola oil, refined coconut oil or other neutral tasting, high heat oil

Instructions:
In a food processor, shred the onion, carrot and zucchini, or use a hand grater. Remove from the food processor and place in a large bow.

Put the large blade in the food processor and add kidney beans, garlic, sea salt, pepper, Worcestershire sauce, lemon juice and agave. Pulse together 5 times. Add oats, cornmeal and spelt flour and pulse until the mixture comes together and pulls away from the walls.

Add the bean mixture to the large bowl with the shredded vegetables. Fold to incorporate. Add more spelt flour if the mixture is too loose.

Heat a large skillet and add oil. With damp hands, form the burgers into 3 inch patties and place in the pan. Cook for approximately 3-5 minutes on each side, or until browned.

Serve in a mini whole grain bun with the cashew cheese!

White Wine Cashew Cheese

Ingredients:
11/4 cups roasted unsalted cashews
1/2 tsp garlic powder
1/2tsp sea salt
1 Tbsp light miso paste
2 tsp agave
1 Tbsp neutral tasting oil, Canola or Safflower preferred
3 Tbsp original almond milk, or soymilk
2 Tbsp fresh lemon juice
1/4 cup white wine
3 sprigs fresh thyme, stemmed and finely chopped

Instructions:
In a large food processor, pulse the cashews, garlic powder, sea salt, miso, agave, oil, soymilk, lemon juice and wine. Scrape the bottom if it starts to form a paste. Fold in the finely chopped herbs once the mixture is creamy and smooth. Transfer to a bowl.

Spork Foods
7494 Santa Monica Blvd. #302
West Hollywood, CA 90046
323.512-5544
Chef Speak is a bi-monthly column by LA-enthusiast Heather Taylor in which she explores LA's diverse and dynamic food culture, featuring interviews with Angeleno chefs of-the-moment, seasonal recipes, and rising restaurants.
Related
Popular in the Community