Since summer is the season of the road trip, Chef Speak is going on the road. The first stop on this culinary journey is San Francisco, a mere hop, skip and a jump from our native LA. It is widely accepted that the Bay Area is home to incredible restaurants and has launched some of the nation's most influential food trends (imagine a world without Chez Panisse). And recently SF has jumped on the pop-up wagon, a trend started right here in Los Angeles.
On a recent trip up North, we skipped the lines at the Wise Sons pop-up and went straight for Three Babes Bakeshop, a pie pop-up in the courtyard of the Stable Cafe on Folsom. Since opening in June of this year, co-owners and bakers Katrina Svoboda, Anna Derivi-Castellanos and Lenore Estrada have struggled to keep up with demand for their lovingly made homemade pies, the flavors of which change weekly. With a commitment to locally sourced and organic ingredients, flavors range from Dapple Dandy Pluot with White Raspberries to Salty Honey Walnut. And luckily for those who do not reside in Northern California, there are two options. You could order pies-in-jars, which Three Babes now ships across the country or you could read on for a recipe for Honeyed Apricot Crumble pie, drop what you're doing and get to baking one of summer's most simple and divine pleasures. But first, let's chat with the Babes.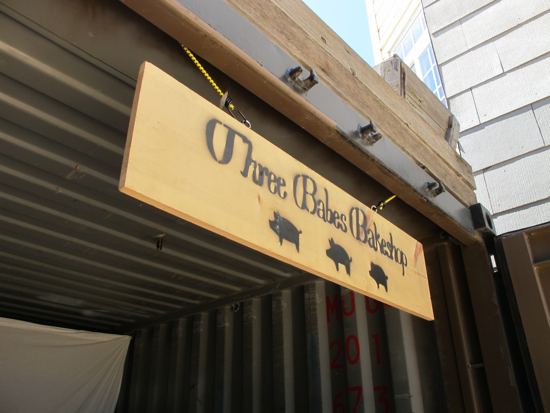 Heather Taylor: How and when did you develop a passion for baking?

Lenore Estrada: I've been baking since I was a small child. I'm one of seven kids, and my father had a temper that was almost as fierce as his sweet tooth. Whenever the babysitter threatened to get us in trouble I would make banana bread or oatmeal cookies immediately -- as soon as my dad walked in the door and got a whiff of whatever was baking, it didn't matter what the babysitter told him -- he'd let us off easy. Coincidentally, my dad actually forced me to learn how to bake pies. At least once a month, I was not permitted to start my homework until I had peeled, cored, and sliced enough apples for several pies. "When you grow up, you can pay people to do all kinds of things for you," he'd say, "but you can never pay someone to eat for you. You've gotta learn how to cook." Anna and I have been friends since we were kids, actually, and on Fridays we'd get together and bake things to give away as gifts. It's so much fun to be able to turn a passion into a career.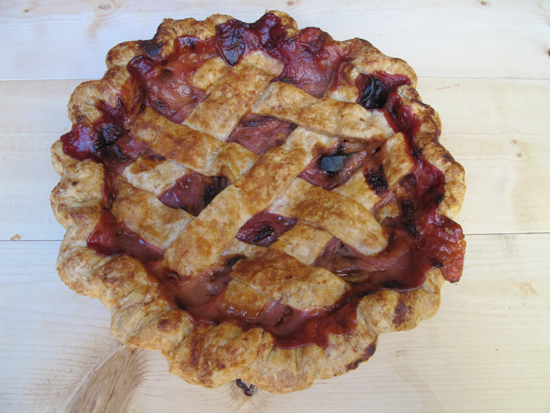 HT: What is your favorite type of pie?
Anna Derivi-Castellanos: Any seasonal fruit pie that's made with local, ripe, delicious fruit. My grandfather would visit his friends in our small farming community, and trade our family's wine and olives for boxes of freshly picked cherries, peaches, apricots, plums -- whatever he could get his hands on! What we didn't preserve, my grandpa would make into some of the most delicious pies I've ever had!
Katrina Svoboda: I have to go with the buttermilk. It's so light and tangy and incredibly versatile. My favorite version is a slightly different one than we make -- it's a whole wheat or rye crust, the buttermilk is mixed with sour cream, and it's studded with red currants. It's an old Finnish recipe from my mother, and it might be my favorite thing in the world.
LE: I love tart fruit pies. Plum, Apricot and Cherry Rhubarb are all favorites, but in the end, the better the ingredients, the better the pie! So my favorite pie changes each week.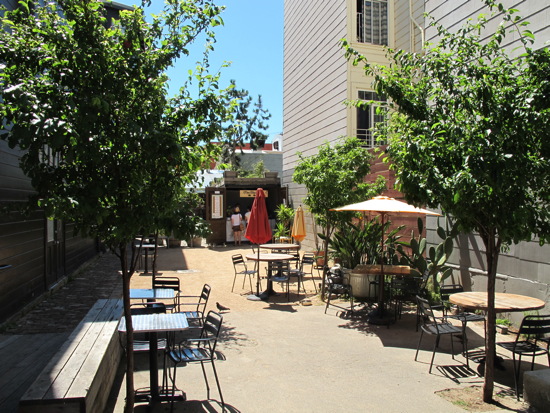 HT: What about Northern California inspires you in the kitchen?
AD: Growing up in the Sierra foothills endowed me with memories that I still draw upon for inspiration. I grew up surrounded by fresh, delicious, food. My brother and I used to follow our grandfather around the garden as he watered. We'd pluck ripe tomatoes from the vine, and then escape (as he yelled at us!) to sit in the fig trees, eating ripe fruit and looking out onto the rolling golden hills, and giant, old oak trees. We'd pick fresh plums and berries with our parents in the backyard, and check to see if our chickens and ducks had any eggs for us. Those memories are what inspire me in the kitchen!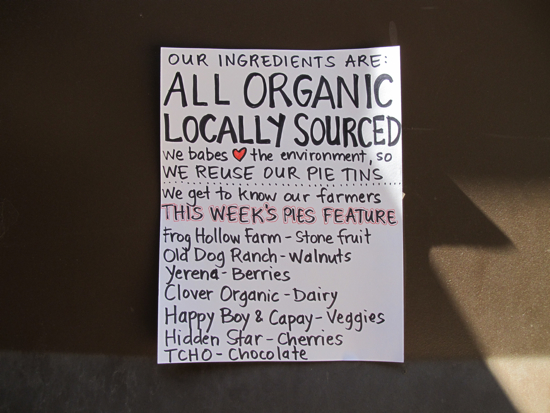 HT: What is your favorite restaurant in San Francisco?

KS: I have to say the best meal I've had here has been at Zuni Cafe. I remember the waiter being one of the best I've ever had -- very patient with my lack of knowledge about wine. Everything was so fresh. We had oysters and quail and pork and all sorts of amazing entrees, and each one was better than the next. It's the type of place that emphasizes the product, rather than the fussiness surrounding it.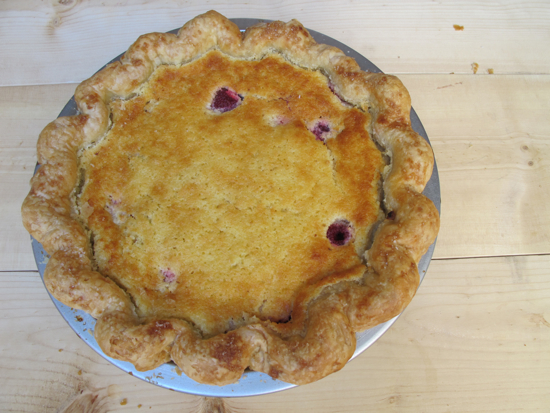 HT: What's been the biggest challenge you've faced in opening up Three Babes Bakeshop?

Babes: Keeping up with demand! Our products are entirely handmade -- from cutting the butter into the flour and mixing and rolling out the dough to prepping the fruit and cracking the walnuts. Since literally every step is done by hand, scaling up has not been easy! We've been lucky in that we have been able to recruit and train great help pretty quickly, but the first month we pulled more all-nighters than we would like to think about. Only now are we getting to the point where we have more of a handle on our production process (we've split it up into five days, from two originally). Now we are able to experiment more and offer far more variety on our weekly menu -- it's been a lot of fun for us, and our customers love coming into our retail kiosk every weekend to see what's new.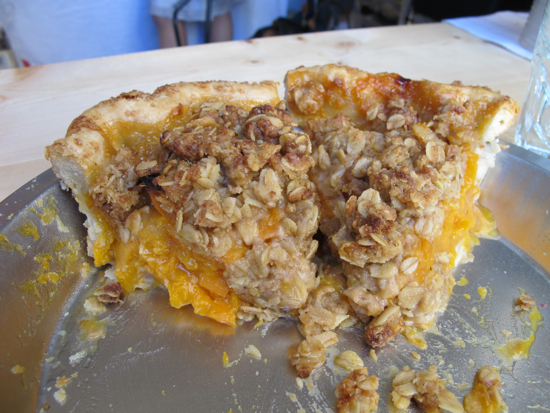 RECIPE

Honeyed Apricot Crumble
Serves 8

INGREDIENTS

Crust:
1 stick plus 1 tablespoon butter
1/3 cup ice water
1 ½ teaspoon vinegar
1 1/2 cups flour
1 ½ teaspoons sugar
1/2 teaspoons salt

Crumble:
1 cup rolled oats
½ cup all purpose flour
3 tablespoons brown sugar
3 tablespoons white sugar
1 stick melted butter
¼ teaspoon allspice
¼ teaspoon ginger powder
¼ teaspoon cinnamon
½ teaspoon salt

Filling:
3 lbs apricots, pitted and sliced into ¾ inch wedges
¼ cup brown sugar
3 tablespoons lemon juice
2 teaspoons lemon zest
¼ teaspoon nutmeg
1 tablespoon honey
2 tablespoons cornstarch

INSTRUCTIONS

Crust:
Cut butter into ½ inch cubes and place in the freezer.
Measure out water and stir in the vinegar, sugar and salt until dissolved, and place in the freezer to chill.
Measure the flour into a chilled bowl.
Remove butter from freezer and, using a pastry cutter, cut into the flour until the mixture resembles coarse meal. Use your hands to break up any large pieces of butter.
Sprinkle the flour and butter with the water and vinegar, a little at a time, tossing the mixture at first and then pressing together with a spatula, until the dough just comes together.
Pat into a disk, wrap with plastic, and chill for at least 1 hour in the fridge. While it's chilling, make the crumble, and assemble the filling (with the exception of the addition of cornstarch).
Use a rolling pin to roll out the dough and then fit it into a
buttered pie plate. Chill for at least 30 minutes.
Roll the edge of the bottom crust under tightly, so that it rests comfortably on the rim of the pie plate. Press the outer crust between two knuckles of one hand and the thumb of the other to flute.
Place in the freezer to chill while straining the fruit and mixing in the cornstarch.

Crumble:
In a medium-sized bowl, mix together the dry ingredients bowl.
Pour the melted butter over the dry ingredients and mix until completely incorporated.
Chill in the refrigerator until moderately firm (you want to be able to scoop it, so the butter has to re-solidify).

Filling:
Preheat oven to 425 degrees.
Mix fruit, sugar, lemon juice and zest, honey and nutmeg together.
Let macerate.
Right before adding filling to the pie, strain the fruit mixture, and add the cornstarch to the strained fruit, and stir. Reserve the juice for another use (smoothies, ice cream - use your imagination!). If the fruits look too dry, add a tablespoon or two of the juice back in.
Pour the fruit mixture into the pie shell, top generously with crumble, taking care to leave some large chunks of crumble on the top of the pie.
Brush the outside edge of the crust with an egg wash, and sprinkle lightly with coarse salt and generously with coarse sugar.
Place the pie on a parchment-lined baking sheet and bake in a preheated 425 degree oven for 15 minutes, then reduce heat to 350 and bake for an additional 50 minutes, or until pie
filling bubbles and the crumble is golden brown. Cool completely on a wire rack before serving.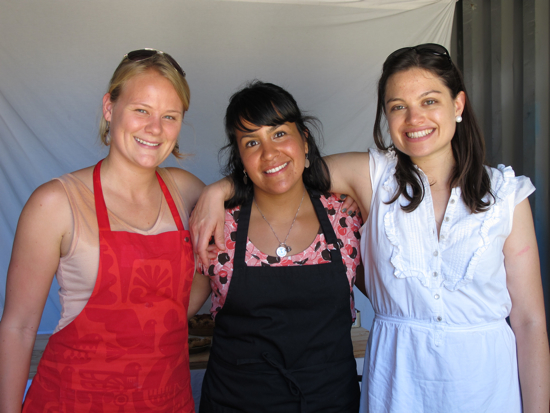 Three Babes Bakeshop
Stable Cafe, 2128 Folsom St. (@ 17th)
info@threebabesbakeshop.com
(415) 742-0484
Hours: Saturday and Sunday, 9am-4pm
Chef Speak is a bi-monthly column by LA-enthusiast Heather Taylor in which she explores LA's diverse and dynamic food culture, featuring interviews with Angeleno chefs of-the-moment, seasonal recipes, and rising restaurants.

Related
Popular in the Community