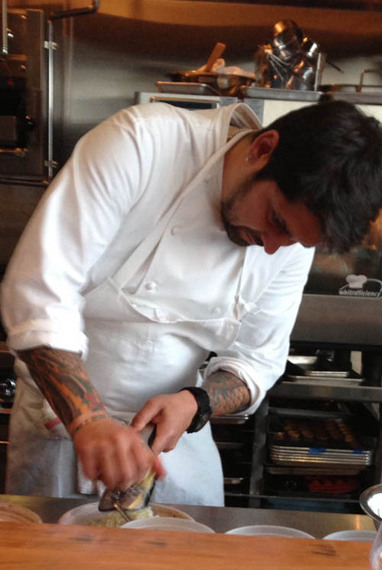 Celebrity chef Ludo Lefebvre may come across as cocky when you see him on TV where he serves as judge and mentor to potential chefs on "The Taste" or even in his kitchen where he constantly pushes his kitchen staff to meet his standards, but if the proof is really in the pudding, or in this case fine French fare, then let the man be as demanding and cocksure as he wants if it means we get to indulge and enjoy some of the best dishes around.
The founder of pop-up LudoBites, the Burgundy-born chef teamed up last year with Animal's Vinny Dotolo and Jon Shook and opened one of the best new restaurants in the country in Petit Trois, housed in a former pizza joint that funny enough still bares its original signage where guests pre-pay their dinner in advance. When space became available this year in the same mini mall, the team opened Petit Trois, a more casual French bistro with a sparse menu yet full of flavor. Leave it to Ludo to serve delicious escargot, as well as the richest and tastiest omelette imaginable.
What were your original expectations when opening Trois Mec, and Petit Trois?
It is hard to have expectations. I know what I wanted, but I never know if LA will embrace my vision. Each restaurant was something very new for LA. We were very unsure how the ticketing system would work, but it was necessary for us to be able to offer the best possible experience in the small space. I wanted to create a refined dining experience, something more upscale that the trends of the past few years, but definitely not uptight and Frou Frou; something balanced with great hospitality.

Petit Trois seemed straightforward, but again, the small space placed certain limitations, but I did not want to do another ticketed restaurant. I wanted it to simply be a place anyone could drop in to at anytime. I wanted to be like all the French neighborhood bars I grew up with. You know your neighbors, there are lots of regulars, the cooks know your name and you get to meet fun, new people enjoying the space.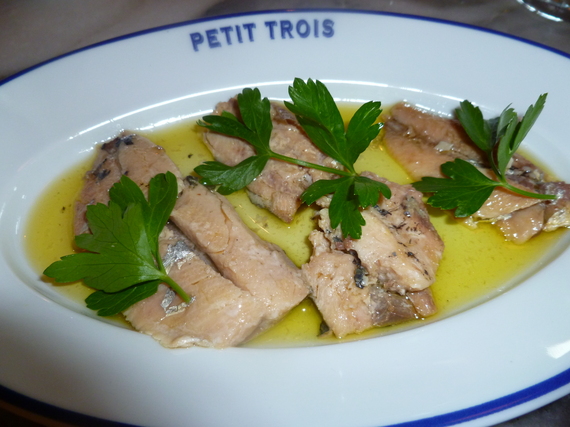 With the success of Trois Mec, did you consider Petit Trois a sure thing?
Never! They are completely different concepts. I never consider anything a sure thing. It is only through hard work and consistently that you are successful in the restaurant business and that does not happen the day you open, so no amount of pre-press or expectations give you a sure thing.

Talk about the difference between the two restaurants. What does each offer that's unique?
Trois Mec is a dining experience and of course; you have to buy the tickets in advance. It is about food, wine and hospitality. Petit Trois is of course about food, but we also have a great cocktail program and while we hope you have a great time at Petit Trois, the service is more informal than Trois Mec, plus I like to think of it as an everyday restaurant. Come when you want. We are open seven days a week from noon-11pm. No reservations needed or taken.

You stopped serving sandwiches at lunch at Petit Trois and now serve your full dinner menu all day. Why is that? Was that always the plan?
It was always the plan to serve the full menu all day, but we wanted to ease into it and we wanted to be open for lunch so that people would start to think about Petit Trois as a lunch place. We have put the jambon beurre back on the menu after much demand and may add another sandwich later.

What, in your opinion, is a must-have dish at Petit Trois?
That is tough one, but I guess I would say the escargot. I grew up eating escargot like they were M&M's. I could eat 100 in a sitting. My grandmother always made the best ones and the escargot at Petit Trois are her recipe.

It has been 10 years since you wrote Crave, how have you changed?
Funny you bring up Crave, we are releasing the tenth anniversary edition of the book in December--updated with new photos, some plating changes and a new modern cover. Looking back at the book, I realize that my life has almost done a 360. I was immersed in fine dining when I wrote it, completely got away from it and now with Trois Mec I'm about 80% back in the game, but just modernized. I think the biggest change is the perception of needing fancy space to have a great meal. Food prevails over all.
What can you say about Season 3 of The Taste?
We just wrapped taping and it is really intense this year. We have added a third challenge each episode and each of the mentors is even more competitive this year. I hope the show can demonstrate that ultimately the taste is what matters and if you work hard enough anyone can learn to cook. Believe me, I had some challenges during this year, but I love teaching, and seeing contestants grow from week to week makes me proud.

What can you say about your new spice line? Are these spices you actually cook with?
I have wanted to have a spice line for a while. When I met with Whole Spice up in Napa, I knew they were the right partners. They really understand spice and are true master blenders. I worked with them to identify all the raw spices that I wanted to use and then based on what they found, I create the exact measures for the blends. They did an incredible job. I do cook with the spices at home all the time. Ask my dinner guests.

Between the two restaurants, the TV show, the spice line, running LudoBird at Staples Center, is it ever too much? Or is this how you like it?
Things are busy right now, but I don't like to be bored. I do not get involved in a project unless I truly and wholeheartedly believe in it. I look forward to the next passion project I find.

What is next for you Chef Ludo?
Definitely another book after the 10th anniversary of Crave. There will definitely be more restaurants, but they need to feel right. I do hope to see LudoBird in many more cities. I hope to see myself enjoying my life with family and giving a lot of people opportunities to work, learn and grown in the restaurant industry through my efforts.
Click here to read Jose Martinez / LAdineNclub.com Petit Trois dining feature.