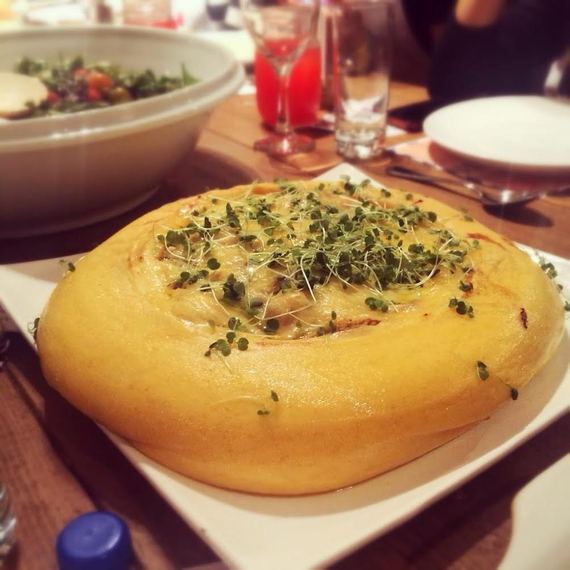 Aruba often gets more press for its pristine beaches than for its cuisine, but the tiny isle does big things when it comes to nosh. Because more than 90 nationalities call Aruba home, the Dutch Caribbean country's food mimics its mix of cultures.
Naturally, the Netherlands has influenced the island's cuisine, namely in the dairy department, and it was the Dutch who began stuffing the rinds of Gouda or Edam cheeses with meat table scraps--and today that dish is an Aruban staple called keshi yena. Colombia has also had its influence, leading the island to develop its own versions of the arepa, empanada and sancocho soup.
Chef Teddy Bouroncle, the Aruba Marriott Resort's recently acquired Peruvian native complex executive chef, has cooked around the world and is now bringing new spice to the island's life.
From Gouda stuffed funchi, a cornmeal creation akin to polenta, to seafood keshi yena, Bouroncle's fare is fresh and uncommon, and he is currently serving it up throughout the Aruba Marriott's seven bars and restaurants.
So, if you're planning to visit, here's a look at what has influenced Chef Bouroncle, and what he recommends for a true taste of Aruba.
How has your Peruvian heritage influenced how you prepare Aruban dishes?
My Peruvian heritage has made me challenge the locals by introducing more spices to the Aruban dishes. I am challenging them by proposing spices they are not used to such as the Peruvian chili. I use this on my seafood keshi yena. (Note: Find the chef's recipe for seafood keshi yena below).
What was your must-have meal growing up?
My favorite meal was really spice fish ceviche. Ceviche is prepared with raw fish, lime juice, cilantro, garlic and limo chili. This was a meal that was prepared on weekends at my house using really white fish like flounder or corvine. This dish is really fresh and only takes five minutes to prepare. The secret in preparing this plate is to add the salt first, the reason why is because the salt starts to cook the fish prior, and this creates the leche de tigre (this is the white juice of the ceviche). I make this for my family and me too. My sons love spicy food, however my daughter doesn't, so when I prepare the ceviche I need to make two batches.
So, what is a traditional Aruban meal?
The most traditional meal an Aruban family would have is deep fried red snapper with creole sauce, funchi and fried plantains.
What makes Aruban cuisine different from other cuisines around the world?
I think what makes Aruban cuisine so different is the fact that even the traditional cuisine is composed of many different cultures. You get a taste of everything, whether it's stewed black beans, curry chicken, arepa, corn bread, patacones, jerk chicken, green pea soup and even lasagna.
What's the one meal on the island you can't live without, and where's the best place to get it?
The fish ceviche at Waves restaurant located at the Aruba Marriott Resort. We use Mahi Mahi for this ceviche following the traditional Peruvian recipe as mentioned above, but instead of using limo chili we use Madam Janette (a local chili). We serve the ceviche with what we call a candied sweet potato, which is boiled in orange juice, sugar, star anise, cloves and cinnamon.
What are some other can't miss restaurants in Aruba?
Zeerovers, the Old Fisherman and Marriott's La Vista lobster night on Saturdays. I like eating at Zeerovers because they serve fresh fish, which is caught at that moment and prepared for you. Sometimes you can see the boat arriving at the dock, which is part of the restaurant, and you can even pick your own fish. At the Old Fisherman they have an amazing fried corn bread, which they serve with cheese. And if you're a lobster addict, La Vista is the place to be. You can eat all the lobster you want.
Besides food and drink, what do travelers need to see in Aruba?
The wonderful beaches: Eagle Beach on Sunday morning (during the weekdays I would prefer Boca Catalina), Arikok National Park, Baby Beach and the Natural Pool.
3½ tbsp. olive oil
1 large red onion
¼ cup garlic
1 large tomato
2 tbsp. dried oregano
3½ tbsp. tomato paste
½ cup white wine
¼ lb. calamari
¼ lb. scallops
¼ lb. shrimp
¼ cup red bell peppers
¼ cup green peas
Cilantro
¾ cup heavy cream
3½ tbsp. butter
Salt
Pepper
7 oz. sliced Gouda
1. In a sauté pan, add olive oil, red onions, garlic.
2. Add tomato paste and oregano.
3. Add the seafood and sauté, adding white wine and butter, mix for several minutes.
4. Add heavy cream, red bell peppers, a pinch of cilantro, and green peas and simmer until seafood is cooked. Salt and pepper to taste.
5. In a small container (oven resistant), place half of the Gouda slices at the bottom, add the seafood mix, cover the top with the remaining cheese and place in the oven to bake for 10 minutes at 450 F.