LAS VEGAS –- 3D printing is officially delicious.
At the International CES here this week, 3D Systems, a South Carolina-based company, unveiled what it's billing as "the world's first and only professional-certified, kitchen-ready 3D food printer."
It can print sugar, chocolate or candy in pretty much any design imaginable.
To create a sweet, the printer needs water and dry powder ingredients.
Here's how it works: A rolling pin-like mechanism first spreads a fine, even layer of powder on the printing surface. An inkjet print head then sprays a narrow stream of water, drawing on the layer of sugar in whatever pattern the owner has pre-programmed. When the water hits the powder, it recrystallizes, so that whatever the water touches hardens.
The process is repeated layer-by-layer, building the treat from the bottom up, printing at the rate of a vertical inch each hour.
The final result: intricate, detailed confections that twist, turn and sparkle.
The sweets can be used as sculptural toppers on wedding cakes, custom sugar cubes, printed and personalized candies, "and everything in between," said Liz Von Hasseln, the creative director of food products for 3D Systems.
But don't expect to buy one of these for your home. The ChefJet, when it's released sometime in the first half of the year, will start at "under $5,000," Von Hasseln said. It's geared toward professional bakers, pastry chefs, restaurateurs and chocolatiers.
A larger version, the ChefJet Pro, can add color to the confections, and will be available for "under $10,000."
"This is a piece of really professional kitchen equipment," Von Hasseln said.
Von Hasseln and her husband, Kyle, are both trained architects. In graduate school, according to their website, they wanted to make a unique birthday gift for a friend, so they hacked a 3D printer and tried to print her a cake. The gift ultimately turned out well, and they started a company, The Sugar Lab, to create and design custom confections for events.
"This is a whole really new territory for 3D printing," said Liz Von Hasseln, "and it will allow a whole new community to really engage with the technology that maybe wouldn't have been able to before, so that's really exciting."
And for those wondering: Yes, I got to try a piece of 3D-printed candy -- sour apple flavor -- and it was delicious.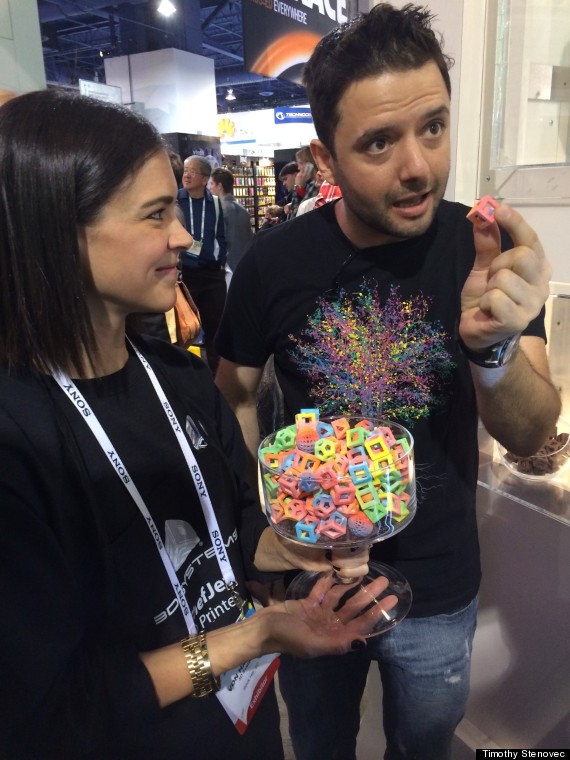 Liz Von Hasseln, left, the creative director of food products for 3D Systems, holds a bowl of printed candy at the International CES on January 9, 2014.
Related