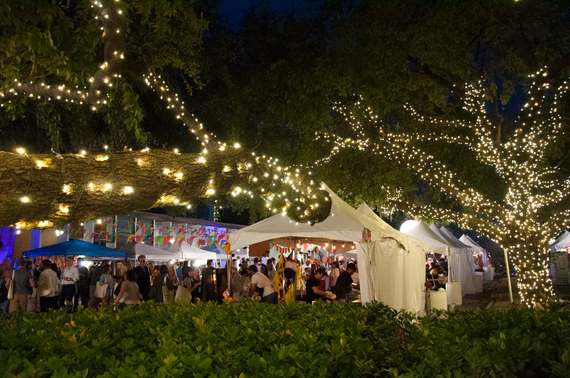 The theme of the month long Texas State Fair might be "Celebrating Texas Agriculture," but for two short nights in Dallas early this fall, the theme was brought home locally. For those two nights, Chefs for Farmers was the premier, locavore, city, and food event...a true Peak Plate experience.
Saturday evening under Texas skies in the Dallas Design District, the Street Food Night Market brought together the best of regional chefs, restaurants, craft brewers, mixologists, with regional farmers and specialty food artisans...at least until a dramatic wind, lightning and rain storm scattered the crowd to adjacent buildings.
Dallas residents mixed, mingled, sampled and voted for food and drinks that included a South Texas pig roast, churros, oxtail falafel, Thai curried lobster shooters, Korean short ribs, Trompo tacos, Japanese whiskey, tiki cocktails and four Texas craft beers.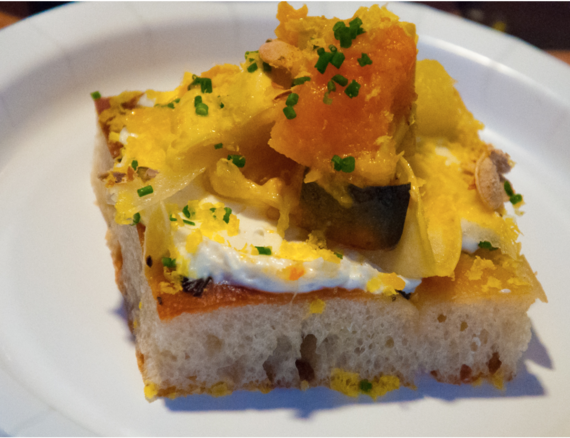 Chef Cody Sharp of Zoli's New York Pizza Kitchen, formerly of Filament and The Standard Pour, was serving bite size samples of squash crostini with Rae Lili Farms winter squash, whipped ricotta and prochetta cured egg yolk featuring local ingredients. Indicative of the food artisans, he had an acute awareness of his patrons and his sources:
"People are always coming into our place and asking what farm the ingredients are from. On any given day, I can source 95% from within a 150 - 200 mile radius of Dallas. I love working with Rae Lili Farm, Lemley Farms, and Rocky Tassione for vegetables, Which Came First eggs out of Sunnyvale, A Bar N Ranch and 44 Farms for beef and of course South Texas Heritage for pigs. I try to frequent the farmer markets as much as possible as well."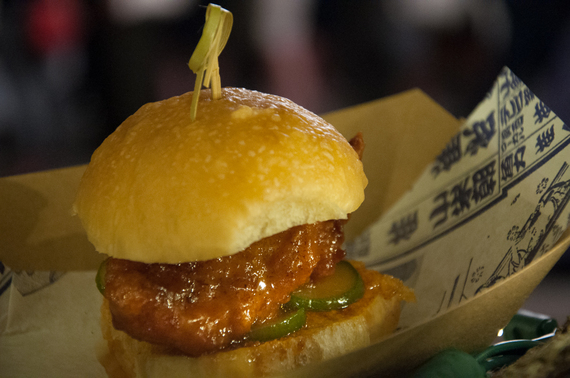 Cooking up their famous Hot Fried Chicken Buns, Sous Chef Eric and team were a virtual Top Knot assembly line. A casual companion eatery to the Austin/Dallas/Houston Uchi restaurants under Chef de Cuisine Angela Hernandez, Top Knot personified local sourcing in the Dallas food scene. As per Eric:
"We get our specialty greens, herbs and baby vegetables from a local guy who just shows up at the restaurant. I don't think we even know how to contact him....he just drops by with his stuff, sells it and then sprints."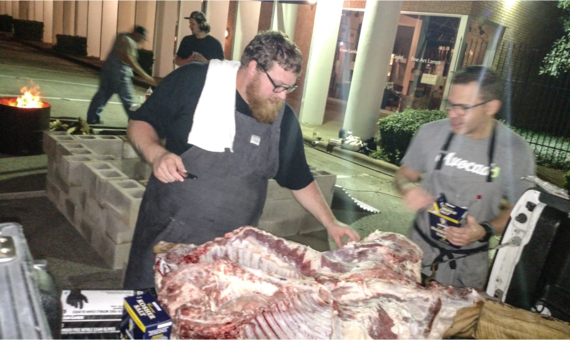 For the Saturday max-effort award, the prize has to go to Kelley and Mark Escobedo of South Texas Heritage Pork, teamed with John Tesar of Knife and Justin Brunson of Old Major in Denver, CO. For Mark and his team, the event started 14 hours in advance with a truck on the grounds loaded a whole English Large Black + Tamworth hog cross-breed, concrete blocks, wood and a steel grate.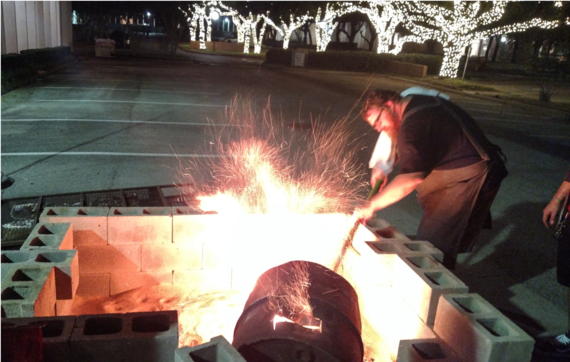 Building a make-shift, jumbo sized, grill right on site next to their tent, the whole hog smoked for 10 hours before the evening's event so that John could hand out his signature pulled pork gyro, seasoned to perfection. From the line out the tent, clearly pulled pork was a big hit, but then again it was Dallas and what else would one expect from a Texas crowd.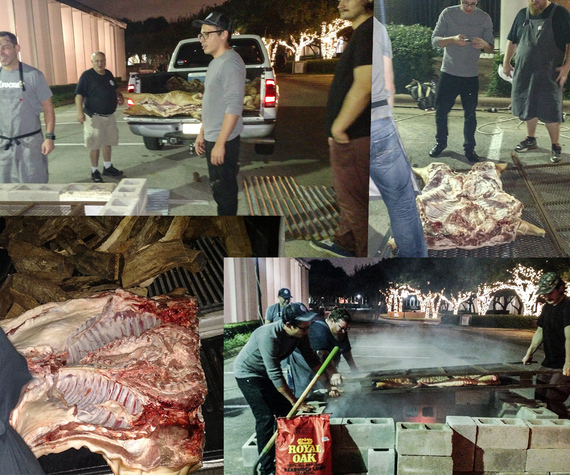 Mark is justifiably proud of his pork program and the exceptional product it produces. He has combined two of the best bacon pigs, bred to eat grass and natural forage, not grain:
"These hogs eat everything in primitive pasture land...cactus, berries, whatever. We crossed the lop-eared Large Black with the best red haired bacon pig. The long ears protect their eyes as they root for food and we grow them naturally and let them age in the pasture. The hog we have here is two-and-a-half years old. These are smart animals left on their own. They even have small litters like feral pigs."
At STHP, Mark & Kelley mill their own feed to supplement the hog's pasture diet. Their approach is non-GMO, peanut based to avoid corn and supplement based commercial feeds. Mark's relationship with chefs goes to the extreme of collaboration in creating custom feeds to produce specialty pork for the restaurant. One iteration even included avocado for a particularly soft and supple meat. Mark has supplied his pork to celebrity chefs: Matt McCallister - FT33, David Uygur - Lucia, Oliver Sitrin - Blind Butcher, Misti Norris - Small Brewpub, Jason Dady - Jason Dady Restaurant Group, John Russ - Luke, Chris DeGweck - Knotty Deck, Jose Mendin - Pubbelly Miami, Bryce Gilmore - Barley Swine, Grey Nonas and Michael Fojtasek - Olamaie, Stefan Bowers of Feast and Rebelle.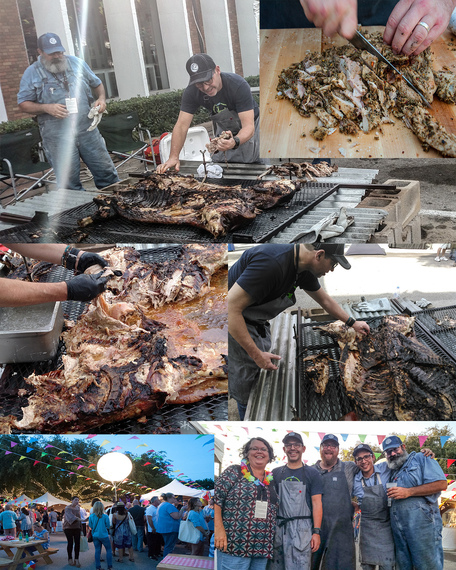 Sunday afternoon the Chefs for Farmers Main Event moved indoors to the Dallas location of the famous country nightclub, Gilley's. Five dozen locally sourced dishes were available in an all-you-can-eat feast...or at least in an all you can stand-in-the-enthusiastic-lines for feast. East Texas peas, smoked cornbread, cabrito kababs, the biscuit bar, Bar N Ranch beef and more Texas beer, accompanied by live music.
The main stage was surrounded by four halls lined with chefs, specialty food purveyors and farmers, working their tables to feed the crowd of over 3,000 folks. Chef Nick Walker of The Mansion on Turtle Creek served up a delectable custard dish: 63 Degree Egg consisting of 2 year-old Red Wattle Ham, potato foam and truffle salt. The eggs were from farmer Chuck Davis of The Good Egg. Chuck boasts, "Pasture raised chickens are by far more nutritious than hens raised in cages. Our eggs contain half as much cholesterol, are up to twice as rich in vitamin E, and have four times more omega-3 fatty acids than factory eggs." Backing up Chuck's claim, test results at provide a thorough report.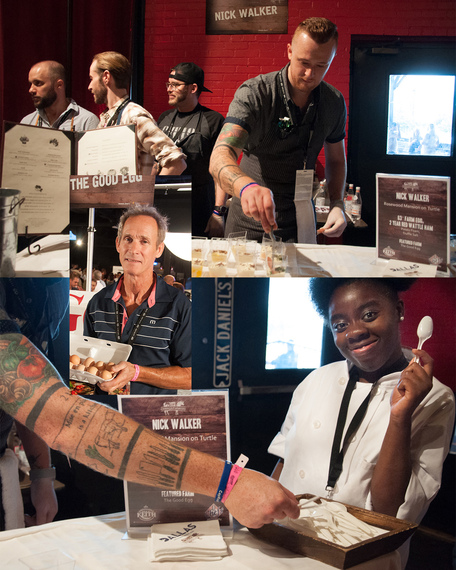 Just like the previous night, a favorite delectable was by John Tesar of Knife. Near the end of the event, the long line at his table started to develop a notable frenzy as the last Pimento Burgers were handed out. After four hours, with the last burger served, John backed away from the table as if just finishing a Food Network Top Chef competition. The outside of the burger was seared and caramelized with a crunchy perfection contrasted with a juicy and tender, medium-rare inside. Truly a mind and mouth blowing experience. Cooked in a Spring blue steel pan, John conveys, "The real secret of the pimento burger is 44 Farms ground beef; a blend of 80/20 ground sirloin, then the topping of slightly spicy and very creamy pimento cheese. The cheese adds a great flavor and lots of moisture making it one luscious burger."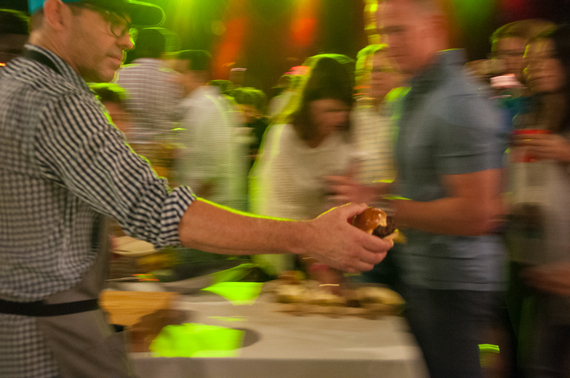 Small batch jam makers, Stephanie Magilow and Andrea Chatterji, of Jammit Jam, were serving herb and libation infused jams long after other vendors had packed up their tables and gone. The hours didn't wear on these two and their enthusiasm was apparent including sharing their beginnings together four years ago and their success today. For Andrea, "As moms with daughters, success at your passion is a great way to empower our own girls to make it themselves."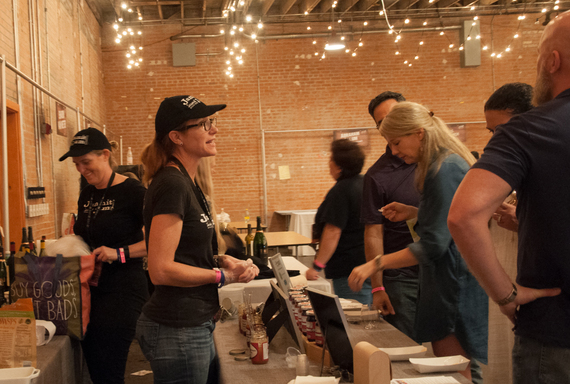 The fruits of their labors are sown into their girls psyche as, "...the low sugar jams are flying off the shelves since our humble start at the farmers market and are now selling nationwide."
Created from seasonal fruits and herbs, Stephanie says, "We used to source 100% of our fruit from the local farmers markets, whatever fruit looked freshest at the St. Michael's Farmers Market or the Downtown Farmers Market, but when we grew to our current nationwide level, we had to start sourcing frozen fruit so that we could produce year round. Our fruit is sourced from North America, but it is a mixture of multiple farms from all over the country." Their combination made for complex flavors appealing to the simplest and to the most sophisticated palette.