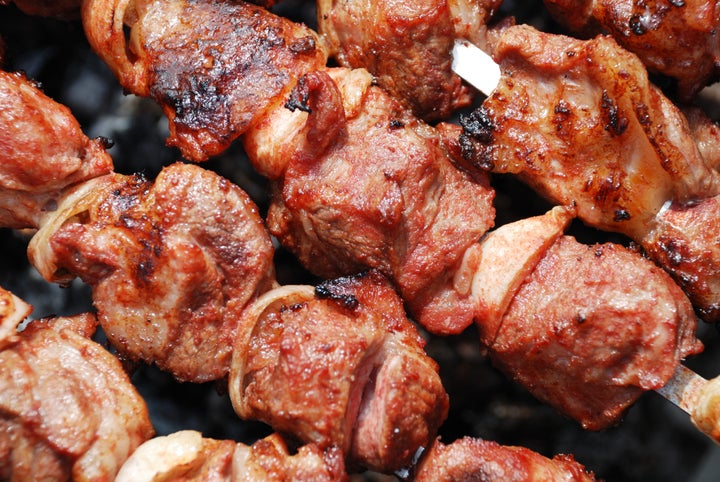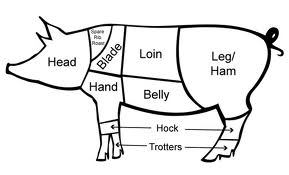 If you were sacrificed for the greater good of your fellow mammals, wouldn't you want to be totally adored? For every part of your body to receive VIP handling?
Whole animal carcasses are getting just this treatment in savvy New York restaurants, where customers can order savory meat creations from all around the animal. Instead of sticking with solitary slabs of steak, kitchens are buying whole carcasses and using every edible inch. These days, the animal of choice for full Monty consumption seems to be the pig. Chefs are going for the whole hog.

Why the pig? Because pigs makes environmental sense. Pigs grow quickly, require less pasture, produce less methane, and have more useable parts than just about any other animal. And while some people avoid pork for religious reasons, bacon lovers count for an enormous number of consumers.
The inclusive style of butchering has many virtues, a major one being economy. Raising an animal is an investment: breeding, feeding, housing and transporting all use substantial resources and energy. Why go through all that trouble and then toss out a heart if you can serve it in a salad? Harvesting 175 pounds of useable meat from a 220 pound sow makes the practice fairly sustainable.
Flavor is another factor. While many Americans know pork only through chops, tenderloins, and bacon, other parts of the animal can be terrifically tasty, and have featured in ethnic cooking and classic European cuisine for ages. Where would kielbasa be without pork liver and lungs?
And last but not least, using the whole hog shows respect. If an animal is going to be killed, using all of it better justifies taking its life. Valuing a beast through to the marrow ensures that it won't have die in vain.
I spent several days visiting whole-hog restaurants in Manhattan and eating more pork than I could ever imagine. The eateries run the gamut from down-home to elegant, each working the pork in their own ways. Four standouts have perfected an impressive array of dishes.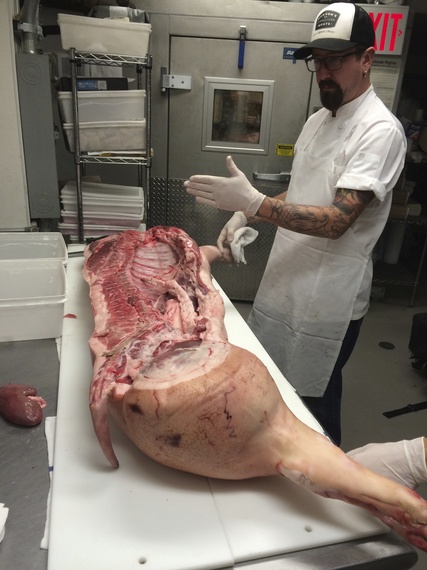 Chef Steve making the most of the whole carcass

Chef Steve Dustin butchers a pig a week in the Monument Lane kitchen in Greenwich Village. Reggae music plays in the below-ground kitchen, lined in stainless steel with doors opening to walk-in coolers and freezers. Armed with the tools of his trade- chef's knife, cleaver, mallet, and a hacksaw- this affable mid-westerner systematically goes about breaking down a pig carcass, laid out on a butcher block like T.S. Eliot's patient etherized upon a table.
First to be cleft are the trotters, which Chef Steve saves until he has enough to cook up and serve like chicken wings. Shanks are braised and served with spätzle. The line of ribs is split bone by bone into chops, making a neat visual display of the progression from one end where the chops are small and lean to the other where the tenderloin is bigger and so is the marbling. Wide cuts of the fatty pork belly are rubbed with a dry brine of brown sugar and salt and put away for 10 days, the first step in the conversion to bacon.
Chef Steve simmers the head for hours with mire poix, bouquet garni, then presses the meat. The resulting head cheese is malleable and tends to keep its shape, held together by the collagen that seeps out of bones and tendons. It fashions easily into croquettes, or patties that chef uses in place of the English muffins in his Eggs Benedict. Whatever is left of the carcass is cooked down to render the fat into lard for biscuits. And that makes use of the whole hog, from trotters to tail.
Heritage pigs are highly favored by today's chefs. This branding means the animals are turned out to pasture, eating what they naturally choose, but are not necessarily organic, a label that stipulates only what hormones, antibiotics and chemicals are not ingested. As Chef Steve says, "Animals can qualify as organic but live in a stall and never see the light of day."
Over on Irving Place in the small jewel of a restaurant, Casa Mono, Chef Anthony Sasso gets his porkers in on Wednesday and the chops are gone by Saturday. This leaves the rest of the pig up to his imagination, which rises admirably to the challenge. He blends innovation with his Spanish culinary schooling to produce dishes that are at once both rustic and sophisticated. Chef Anthony says, "Pork is versatile, tasty, and can be used almost completely."
This talented chef has a lot of free rein at Casa Mono, as it is the only Spanish-style restaurant in the predominately Italian Batali/Bastianich group. Nothing goes to waste of these pigs that come from Fleisher's, a butcher shop located upstate in the Hudson River Valley and in Brooklyn, and known for pastured, locally raised meats from small, family-run farms.
Chef Anthony's thin slices of pig ear, battered and fried like calamari, are served up with slivers of apple and celery and doused with a lovely green sauce that hints of cilantro. This mild dish has substance and a variety of textures- some crisp, some chewy. And for diners who prefer their meats disguised, this ear has been deconstructed.
Pork bellies shine, paired with two kinds of mushrooms and set in a bed of sautéed Swiss chard. The chanterelles are minced with anchovy and the lobster mushrooms cut in chunks, allowing their dark pink tops to beacon luminously.
Moving up to the north side of the elegant, old-world Gramercy Park, pork takes front and center stage. The restaurant is named for the animal: Maialino is Italian for "little pig," a.k.a. suckling pig. In the seasoned hands of Chef Jason Pfeifer, these tender, young animals are transformed into refined dishes fit for a king, or at least one of the rock stars who roll in from the adjacent hotel.
Starting with the silk purse of the sow world, Chef Jason's maialini come from Dealaman Enterprises in New Jersey, a fourth generation, family-owned and operated business specializing in suckling pigs. These Duroc and Berkshire mixes ship in twice a week, and Chef Jason's Midas touch turns them into a pork fan's pig heaven. His menu runs from crispy pig tails to bacon Panini to roasted porchetta to a whole braised sucking pig.
Since the prime parts tend to go first, Chef Jason sometimes finds his kitchen loaded with offal- inner organs. While this might be a bonanza for anyone on a paleo diet, it poses a challenge for a chef who wants to waste no parts. One of Chef Jason's prize dishes came from his question, "What are we going to do with all these pork livers?"
His answer was to cook them into a mousse -- light, smooth and savory, and used to stuff a pasta much like ravioli: Tortelli with Suckling Livers. Another inspired dish is his Charred Suckling Pig Hearts, served in a salad with parsley, peppers and vinaigrette that adds a spicy accent to the mild meat.
And last but not least, at the other end of the culinary world, The Cannibal offers beer and butchery, unadulterated. The name works two ways: as an unapologetic come-on for carnivores, and as an homage to Eddy Merckx, the Belgian champion cyclist who took the nickname The Cannibal. Beyond the below-street-level restaurant, the garden out back includes hooks for hanging up bicycles while cyclists linger over a distinctly Belgian-style menu, including beers and half pig heads. At the risk of sounding sexist, this menu is smoking with testosterone and not for the faint of heart.
To be truthful, we Americans have become so disconnected from our food sources that much of the time we quite literally don't know what we're eating. It's hard to picture a whole hog when looking at a plastic wrapped pork chop in the grocery story. This leads to a disconnect between what we put in our mouths and where it comes from. If we are going to eat meat, let's fess up to the animal sacrifice it requires. And pay it some tribute; body parts that may give us the willies are in much of the world considered delicacies, perhaps in part because of the recognized cost involved. So before you take that next bite of barbecue, say a prayer of thanks to the creature it once was.