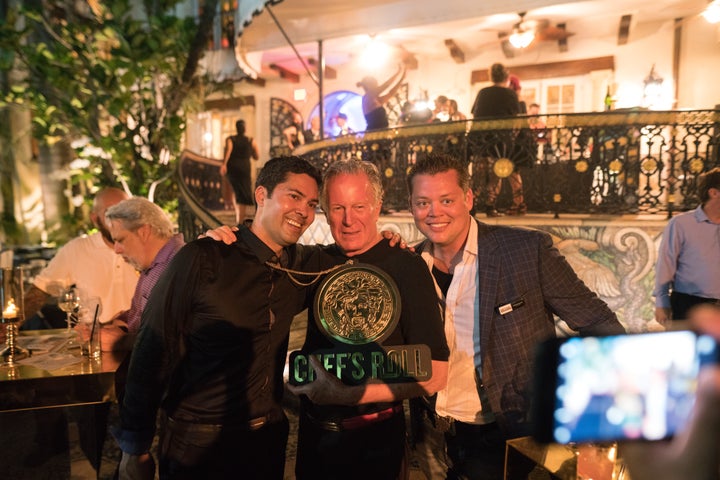 Last week, the professional chef network, Chef's Roll hosted the party of the century - well, for chef's at least. Twenty three of the best chefs in the world were all spotted at The Villa Casa Casuarina, formerly known as the Versace Mansion, in Miami for "A Night At The Mansion". Attending guests included VIP culinary icons like the World's Best Female Chefs of 2016, Dominique Crenn, 1 Michelin Star and James Beard Award Winning Chef for "Best New Restaurant of 2015," Markus Glocker, Top Chef's Season 13 Winner, Jeremy Ford and the legendary Chef Jeremiah Tower.
With only three months to plan, the team behind Chef's Roll secured a stunning lineup of twenty chefs to create dishes especially for the evening. A prestigious group of James Beard Award Winning Chefs & Nominees shared their influences and collaborated for 125 lucky invitees. Participants flew from all over the United States to fly in Miami for this once in a lifetime event.
Fine wines were provided by Montesquieu to accompany the seven different food tables, plus an incredible Murder Point Oyster spread. Chef Brad Kilgore of ALTER said, "The event was one of a kind, the setting in the Mansion was unlike any event I have been a part of and there is no other team like the guys from Chefs Roll. The quality of Chef talent really made it special. Cant wait to see what they put together next year."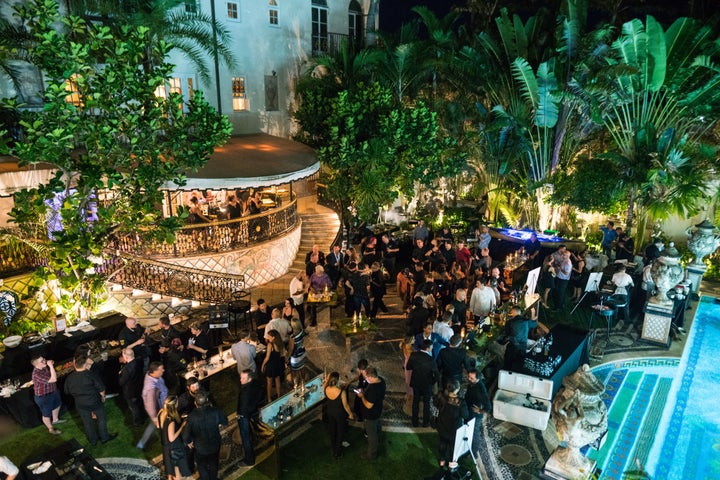 Founders of Chefs Roll's, Thomas Keslinke and Frans van der Lee wanted the culinary talent to match the A-list guests that stayed and partied there when Gianni was alive at Versace Mansion. Chef Michael Gulotta from the restaurant Maypop and Mopho also added,
"It is relatively unheard of to have a group of industry professionals invited to a beautiful location with the sole purpose of collaborative cooking and camaraderie, where the food is prepared only for ourselves and some of our most esteemed peers. It requires us to exercise a different set of skills, to learn from each other, to see food and the food industry through someone else's collective experiences, and lastly, to relax and have fun."
Co-founder and CEO Thomas Keslinke expressed their overall mission was to have chefs talk about this night for years to come. It's safe to say if that wouldn't have happened after the tasting, it might have been reassured after the "after party" on the mansion's rooftop.
The energy was contagious at the mansion that night (despite the heat), between watching chefs reminisce and compliment each other's crafts and accolades, it was a great time for each one to truly enjoy him or her self Dominque Crenn noted, "Chef's Roll event at the Versace Mansion was a truly memorable moment for all of us in the industry. We felt celebrated as chefs, but most of all we all came together as people that care about our craft, our narrative and the love of making this planet a better place...one mouth at the time."
Co-founders of Chefs Roll could not be happier with the turn-out and said, "Hearing these chefs give kudos to our event coordinator Logan for his excellent planning, how excited they were to be cooking at that iconic venue and meeting legends like Jeremiah Tower and just the energy in the air that night made all the months of hard work pay off."
Chef's Roll launched in October 2013 and was dubbed the "LinkedIn for Chefs". They started out as a way for chefs (culinary student to Michelin-starred) to market and showcase themselves using very visual and powerful images online, social platforms and their new app. which you can download. The chef driven platform also provides films for companies looking to have their product showcased in a unique positioning without seeming like a commercial.
To learn more about their events and the mission of Chefs Roll visit their website here or follow @ChefsRoll on social media. When some of the best chefs come together, it's never a bad idea to see where they can spotted next.
Related
Popular in the Community